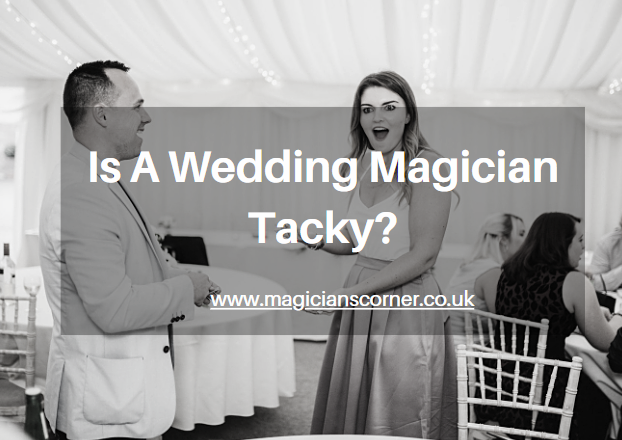 Magician At Wedding Tacky?
Magic at weddings has become more and more popular over the years due to TV programs like Britain's Got Talent (BGT), Penn and Teller Fool Us, and YouTube.
As a whole not really however there are some cases. Most magicians have now modified their acts to fit in with a twenty-first-century audience. wowing them with amazing close-up magic tricks and mind-reading. 
Having said that there are still some magicians who are tacky, like in any trade you have to do your research to see if they will fit in with what you have planned. I would suggest that if you want to hire a magician for your wedding do some research, check out websites, reviews, and local wedding fairs.
When you get in touch with me I will offer you a consultation and show you a few tricks.  If you like my style and you can see me fitting in with your day and I come in on budget then you know you have found the right magician.
At the end of the day, you are only getting married once (maybe twice) so it has to be something you strongly believe and want.  I pride myself on offering the best entertainment.
After entertaining at many weddings across the UK I have come across some good ideas to help keep guests entertained check out my blog post on "8 ideas to kill wedding boredom for guests".

Are wedding magicians tacky?
It depends on who you hire and if what you require for your wedding day. Some old-school magicians can still be appreciated in the right areas and the right style. There are many magicians who still perform old tricks at weddings by carrying on the tradition. For me it's about taking what worked in the past and putting a modern spin on things plus using my network of magicians to bring my clients with the very latest magic tricks with mobile phones and other items to create impossible bits of madness.
​

Is a mind reader tacky or strange at my wedding?
The idea of hiring a mind reader or mentalist for your wedding day to entertain your guest is as popular as ever. Yes, it's very different, yes it could be strange for some but over all it's exciting, guests of all ages will want to have their mind read possible for the first time creating memories that will last a lifetime.
"Mentalism" is a broad term for all acts based on reading an individual's personality and/or thought patterns to accomplish seemingly supernatural feats. It dates back to Victorian times at Royal events and parlor-type parties.
​

How do you know when you have found a good magician?
How do you know when you have found a good magician? In general, there are many qualities to watch out for. They should be professional, highly trained, and of high integrity. Also, they should be a member of the magic circle.
Are they part of The Magic Circle?
Do they have plenty of reviews?
Do they have a website?
Are they part of The Magic Circle?
If you have found a good professional wedding magician, then congratulations! If not, simply move on and start searching again. Google is your friend.
Everyone has a different opinion about how important booking the perfect magician for their wedding day is, and what would make them want to book one. Personally I think if you're going with just budget alone then hiring a magician from The Magic Circle will be your best bet as they are known throughout the world for being some of the most talented magicians around!
I'm a member of The Magic Circle. There are few achievements that can be as satisfying and difficult to achieve as being a member of The Magic Circle. I am one such magician my performance was worthy enough to earn me membership in not just The Magic Circle but as an associate of the inner magic circle with a silver star given to few people when taking their exams.  This A.I.M.C is the highest level you can achieve when joining the magic circle.

​Is a close up magician tacky at my wedding?
Close-up magic is way cooler when you witness it live. But it depends on the skill level of the magician. For example, does it have experience? Can he hold an audience? Do they have a large rapture of tricks and effects? How many brides and grooms have they performed for?
Close Up Wedding Magicians for hire have been around in one form or another for many years. Some magicians like Dynamo became famous for specialising in eye-popping sleight of hand and that's what you will get when you hire me as your wedding magician. Someone who knows how to hold an audience, create a vibe, and to also deliver a world-class performance.
My final tip is to hire a magician in advance so you have someone to think about, book, or you may even find one while your planning your wedding you could talk to

Why Wedding Magicians Are Not Tacky
Magic has moved on in such a big way over the past two decades. It's constantly changing and moving in a direction. Most people don't know there is a whole community creating and inventing magic tricks.  We also have online lectures from the greatest magicians from around the world such as Dynamo, David Blaine, Penn & Teller, and the greatest magician of them all David Copperfield.  Learning from the best enables us as wedding magicians to choose the best tricks for a modern audience.   I am constantly evolving my act to ensure I have the best magic tricks in my show and also to make sure my audience is witnessing crazy bits of madness.

Why hiring a magician for your wedding would work perfectly.
Hiring a magician for your wedding works perfectly in many areas keeping guests entertained as you arrive or having photos, after the wedding breakfast or as the evening guest arrives. There are plenty of other time slots a magician can work his magic please check out my wedding page for more details on where a magician works best.
People are always amazed by my magic tricks they couldn't understand. I have worked hard to create more modern, sleeker, and less traditional routines to entertain a modern audience with impossible mind-reading, psychology, and sleight of hand.  So I would say wedding magician is definitely not tacky at all.
​

Magic at a wedding does it really work?
If you have done your research and hired the right magician and they have walked you where the best time to have entertainment then it can be the best thing you do for your wedding. At the end of the day, none of your guests will remember the cake, the DJ, or the sweet cart. But they defiantly will remember having an amazing time with a world-class magic circle magician like me.

What can I expect when I book a magician for my wedding?
The basic service provided by a wedding magician is to provide entertainment in-between different parts of your wedding day.  There are plenty of times in your day where guests will waiting around for the next part of the day to happen.  This is where a wedding magician comes in to inject the fun and energy between the lulls.  The magician is always expected to show up on time and should be flexible with your schedule (weddings rarely run on time). They should be able to provide a variety of tricks that will wow your guests, as well as being welcoming to all people in attendance. Provide a top table trick at the end of dinner or when you require.

How to have a classy wedding with a magician?
This all boils down to selecting the right magician for your wedding. I would suggest you hire the best magician you can afford from the magic circle. The Magic Circle is the seal of excellence when it comes to magicians. There are a few levels you can join the magic circle at M.M.C member of the magic circle or A.I.M.C Associate of The Inner Magic Circle with a silver star for performance that is the highest level you can achieve when joining the magic circle. I have achieved the A.I.M.C level so you know if you book me you'll be in safe hands, just saying 😉

About Me
I'm honored to have been invited to join the prestigious London Magic Circle.
The club has been around for over 150 years and I am associated with a silver star at the highest level possible to achieve when joining the club through examination.
I specialise in wedding entertainment. I can offer expert sleight of hand, close-up magic, mix and mingle and a sophisticated sense of humor. You'll be amazed at the results!
I'm also the host and producer of the UK's largest podcast for magicians called "The Magicians' Advice Podcast." Across my 1000-member network, we're making sure that all of our listeners have a voice in the magic community this is something I'm extremely proud of.
It can be hard to find a magician near you, but it should not be too hard to make sure they are registered with a professional body such as The Magic Circle. If they are, this means that their work is up-to-standard and you are safe in the knowledge that your special day will have the entertainment it deserves.  You can also check out more about me on my other pages and social media or if you want a chat get in touch direct p.taylor@magicianscorner.co.uk

Final thoughts.
Are wedding magicians tacky? yes, they can be if you pick a cheap not very experienced magician to perform on your big day.  However, if you hire the right wedding magician with plenty of experience and reviews they can really be the difference from an ordinary wedding to an amazing one.  The choice is yours…