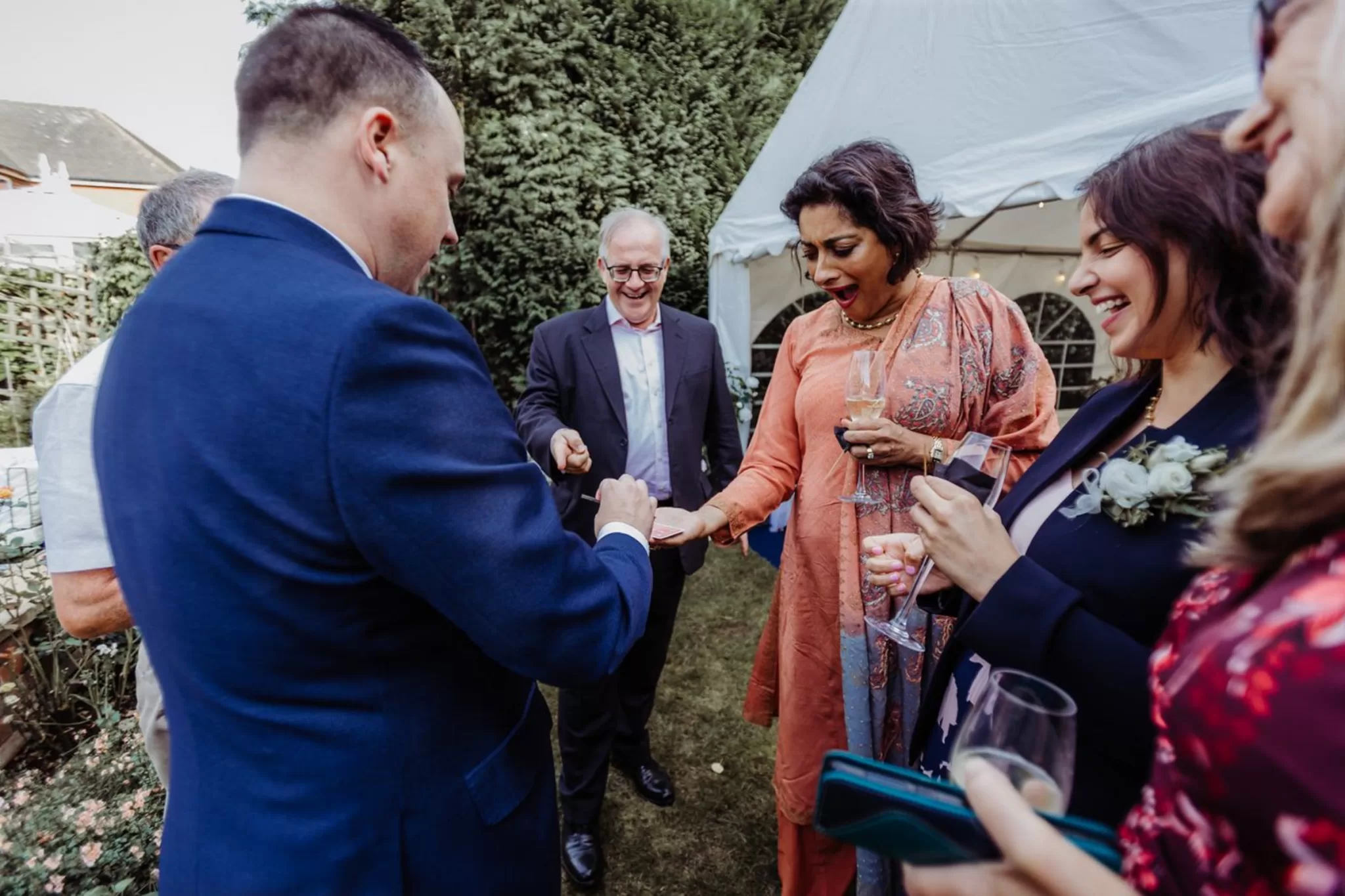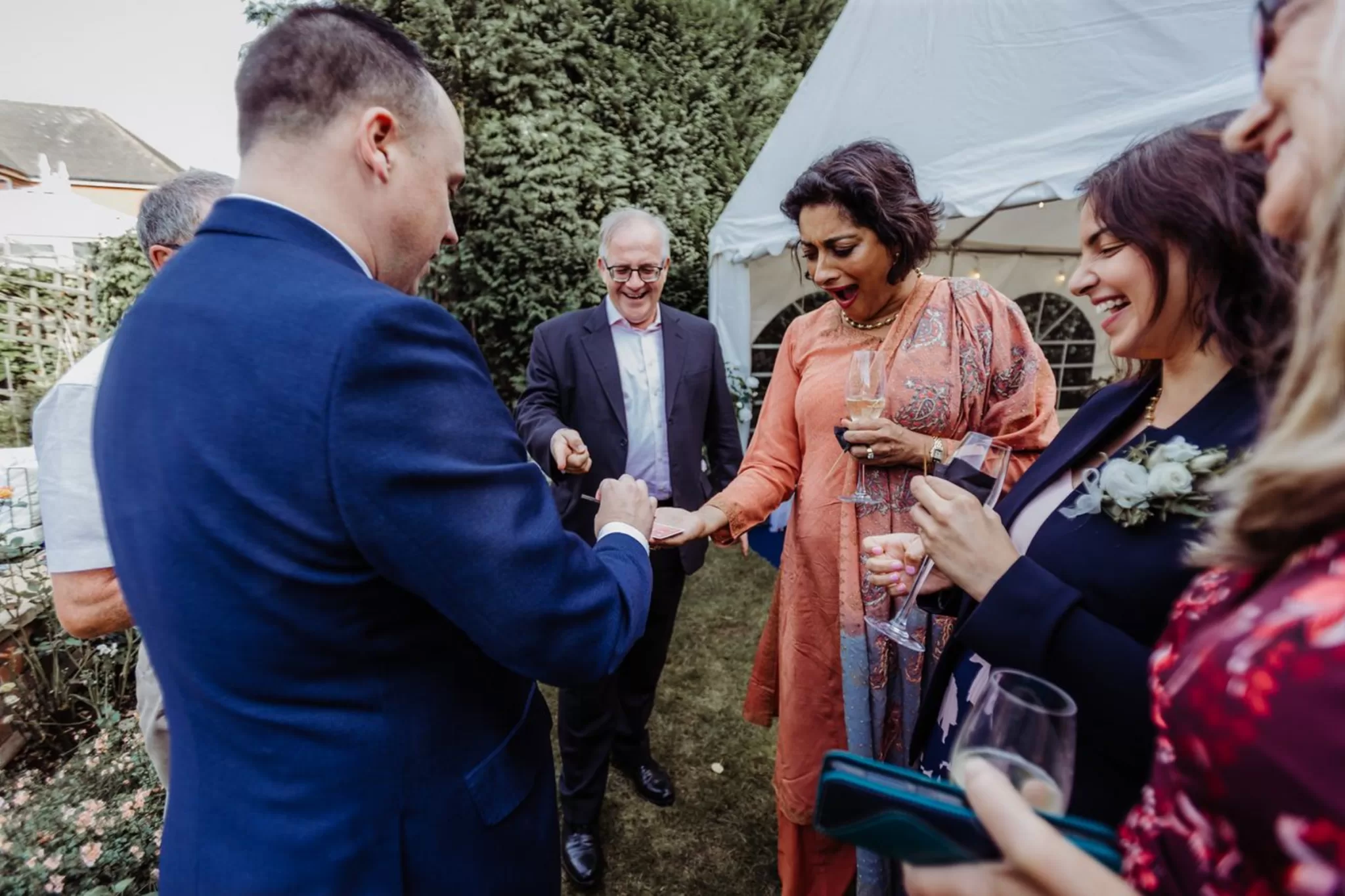 Hello, my name is Phil Taylor! I am a professional party magician who performs at private parties all around the UK for people's 18th, 30th, 40th, 50th, and 60th milestone birthday parties. Milestone birthday celebrations are my specialty when it comes to entertainment – I'm known amongst magicians as one of the best in the UK for my sleight of hand tricks that will have your guests in awe along with crazy mind-reading demonstrations and unforgettable sleight of hand magic.
If this sounds like what you are looking for then read on.
You were absolutely amazing and exceeded my expectations, my guests couldn't stop talking about you.
"If you're looking for excitement for your milestone birthday party, hiring a party magician is the perfect way to do it!"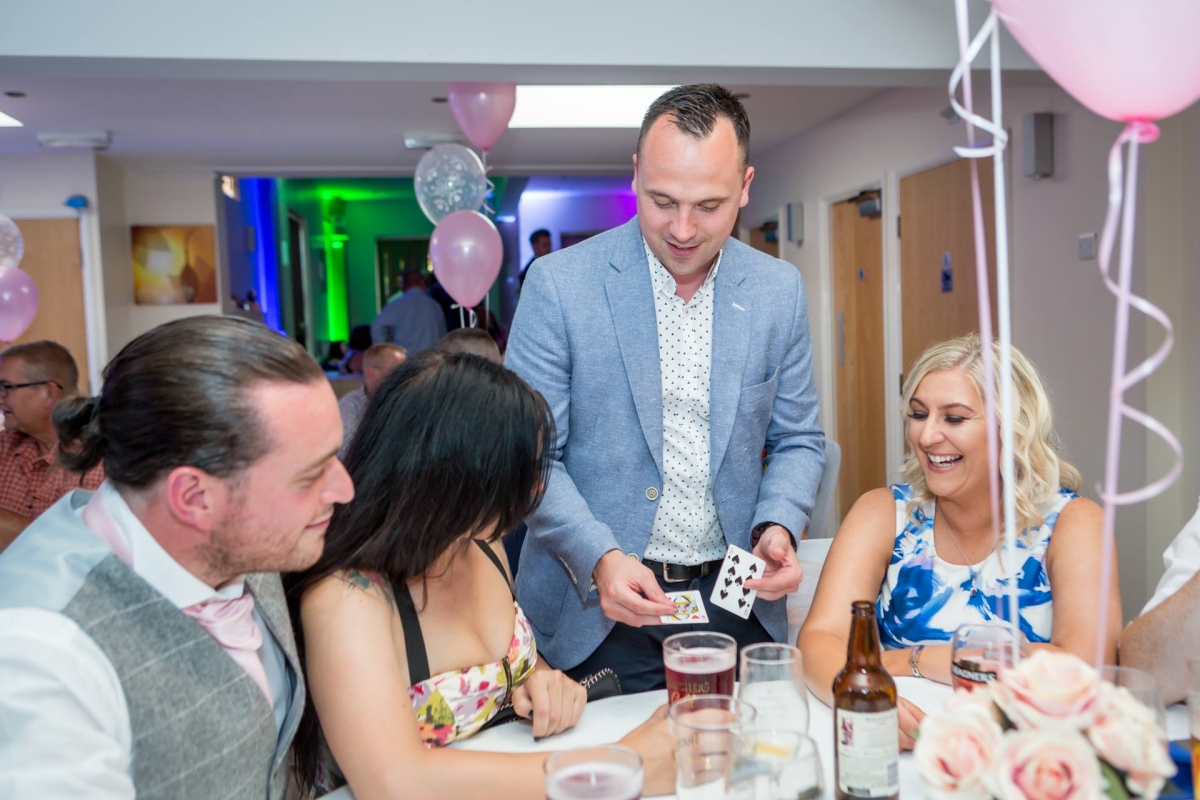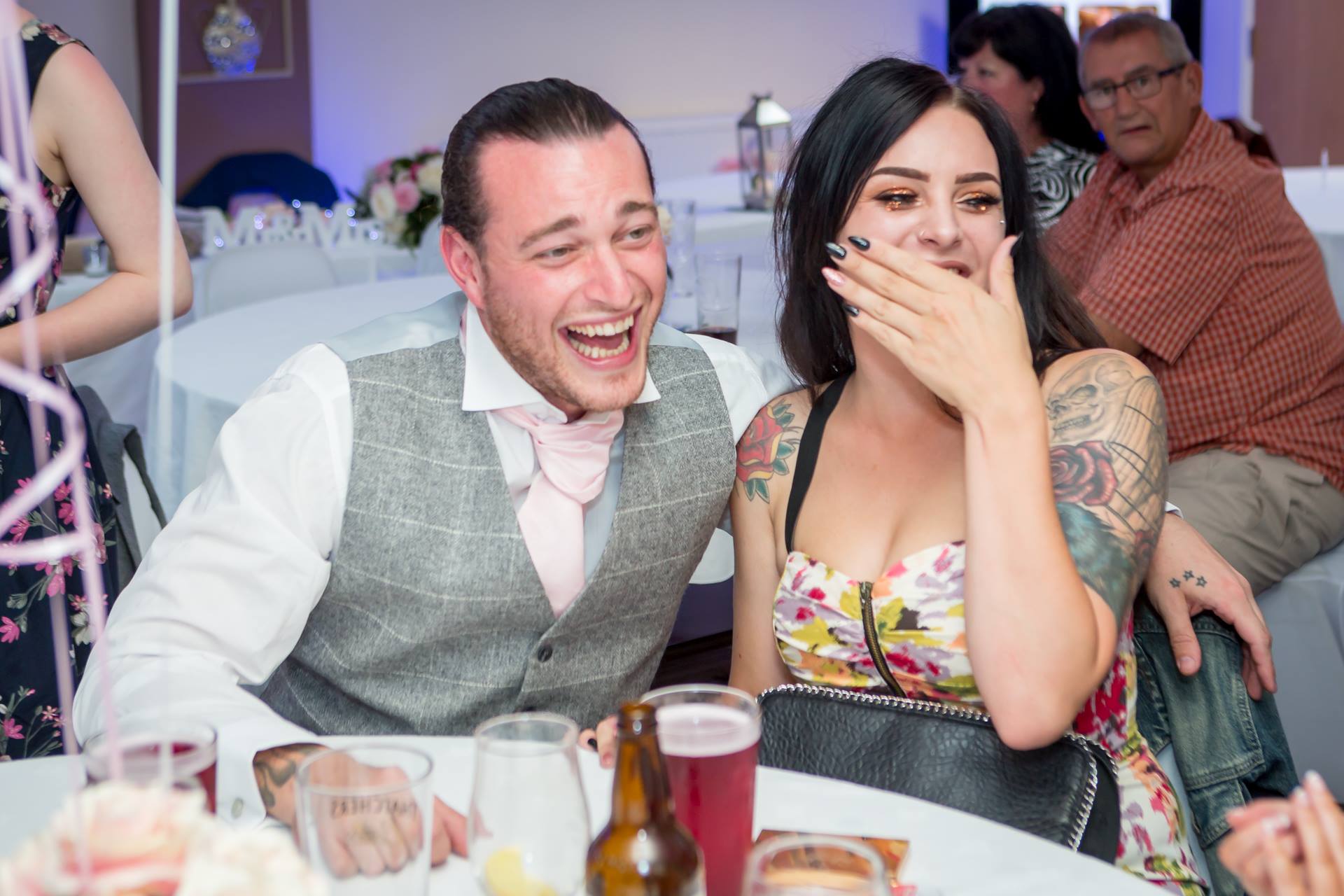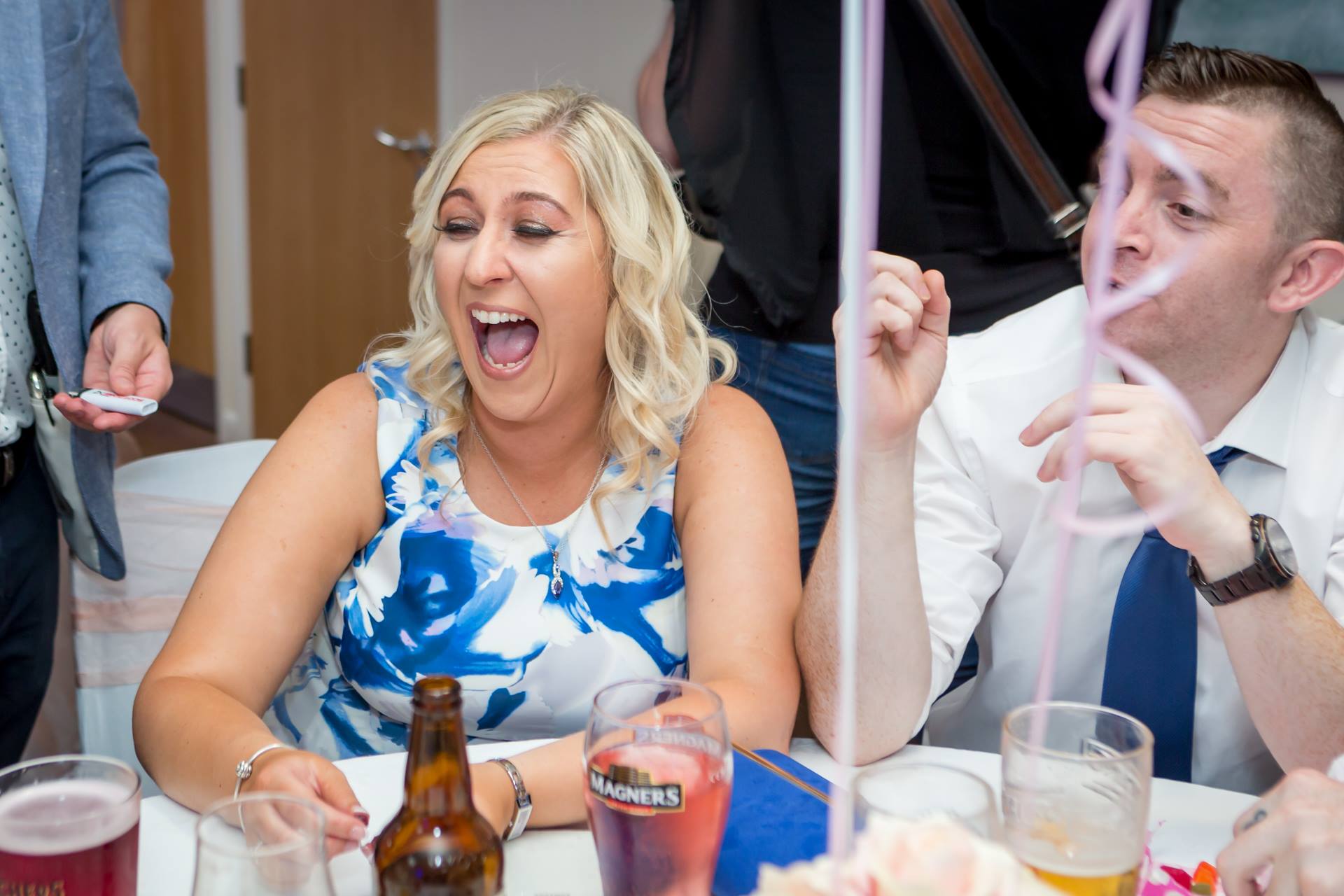 What magic tricks will you perform?
This is a great question.  I've been studying magic for many years from cards to coins, hypnosis to pick pocketing and everything in between. My repertoire is vast so I like to tailer my magic to the person or people in front of me, this allows to build rapport and show your guest an extra special time.
I like to tailor magic towards my audience and from experience I've found what works best from ages 11-30 visual magic works best objects change in front of their eyes, eye candy magic, quick fast magic that grabs their attention.  Magic they can relate to As Seen on TV or YouTube.
Ages 30 onwards as adults we become very linear in the way we think about the world we see repeated patterns we use logic and past experience to make assumptions to decide how to navigate the world.  Knowing this as a magician, psychological illusionist I use this knowledge to my advantage giving your guests a unique experience that they will never forget.
Please check out my reviews, photos and videos and get in touch for a free consultation.
​
We thought you were amazing!  We found you to be very engaging with the audience, very professional yet welcoming. We really enjoyed working with you and hope to work with you again. Our Christmas plans are very exciting this year as our theme is Constellations. I'm sure we can tie magic in here somehow, so I will be in touch when we have a more firm plan.
Why Hire Phil Taylor Magician?
Milestone birthdays such as 16th, 18th, 21st, 30th, 40th, 50th, and 60th birthdays need to be celebrated in style and it goes without saying that hiring the perfect entertainment is a must.
Phil Taylor is a magician with over 25 years of experience as a professional entertainer. He specialises in close-up magic, card tricks, disappearances, and comedy. Phil has performed for audiences of all sizes all ages.
Phil specialises in providing fun and family-friendly entertainment and is also a member of The Magic Circle.
Reviews of 100's of past performances will show you why Phil's entertainment can't be beaten when it comes to professionalism and performance.
Phil knows how to keep guests of all ages amused and engaged. He will perform illusions, tell jokes, and interact with the guests in a fun and entertaining way.
Phil will help create a festive atmosphere and make the party feel more special. If you're looking for a unique, memorable way to celebrate a milestone birthday, hiring a Phil Taylor party magician is a great option.
Get in touch now for a quote or book in for a live consultation and experience some magic.
Mix & Mingle Close Up Magic.
Close up magic is by far my most requested service. My style of entertainment is flexible with your event. I can perform where guests congregate around the bar or at their tables. Close up magic allows for me to connect with groups of individuals so everybody sees the thrills and astonishment of wizardry. Your guests will laugh as the witness their own personal performance, bespoke magical effects accompanied with my particular style of humor and a little pick-pocketing.
Table Magic.
Table magic has became extremely fashionable. It's now part and parcel of what I do. As food is being served, in between courses there are multiple opportunities to interact with guests as they are seated. If the tables are incorporated with guests that don't recognise one another it's an excellent way to break the ice, to spark conversation after the performance is over. My primary focus is to make certain your guests are having the most marvelous time. When people are enjoying themselves they relax, stay later, helping to create a happy vibe.  Ultimately, therefore you book a professional magician to ensure your event is a huge success.
After dinner show.
An evening with a magician.
I base the after dinner show on psychology, synergy, magic and observation. Once guests have finished their mains, I urge them to sit back and relax and witness the wizardry.
How the program works.
I will establish myself and set up a space on the main dining table where all your guests can see and thus we start the entertainment. A brief introduction followed my a manifestation of misdirection to break the ice. The premise of the act is magic, psychology, and misdirection. This is a view behind the veil of how we as individuals perceive the world of illusion. I will use psychology, NLP, and misdirection holding your guest's hand as we take a trip down the yellow brick road with a few surprises along the way.
We divide the program into two thirty minutes sets with a fifteen minute break to provide the guests to freshen up, recharge their jars as they take their seats for the second half.
If you wish your guests to have an absorbed, private, memorable experience then this is the package for you.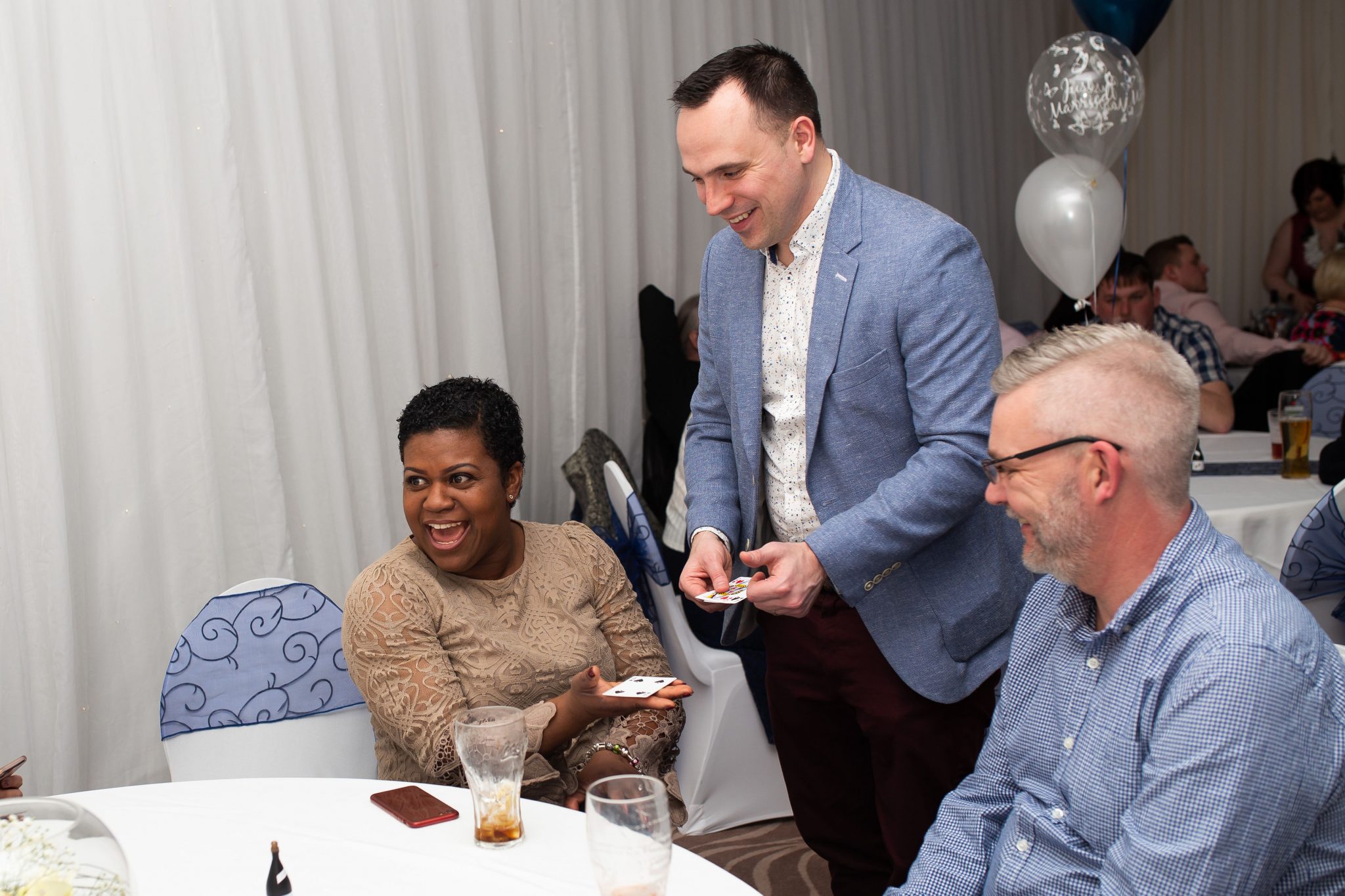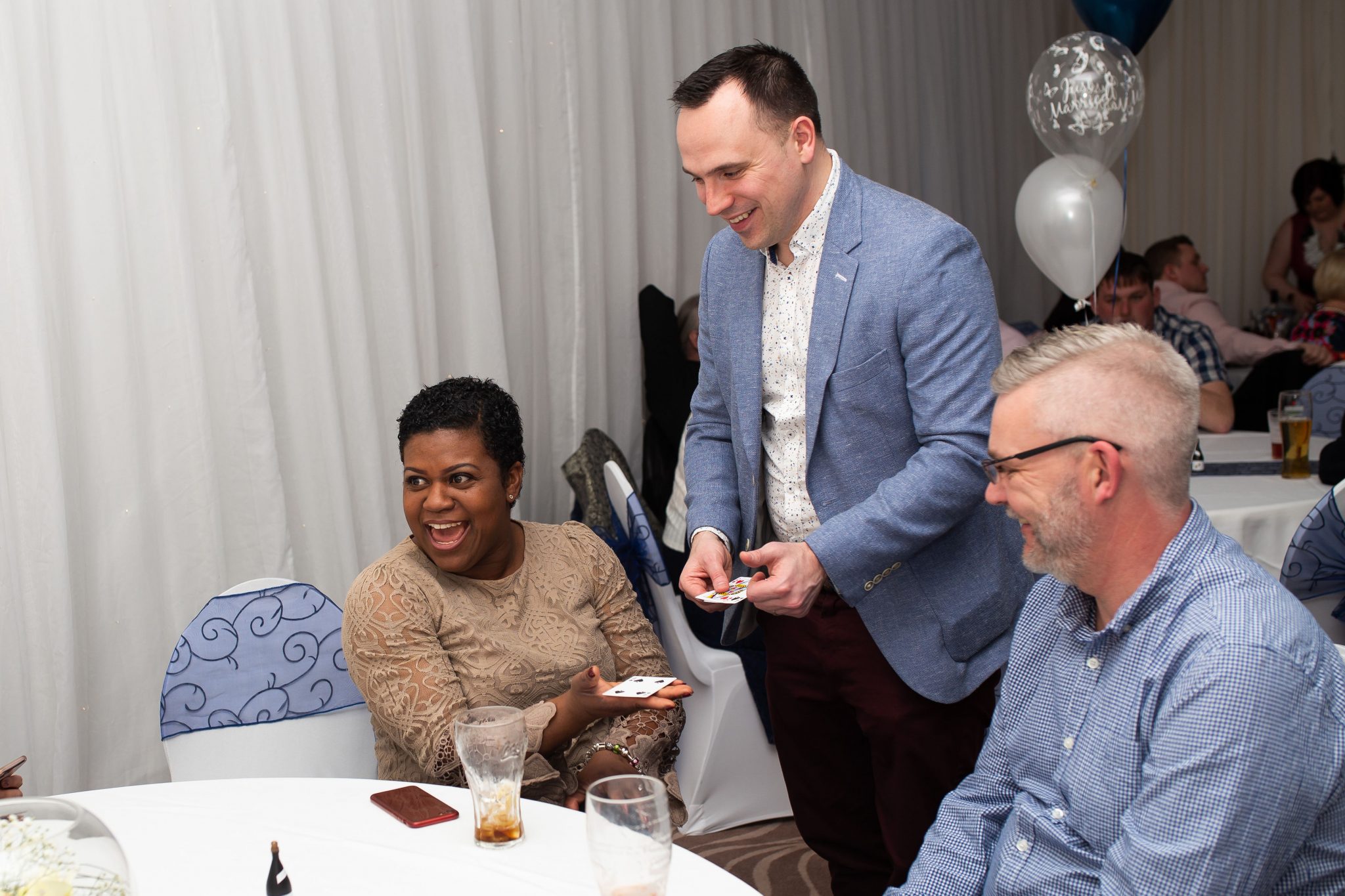 Helpful Tips
How can a professional party magician make a milestone birthday party more special? 
There are a few things that a professional party magician can do to make a milestone birthday party more special.
Firstly, they can perform a show that is tailored to the birthday person and their interests.
Secondly, they can use magic to create unique and memorable birthday experiences for guests, such as making cards appear out of thin air or reading somebody mind in a impossible way.
Lastly, they can use their magic to help facilitate fun and exciting party games.
 How to choose the right party magician?
There are many different magicians to choose from, so you need to do your research before making a decision. You want to find a magician who has a lot of experience and who is known for providing great entertainment. You should also ask for references from past clients.
Once you have found a magician, be sure to discuss what you want him or her to do. You may want them to perform after dinner, around the tables or for the whole group.
Phil has many different ideas and options he would love to share with you. 
How much does a party magician cost?
On average hiring, a magician in the UK usually falls in the £350-£550 range for a couple of hours of entertainment. That said, prices do vary depending on skill level, membership to The Magic Circle, and time of year.
Questions and Answers
1. What are the best times for a party magician to perform?
Performances are typically scheduled after dinner time, cocktail hour, or after dinner. Phil is usually booked to entertain pre-dinner guests at a private residence, restaurant, or hotel.
Phil often works alone but sometimes provides entertainment for large parties of over 100 people.
2. What is the best time to hire a party magician?
A magician can be hired at any point in your event. Phil's most requested service is after dinner between desserts and coffees. Or walk around mix and mingle where guests stand.
3. Where is the best place to entertain guests?
Some of Phil's past clients have requested he perform at their celebrations. Phil will join a table and do a short show for the guests sitting around. He'll dazzle them with amazing things they won't believe are happening right before their eyes, but there's more to it and they will find out with each turn and twist.
4. What should you consider when hiring a party magician? 
When hiring a party magician, it is important to consider the age range of the guests. A magician who is too juvenile or too risqué for the audience can ruin the party.
It is also important to consider the magician's experience and whether they have a solid reputation.
Checking reviews online is a good way to get a sense of what to expect.
Finally, be sure to discuss what the magician will be doing at the party and what their fee is.
5. What are some of the most common tricks that party magicians perform? 
Some of the most common tricks that party magicians perform are making objects disappear, making objects appear from nowhere, and amazing sleight of hand and misdirection will leave your guests absolutely flabbergasted.
6. How can a party magician help to make your event more enjoyable? 
Phil Taylor party magician can help to make your event more enjoyable by providing entertainment and engaging guests in fun and lively entertainment.
Most people will have little opportunity to get up close and personal to a live show and really experience it as it should be.
Get A Quote Now Hire Party Magician Phil Taylor Today!