Wedding Magician Hertfordshire
Create an unforgettable and memorable experience with Hertfordshire's best magician.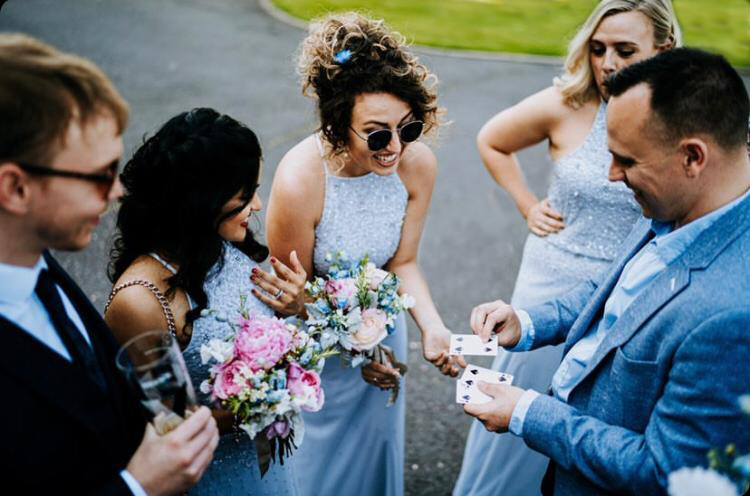 "Welcome, my name is Phil Taylor,  Wedding Magician Hertfordshire Best Entertainment.
Wedding Magician In Bedfordshire
Hire the perfect wedding entertainment wedding magician Hertfordshire Phil Taylor to keep all your family and friends entertained with amazing magic tricks.
Hello, welcome my name is Phil Taylor the perfect wedding entertainment that will complement your big day. My style of magic is sophisticated and elegant performing world-class sleight of hand magic for you and your guest to enjoy.
I will take some time out to make a personal, one on one connection with your guests who really enjoy magic to make their experience as special as I can, after all, they are your close friends and family so why not treat them to a performance from a world-class magician from the magic circle creating moments they will never forget.
Where does a wedding magician work best?
Depending on how you have your day planned out there are a number of quieter times that will need the void filling. 
The most popular times are as follows
.
Wow…we had Phil at our wedding and he astonished all our guests, I had people come up to me all night saying the magician blew their mind… amazing! And such a lovely guy.. would highly recommend him to anyone ..thanks Phil
Facebook 5 Star 
Photos
Depending on how many guests you have attending the photos can take up to two hours leaving your guests waiting for their turn. This is the perfect opportunity to have a wedding magician hold court as he mixes with your guest keeping them guessing with an impossible bit of madness. Imagine this as your photos are taking place I will be there mingling with your guests leaving the photographer to get on with taking the perfect photos uninterrupted.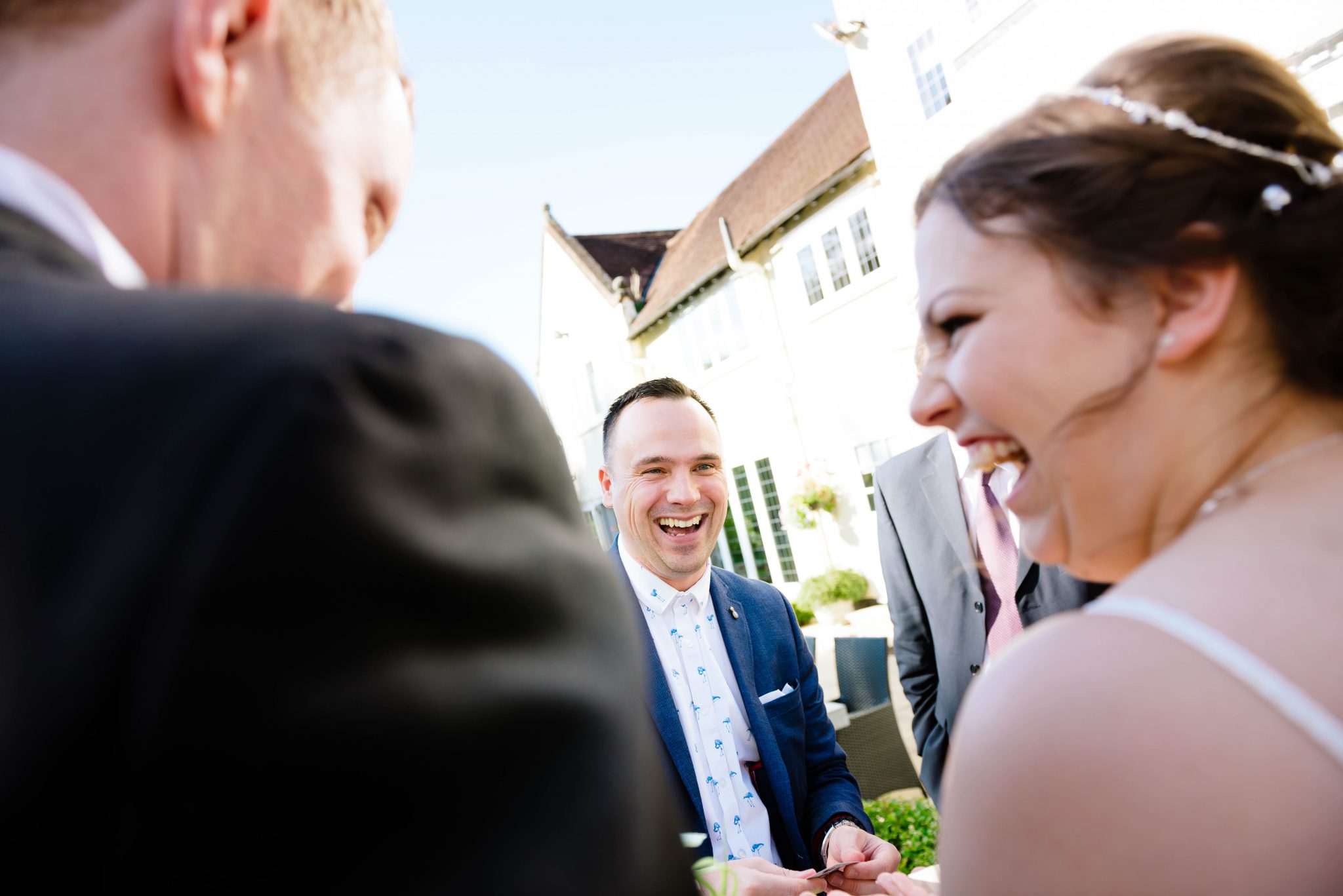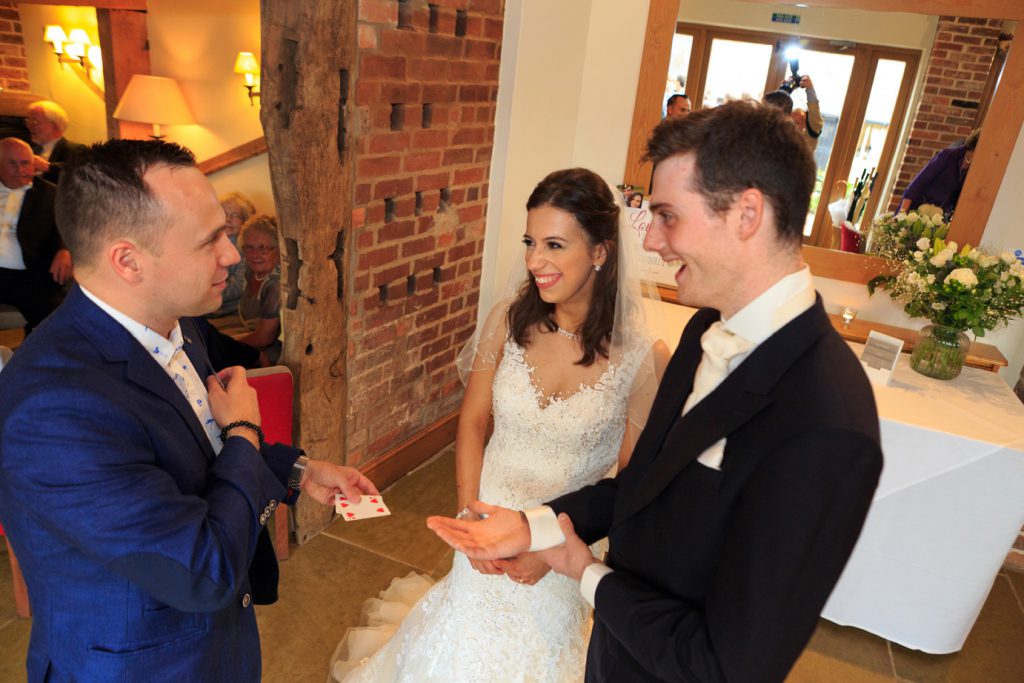 Drinks Reception
Another popular time is the drink reception Whether you have chosen cocktail style or pre-dinner drinks a magician at the bar will delight your guests whilst giving you the time to catch up with your friends and family.  You can't be everywhere at once. Let me take some of that worry away from you.
After The Wedding Breakfast
After the wedding breakfast is where I shine as a professional wedding magician I will give you the perfect entertainment for your wedding. Entertaining your guest's table to table guests will be more relaxed after their meal and waiting to see what will happen next. This is where I step in with wonderful amazing magic tricks with cards, coins, and everyday objects. Allowing you to sit back and enjoy this part of your special day at a slower pace all the while making you and your new partner the talk of the day.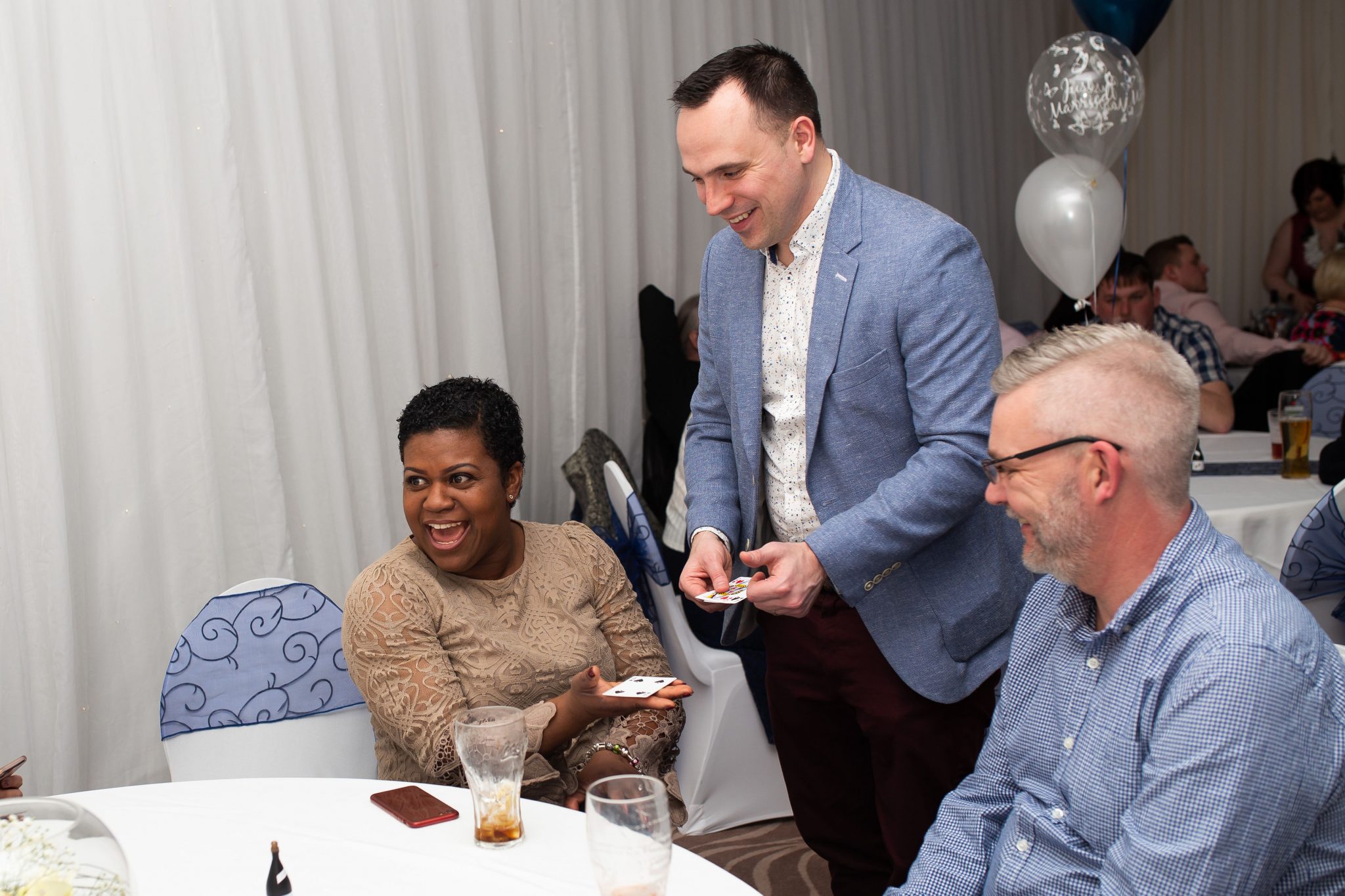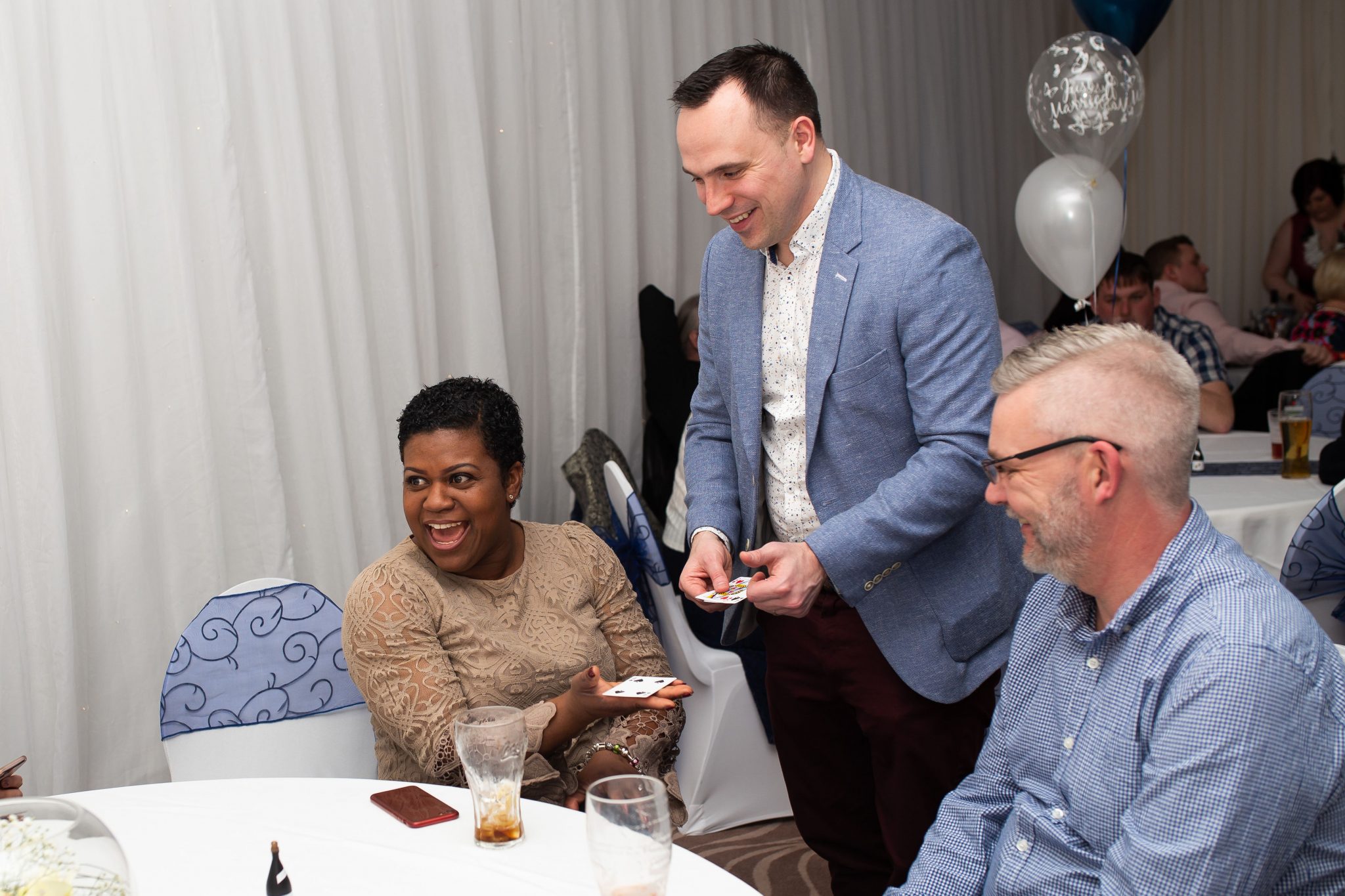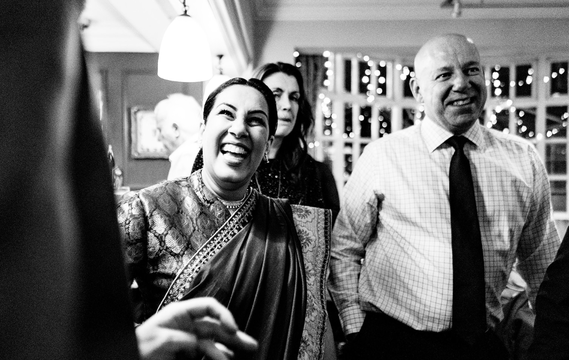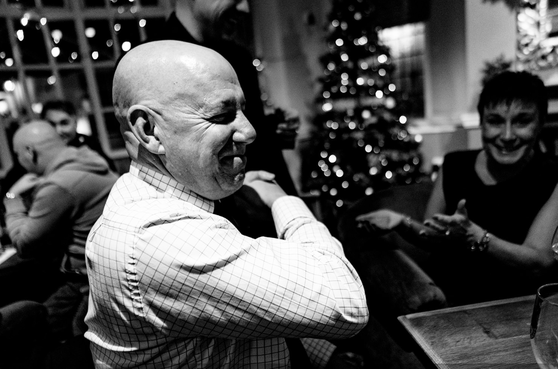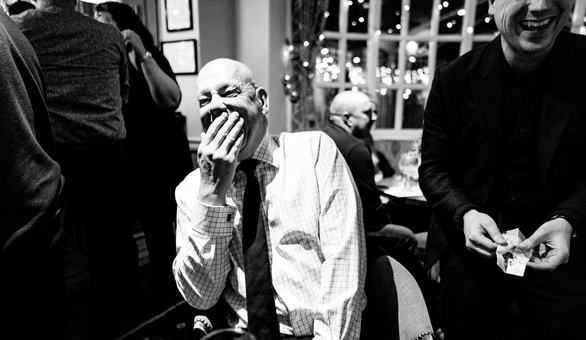 Room turn around
We all been there the room turn around. After your meal you don't really want to move into a bar and wait for the evening to start this can take a good few hours. Hiring me as your magician I will inject the energy back into your guests letting them know the party is far from over. Let the venue set up and the band or DJ knowing you have provided entertainment! You only get married once so why not make it perfect?
Evening Guests Arrival
This has to be my favorite time to perform magic. Why not treat your guests on arrival with some magic? Let them know it's about fun, happiness, and celebration. Leave them with a lasting impression?
Table magic
A question I get asked a lot is what is table magic? Well if you've never seen a wedding magician perform it's a perfectly valid question. A table magician at your wedding will provide entertainment and magic tricks where your guests sit. They will entertain the whole table and should be family-friendly.
As you can see I do weddings as a living I don't pretend to be bigger than I am or claim to be anything I'm not.  I have performed for many brides and grooms across  Hertfordshire and the UK.
Wedding Magician Birmingham
Hired Phil for our wedding breakfast, we wanted something different, not cheesy.
Our guests are still talking about how great he was! IM not joking his sleight of hand is unreal!
Would Highly Recommend Him!!!
FACEBOOK REVIEW 5 STAR WEDDING

About Me
I recently joined the prestigious London Magic Circle and I am proud to be a member with my silver star at the highest level possible when taking your exam. The club has been around for over 150 years and it was one of the first magic clubs in the world.
I will be putting on a fun and unforgettable show for you and your guests with sleight of hand magic, close-up magic, mix and mingle as well as some witty humor to keep things light. It will be a one-of-a-kind experience that you won't find anywhere else
Planning a wedding? Let us dazzle you with an entertaining and award-winning mix and mingle MAGIC!
Frequently Asked Questions
What tricks will you perform at our wedding?
I am a top-notch close-up magician with a specialty in mixed and mingled magic tricks with cards, coins, and mobile phones.
How long do you normally perform at my wedding?
The length of my performance depends on the number of guests at your wedding. To give an estimate, you should know that around two hours in total is usually the average for a typical nighttime event.
How much do you charge as a wedding magician Hertfordshire?
Each wedding is different, and I have packages for all kinds of weddings. Just contact me for more information! ptaylor@magicianscorner.co.uk 
You can always check out this blog post on "how much do wedding magicians cost".