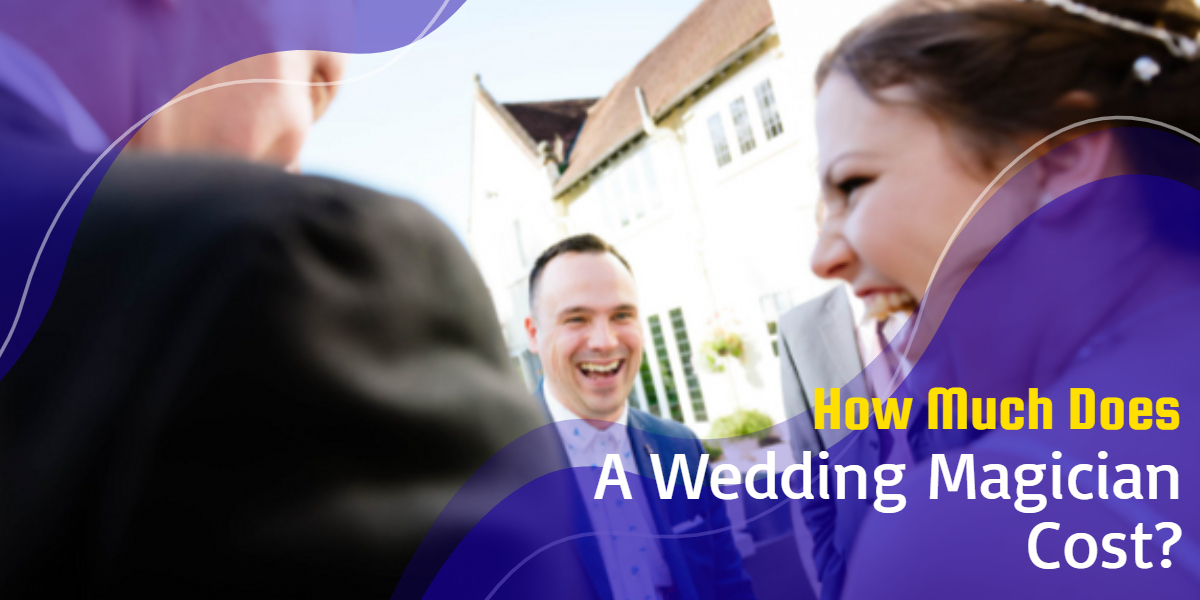 You're getting married and want to find the perfect wedding magician? Hiring a professional magician for your big day can be an excellent way to add some fun and excitement! But how much do they cost? How do you know if they are any good? What should you expect when hiring a professional magician?
This article will answer all of your questions about what to look for in a wedding magician, how much they cost, and more! Plus I'll give you tips on finding the best magician for your big day.  So read on…I promise this is worth it!    

The prices for some magicians may surprise you. Here's a chart showing some common charges and how much they could cost based on what your budget can go. A wedding magician can range from a few hundred to a few thousand, which is why you should consider these things carefully before you book or pay a magician: If you're considering booking a magician you may also want to check out "are wedding magicians tacky". 
The quickest answer for hiring a wedding magician cost.
Amateur magician £50 – £250
Semi-Professional Magician £250 – £450
Professional Magician £450 – £1600
The prices for professional wedding magicians are pretty standard these days, although there's a bit of variation; you may find someone who charges less or more than you might expect do to experience and if they are in the magic circle.
If your budget won't support anything but a regular magician, consider a magician from an amateur magician from a local magic club. These magicians are looking for experience and their prices could be very reasonable.  However there is a downside they won't be a polished performer they will be nevus on the day and maybe forget their lines, they may not know how to handle your guests correctly if they are drunk.  Some won't have the correct insurance to cover your events and most won't be in the magic circle.
How do you know when you have found a good magician?
How do you know when you have found a good magician? In general, there are many qualities to watch out for. They should be professional, highly trained, and of high integrity. Also, they should be a member of the magic circle.
Are they part of The Magic Circle?
Do they have plenty of reviews?
Do they have a website?
Are they part of The Magic Circle?
If you have found a good professional wedding magician, then congratulations! If not, simply move on and start searching again. Google is your friend.
Everyone has a different opinion about how important booking the perfect magician for their wedding day is, and what would make them want to book one. Personally I think if you're going with just budget alone then hiring a magician from The Magic Circle will be your best bet as they are known throughout the world for being some of the most talented magicians around!
I'm a member of The Magic Circle. There are few achievements that can be as satisfying and difficult to achieve as being a member of The Magic Circle. I am one such magician my performance was worthy enough to earn me membership in not just The Magic Circle but as an associate of the inner magic circle with a silver star given to few people when taking their exams.  This A.I.M.C is the highest level you can achieve when joining the magic circle.
Do they have plenty of reviews?
A good way to ensure you are hiring a good wedding magician is by reading the reviews for yourself. If the reviews sound well written by genuine people, you're onto a winner. I would say you are looking to hire a magician with over fifty 5 star reviews.  However, if their tone of voice sounds off it could be just another fake review. The best thing to do is to check social media or other websites where this person may have reviewed before so as to know who's telling the truth and who isn't!

Do they have a website?
Every professional wedding should have their own website where they can promote their skills and achievements. The site should include plenty of photos and information about the magician's personality, skillset, background story, videos, or testimonials from previous clients so that people can get a sense of who they are hiring.

You can see plenty of photos and videos on their site?
As you browse through the site, make sure to look at what is being offered in terms of photography.
Are people smiling and happy? Do the photos seem like a professional photographer took them or are there just random snapshots thrown up on their website of someone doing a trick with cards?
If it's your wedding day, you want the magician who displays plenty of photos with plenty of people at different venues.

Making an enquiry
When you email asking if your date is available, how much they cost, etc., you will get an immediate feel for how they respond. Do they quote you there & then? Do they ask more questions? Do they supply packages? When I talk to potential clients, I always ask who will be at the event and what they want from it. For example, is it a congratulatory event or a traditional dinner?
Once I have the information I then email my packages & prices with my personal recommendations.
Then when you have worked out that I'm within the budget and you're happy, then I'll offer you a consultation. This gives me the opportunity of asking what you want from your wedding day, what your expectations are, and to offer my own suggestions. It also gives you the opportunity to find out about me and to ask any questions also experience a trick or two if we are talking over zoom.

What can I expect when I book a magician for my wedding?
The basic service provided by a wedding magician is to provide entertainment in-between different parts of your wedding day.  There are plenty of times in your day where guests will waiting around for the next part of the day to happen.  This is where a wedding magician comes in to inject the fun and energy between the lulls.  The magician is always expected to show up on time and should be flexible with your schedule (weddings rarely run on time). They should be able to provide a variety of tricks that will wow your guests, as well as being welcoming to all people in attendance. Provide a top table trick at the end of dinner or when you require.

The best time to hire a wedding magician?
1. After the wedding ceremony.
2. As the photos are been taken.
3. Before the first service.
4. After the wedding breakfast.
5. After the speeches
6. Room turn around
7.  As the evening guest arrive.
After the wedding ceremony.
Depending on your venue and where you tie the knot hiring a magician as a surprise for your guests lets them know this is going to be a fun, magical day head.  I have been hired plenty of times to greet guests after the ceremony to let them know this is going to be a great day with other surprises ahead.  This lets guests know it's not going to be another boring wedding…  "no one likes a boring wedding day".
As the photos are been taken.
Hiring a magician as photos are being taken is a good idea if you want to ensure your guests don't become bored as they wait their turn to be called up.  You guys will be having a lovely time capturing moments with friends and family unfortunately for your guest won't be.  That's where a close-up magician will come in mixing between guests being them together showing them some ineradicable moments of madness to spark new conversations.   If you have 80+ guests photos can take up to two hours to get sorted.  It's worth thinking about details.
Before the first service.
Before the first service is a nice place to have entertainment happen.  If there are a large number of guests then it can take a while for everyone to be served.  I always ask the wedding coordinator how the room will be served so I can work the opposite way around to the waiters and waitresses and not get in the way.
After the wedding breakfast.
My favorite place to perform as a wedding magician is after the wedding breakfast or as the evening guest start to arrive.
After the main meal guests will feel more relaxed, they will have caught up with friends and family members conversation will be running a little thin on the ground.  It's time to inject the energy back into the guests ready for the evening ahead.  It's not every day people get to experience live entertainment let alone meet a magician from the magic circle.
Imagine the conversation after I left "How did he do that?"  "Did you see what he did with that coin"?  You will always get the person trying to figure it out and that is all part of why you hire a magician to spark new conversations a shared experience that other guests can chat about at the bar or as they walk around the room.   Also the memories it will create, it's a very unique experience for most people.
After the speeches.
Where you position your speeches in relation to the meal will largely depend on where else entertainment can take place.
After the speeches, it is customary for the audience to applaud and show their appreciation for what the speakers have said this is a great time to introduce the magician and let your guests know there is entertainment provided so its time to grab a drink and wait for their turn to witness the impossible moments of amazing magic. Booking a wedding magician will keep inject energy back into the room and keep the momentum going in a fun, exciting direction.
Room turn around.
The venue will normally have a turnaround after the meal or guest speeches. Tables are usually removed or relocated, while a DJ or band prepares the dance floor. After the ceremony, many guests find themselves left to their own devices – which can be boring at a wedding reception. This is precisely why booking a magician to provide entertainment and amaze tricks works well.
 As the evening guest arrive.
As your guests arrive, having an experienced magician greet them with a personalised welcome is a really nice touch. The idea is designed to set the tone for what they can expect during the rest of their evening and create a magical experience that they will never forget.  It's a great way to say thank you to your friends and family.

Is magic is perfect for all ages?
Magic transcends all ages and demographics. When you first saw a magic trick as a child you were amazed. Then you get into your twenties and thirties there still is that intrigue and wonder, memories come flooding back.  As you grow older you appreciate the skill and art behind a good magician that also brings back memories of yesteryear sparking new conversation with family members.  I can't tell you the number of times people have asked me about such and such magician and that's what it's all about to bring guests together creating a fun and happy time.
A magician's job is to create a story. A good trick can take you through different emotions, but the ultimate goal of all tricks is for the audience member to be left with an overwhelming sense of wonder and amazement when it finishes.

About Me
I'm honored to have been invited to join the prestigious London Magic Circle.
The club has been around for over 150 years and I am associated with a silver star at the highest level possible to achieve when joining the club through examination.
I specialise in wedding entertainment. I can offer expert sleight of hand, close-up magic, mix and mingle and a sophisticated sense of humor. You'll be amazed at the results!
I'm also the host and producer of the UK's largest podcast for magicians called "The Magicians' Advice Podcast." Across my 1000-member network, we're making sure that all of our listeners have a voice in the magic community this is something I'm extremely proud of.
It can be hard to find a magician near you, but it should not be too hard to make sure they are registered with a professional body such as The Magic Circle. If they are, this means that their work is up-to-standard and you are safe in the knowledge that your special day will have the entertainment it deserves.  You can also check out more about me on my other pages and social media or if you want a chat get in touch direct p.taylor@magicianscorner.co.uk
Summary
Solving the puzzle of finding the perfect magician for your wedding can be difficult, but it is worth it. They will have a significant impact on your day and genuinely work to engage with your guests, resulting in a fantastic day. How much does it cost to hire a magician depends on your budget; the sky's the limit when it comes to booking a magician.
The cost of hiring a magician for an event varies depending on the factors that are important to you. There are many aspects that affect the cost, such as where you live, how many people will be in attendance at your event, and the specific type of entertainment that you want.
I hope this article has been useful. If you are having a wedding get in touch with me directly for a quote and a few online magic tricks. Email: ptaylor@magicianscorner.co.uk