SHROPSHIRE MAGICIAN
For Hire at Weddings, Parties & Corporate Events
Get In Touch NOW To Find Out More.
Click For Quote
Call Today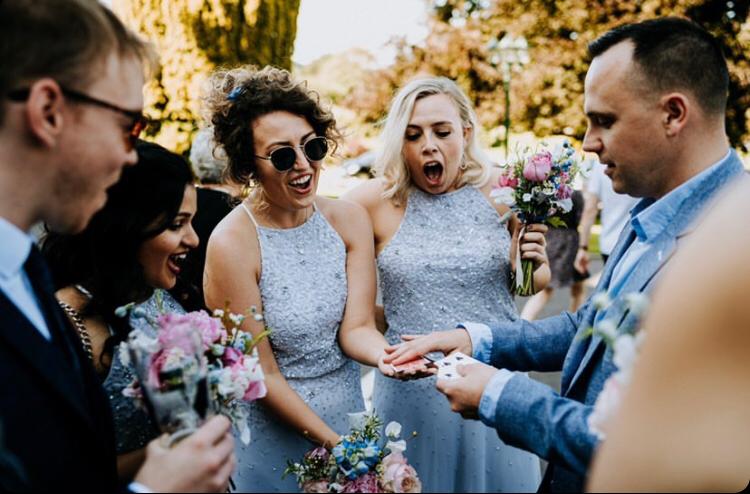 Shropshire Magician Phil Taylor
"Amazing Magic With Unforgettable Moments Of Madness"
Looking for the BEST  Shropshire Magician? Then your search is over!
My name is Phil Taylor, The Professional Magician & Mind Reader. When you book me as your exclusive entertainment I will provide the very best magic tricks, mind reading demonstrations and impossible moments of wonder. You will see me mix between your guests and watch as their faces light up as you hear laughter and comments like OMG. How did that just happen?
This will spark fresh conversations, fun and happiness. When you hire me as your magician my role is to make sure you and your guests are having a fantastic time creating a fun vibe and memories that will last a lifetime. If you would like to know more, please get in touch for a no obligation quote.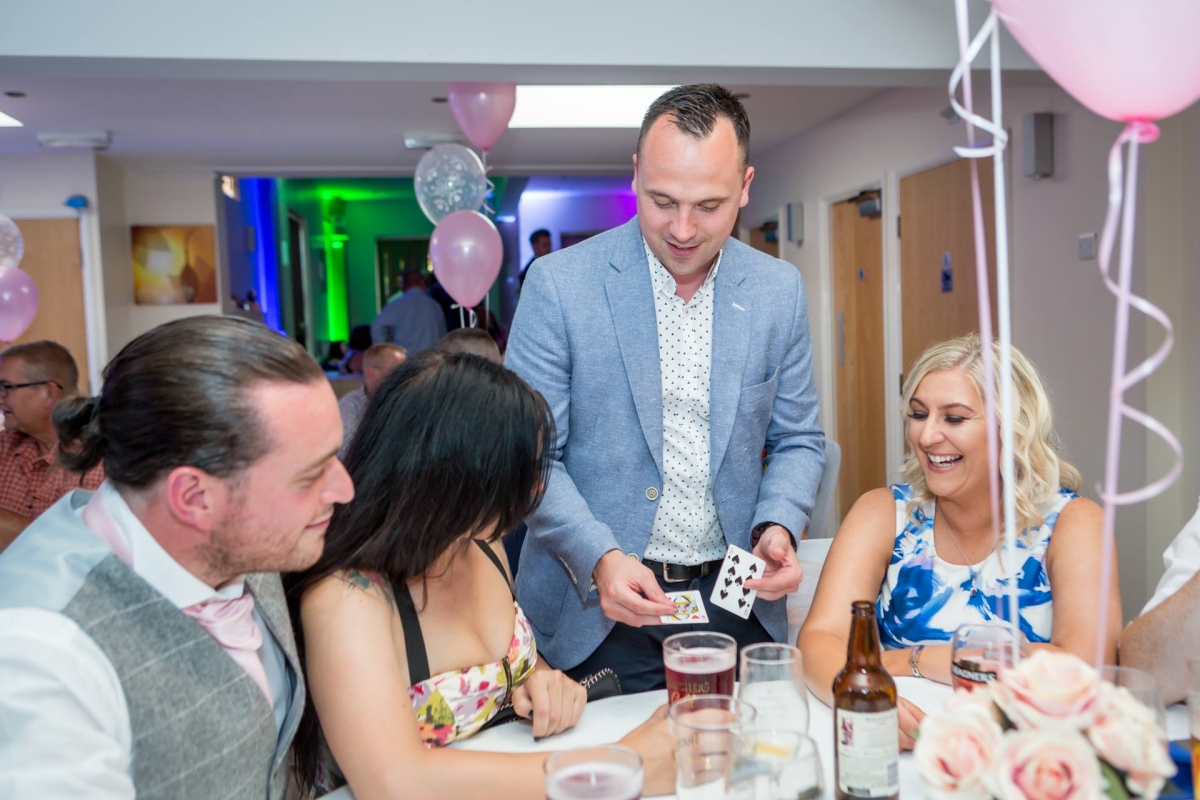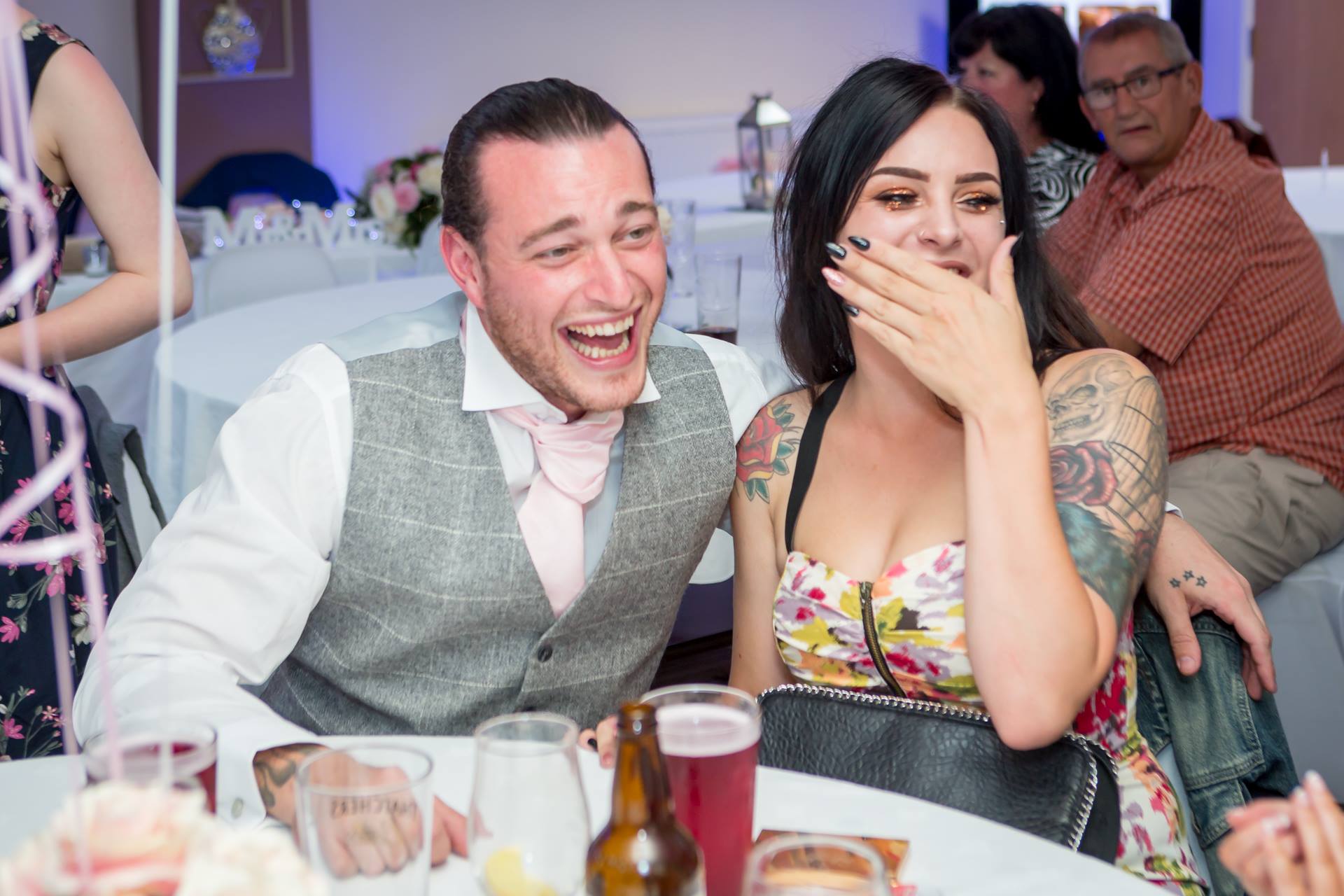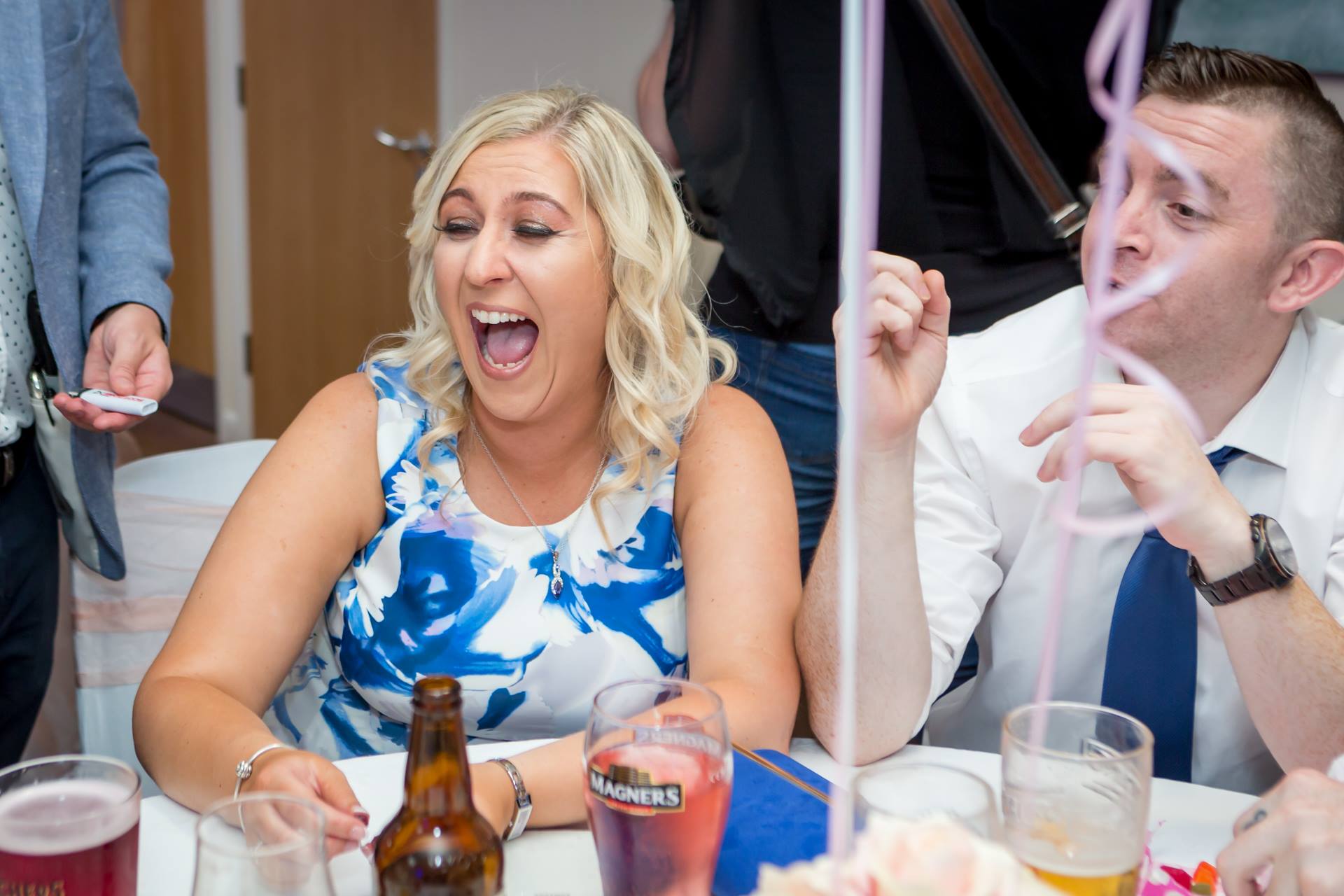 Magician In Shropshire Hire For AMAZING Magic Tricks!
My most requested services are for Privet Birthday Party's, Weddings and Corporate Events. I provide mix and mingle style of magic approaching guests where they stand or sit allowing each of your guests the opportunity to interact and experience a few magic tricks.
Phil performed his awesome magic skills at our wedding. Everyone including us were amazed by his tricks and we all enjoyed his performances as he made his way around the room ensuring all the guests had seen his magic. Phil is a lovely guy who made us all feel relaxed and engaged well with our guests.
Have You Asked Yourself Any Of The Following?
✓ "I need something a little different to make my event AMAZING"
✓ "I need this party to ROCK"
✓ "I need my guests to have a magnificent time"
✓ "I love magic"
I have listen to my past clients wants and needs to make sure I provide the very best experience for you and your guests.
Wow where to start?! Phil was amazing from start to finish from the minute he entered the room. I booked phil as a surprise for my other half's 40th birthday and I'm so pleased I did. Every adult & child in the room was blown away with phil, messages the next day talking about him and even asking for his details for them to book. I honestly can not recommend phil enough for any event/party, he is perfect and exactly what my fella dreamt of for his party. Thank you to phil for being as amazing as he was with everyone and for putting the perfect touch on a fab night. Can't wait to book and see him again!!
Shropshire's Wedding Magician.
Getting married in Shropshire, everything almost sorted and then thought pops into your head? I don't want my wedding to be boring. That's right, weddings can be long and boring for guests. With loads of down time and lulls. Thats where I come in as your wedding magician. I will fill the lulls in with amazing magic and mind reading, making sure all your guests are entertained and having a brilliant time.
Booking me as your Shropshire wedding magician, my goal is to make sure you guys have a perfect wedding day so you can celebrate in style.
My Guarantee to you.
Crazy magic tricks & mind reading.
Breaks the ice between guests.
Great photo opportunity's.
Making sure you and your guests are having a wonderful time.
The best times to have a wedding magician in Shropshire are at the drinks reception, after the wedding breakfast or as the evening guests arrive.
Get in touch for a now obligation quote and consolation.  If your planning a summer wedding I wrote a short blog on my top 10 wedding games hopefully you will get some ideas that you can implement into your wedding day.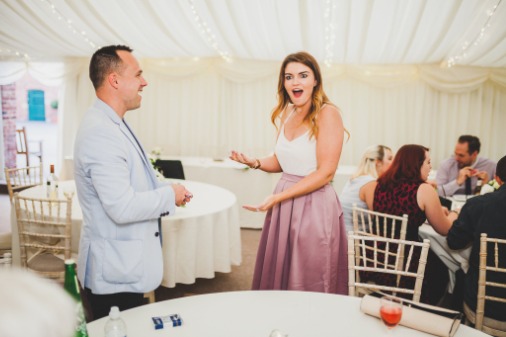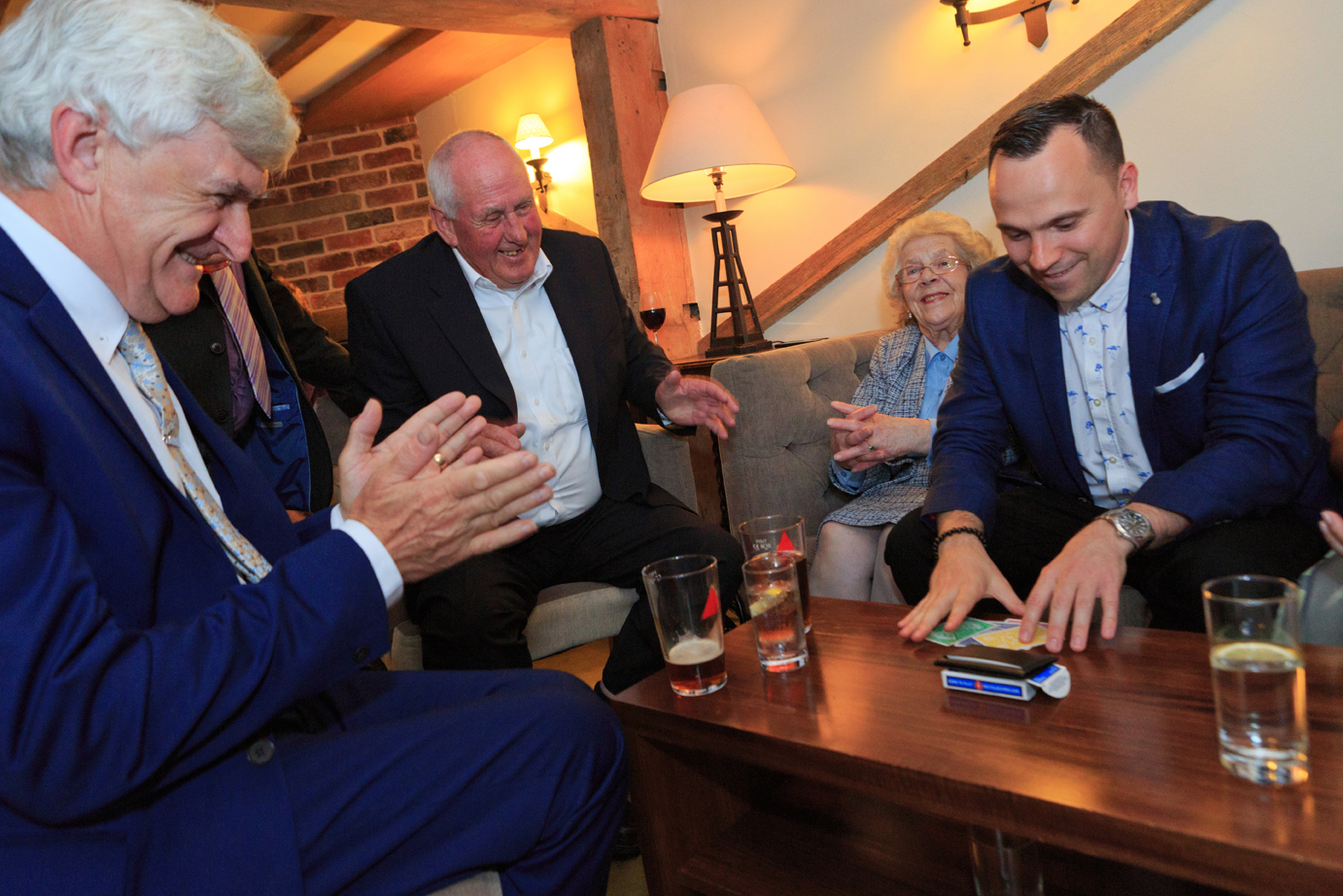 Shropshire Magician Hire For Privete Party's
Getting your party right is important. Are you worried that your guests will get bored and leave early? Or do you just want them to have a wonderful time to relax and enjoy the occasion? Well, that's where I come in, providing world class magic tricks and effects to keep you and your guests entertained.
We only get to celebrate milestones Birthdays a few times in any lifetime, so why not make it special? Booking me as your magician, I will walk between your guests entertaining where they sit or stand providing moments of madness, lifting the mood and making sure all your guests are having a brilliant time.
My promise to you!
✓ Amazing Magic tricks & Mind Reading
✓ Impossible Moments of madness
✓ Laughter & Happiness
Booking me as your party magician in Shropshire, that's my goal to make sure your party goes off with a bang. I wrote a short blog on how to plan the perfect party take five have quick read to see if you've missed anything 🙂
Shropshire Magician Corporate Entertainment.
A few good reasons to book me as your Corporate Magician
1. You Need An Ice Breaker.
Most people attending a corporate event won't know where to place themselves it's out of their comfort zone. They will normally navigate to the colleges that work with and chat about what's gone on in the office. Booking me as your corporate magician, I will break the ice with your colleagues, show them some incredible magic tricks, letting them know they are in for a fantastic time.
Set the tone for your event, let guests know they can relax and have an enjoyable time.
2. Start A Natural Talking Point.
Give guests a common talking point. "Have you seen the magician yet?" Giving people the opportunity to mix with other departments, directors, seniors, they will have something to say other than work that may not apply to each other. Most people struggle to come up with a conversation. Experiencing magic give them the gift of conversation.
3. We never remember a day but we remember the best moments!
There was a study done a few years ago. Most people will only ever witness two magicians in their lifetime. A memory they will recall forever. Try this, when was the last time you saw a magic trick? I bet they can recall the trick and where they were. That's how powerful magic is. They will remember your event, the message and an occasion.
If you want to find out more please get in touch now 07967155970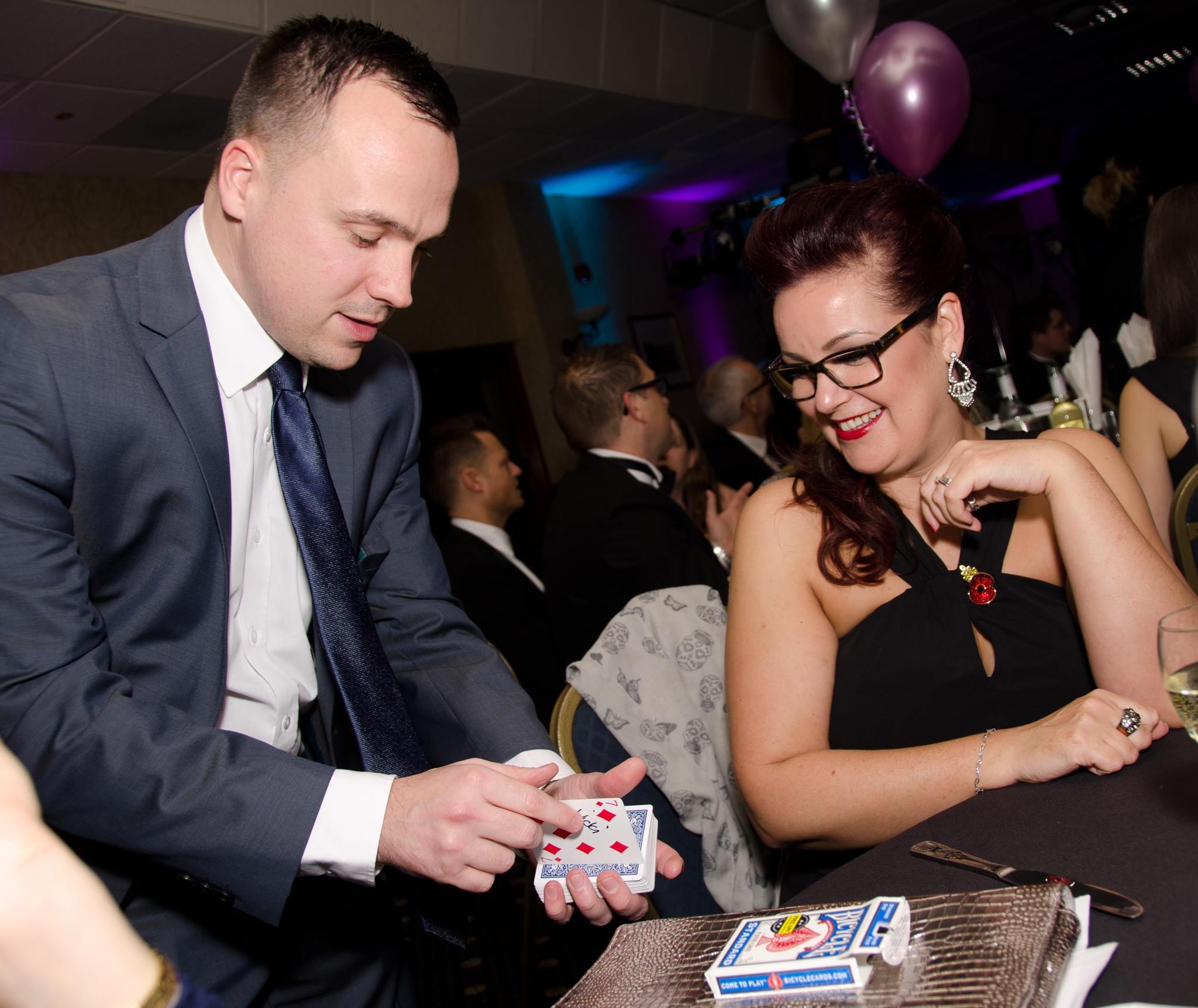 Why Book Me As Your Shropshire Magician?
 ✓ 15 years of experience
✓ Crazy unexpected magic tricks
✓  Creating the most perfect day
✓  Create Fun & Laughter
✓ Professional polished entertainment
If you like what you see get in touch today to find out more CLICK HERE or call 07967155970 for a no obligation quote.
Wow…we had Phil at our wedding and he astonished all our guests, I had people come up to me all night saying the magician blew their mind… amazing! And such a lovely guy.. would highly recommend to anyone ..thanks Phil 
FaceBook 5 Star Review  Oringal Source
Do you perform at weddings As Shropshire Magician?
Yes,  I perform at after the wedding breakfast, between photos and as the evening guest are arriving.
How much does it cost to hire a magician in Shropshire?
I have a few packages depending on your requirements it best to get in touch to find out more.
What magic do you perform as Shropshire Magician
Close up magic, Mind Reading, Pick-Pocketing, Hypnosis.
Hopefully, you understand what I can do for you and if you want to find out more or get a quote please fill in the form below or call me on 07967155970 for a no-obligation quote and a general conversation.
Three simple steps to booking me as your magician or call 07967155970
Fill in the form.
Find out more.
Book me.
Fill In the Form For A No Obligation Consultation & Quote
Phone Number: 07967155970
Email Address: ptaylor@magicianscorner.co.uk
Available for hire magician in Shropshire the below areas.
Alton, Audley, Barton-under-Needwood, Biddulph, Burntwood, Burton upon Trent, Cannock, Cheadle, Codsall, Eccleshall, Essington, Hanley, Hednesford, Hixon, Kidsgrove,Leek, Lichfield, Madeley, Newcastle-under-Lyme, Penkridge, Rugeley, Shenstone, Stoke-on-Trent, Stone, Tutbury, Uttoxeter, Wheaton Aston, Wombourne,