Best Time For A Wedding Magician To Perform (Full Guide)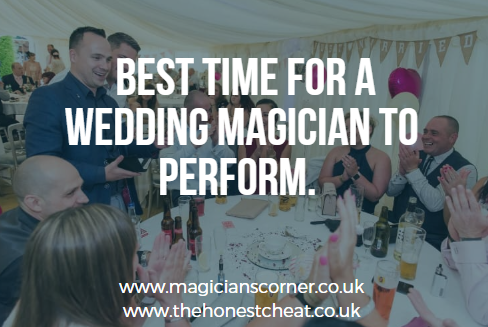 When it comes to choosing a wedding magician, one of the most important things is to make sure that you choose someone that you and your guests are going to love. So, when is the best time for you to perform at a wedding?
Phil has created a list of the best places for you to consider below. Keep reading to learn more!
1. At the Drinks Reception / Photos
Just as you've been married the guests arrive from the church they are then welcomed at the drink reception, where a magician begins to amaze and entertain whilst you attend the all important photos.
This helps to break the ice between guests and get them into the party mood.  Also helping you guys to relax and enjoy your photos knowing there is entertainment for your guests.  Keeping lulls and dead time to a minimum.
2. During the Wedding Breakfast.
The wedding breakfast should be about fun and happiness and should flow seamlessly into the evening or speeches.  Booking a magician will help bring guests together on their tables, create gasps and laughter. The magician should also help keep everyone entertained whilst waiting for first service and between courses.  Lifting the mood for the evening party.
3. Deserts and Coffees / Room Turnaround Time.
Personally my favorite place to perform after guests have had their meal and a few drinks, there usually is a lull, this is the perfect time to have entertainment, injecting the energy back into the room with fun and laughter.
4. The Evening Reception.
As your evening guests arrive what better way to greet them and their family's then with some amazing magic, its like a thank you for coming.  The day guest will already be waiting in the room with the DJ, having a magician surprise them all with mind blowing magic will really lift the mood for the perfect party atmosphere.
5.  Its Up To You.
A professional magician should guide you with their experience and knowledge, after all every wedding is different and personal so its important to pick the right magician/entertainment.
Get in touch to request more information.
Hopefully, you understand what I can do for you and if you want to find out more or get a quote please fill in the form below or call me on 07967155970 for a no-obligation quote and a general conversation.
Three simple steps to booking me as your magician or call 07967155970
Fill in the form.
Find out more.
Book me.
Fill In the Form For A No Obligation Consultation & Quote
Phone Number: 07967155970
Email Address: ptaylor@magicianscorner.co.uk