Magician Warwickshire
If you are looking for the best magician in Warwickshire then look no further.
Hire For Weddings, Parties & Corporate Events.
Click For Quote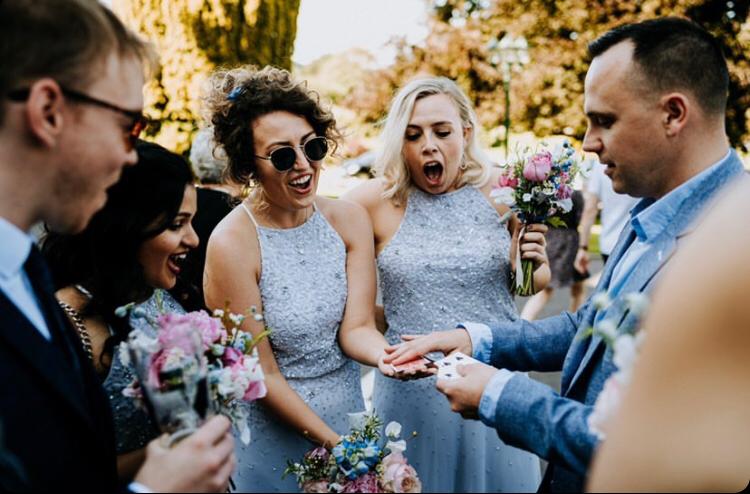 Interested In Hiring A Professional Magic Circle Magician In Warwickshire?
Towns Covered
Nuneaton | Rugby | Royal Leamington Spa | Stratford-upon-Avon| Kenilworth | Bedworth | Atherstone
"My magic show will leave a lasting impression on all your guests and make your special day even more memorable".
Meet Warwickshire Magician Phil Taylor?
"Hello, my name is Phil Taylor and I am a professional magician with the Inner Magic Circle (AIMC). Today, you're going to learn some of what it means to be me."
"I'm often asked by guests whether magic really exists. The answer? Yes!
Some people love magic tricks and the illusion of being fooled. I have been performing as a professional magician in Warwickshire for decades, and I offer the perfect show to leave you and your guests stunned! My style of magic is sophisticated with an approachable warmth that will match everyone's needs.
"Award-Winning Close Up Magician Perfect For Weddings, Privet Parties & Corporate Entertainment".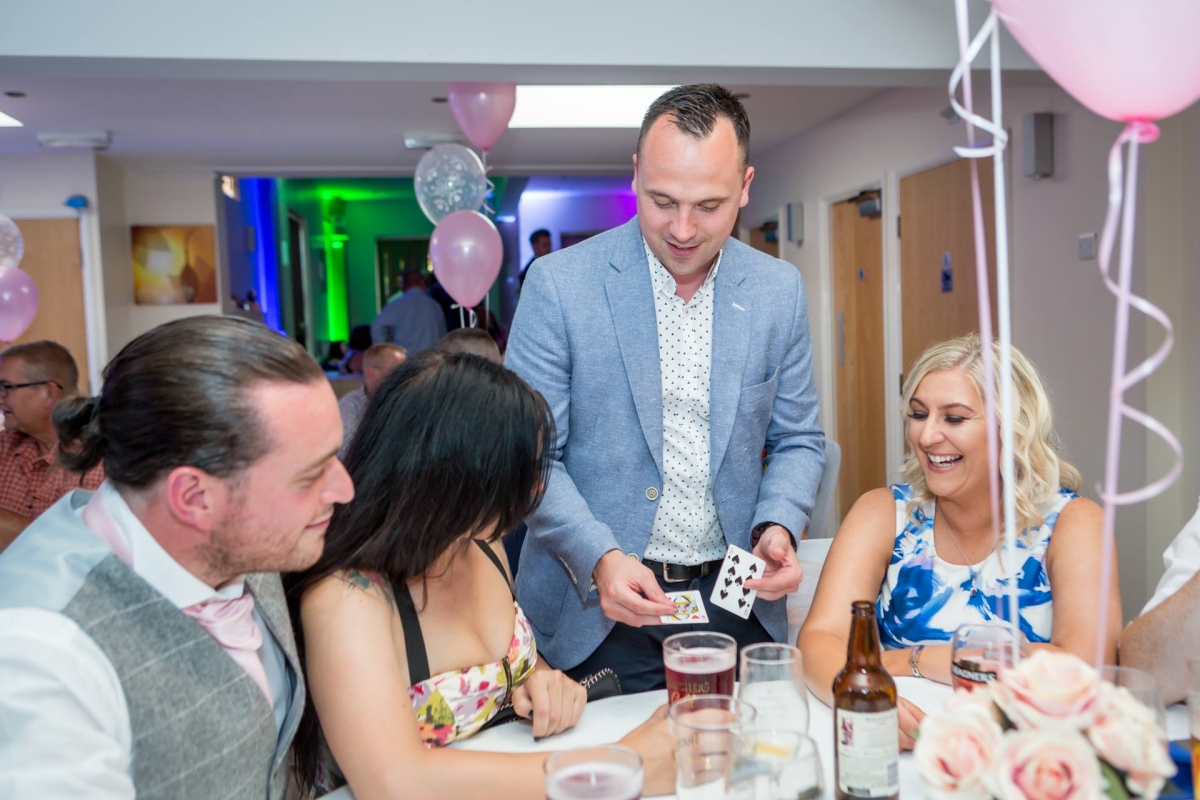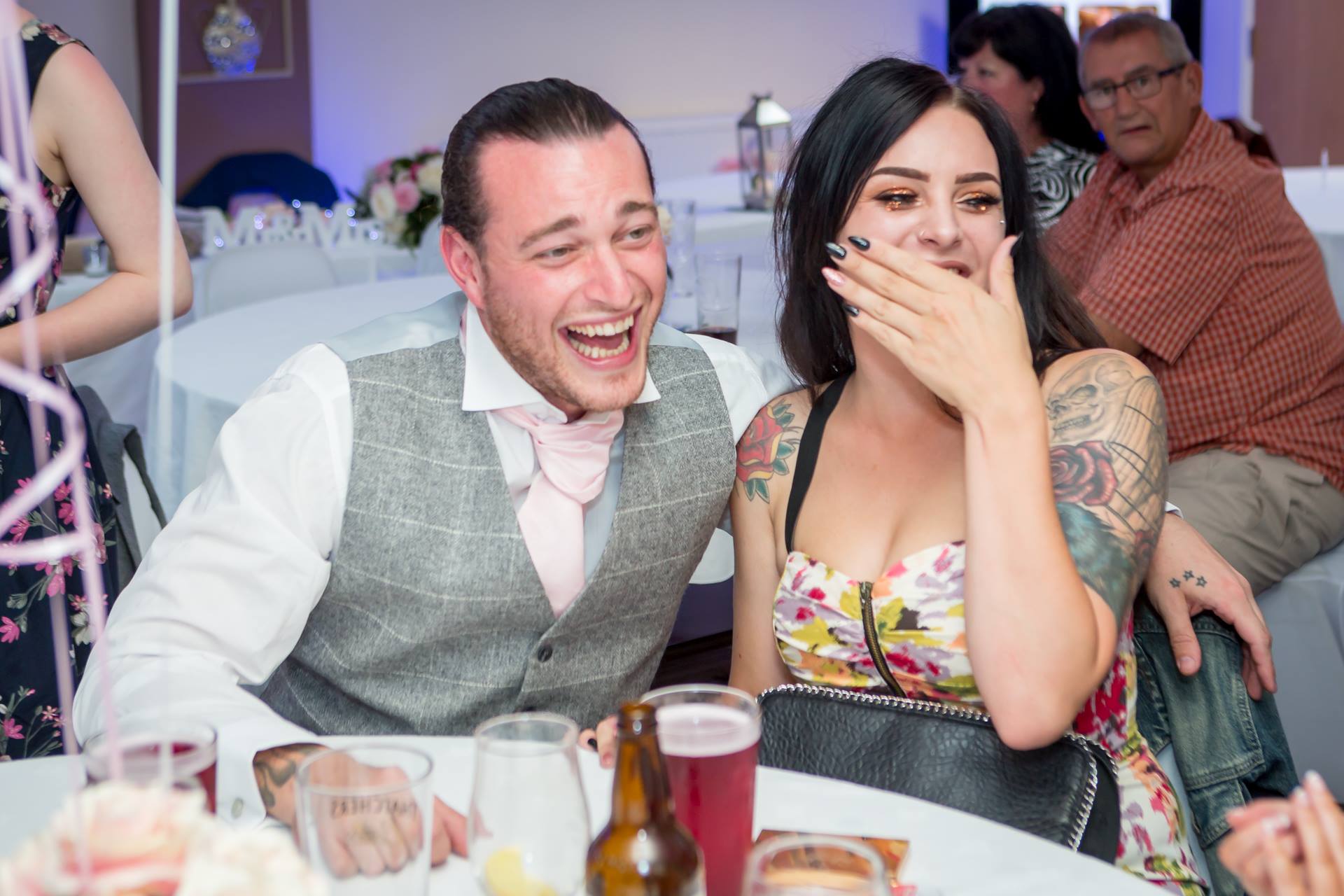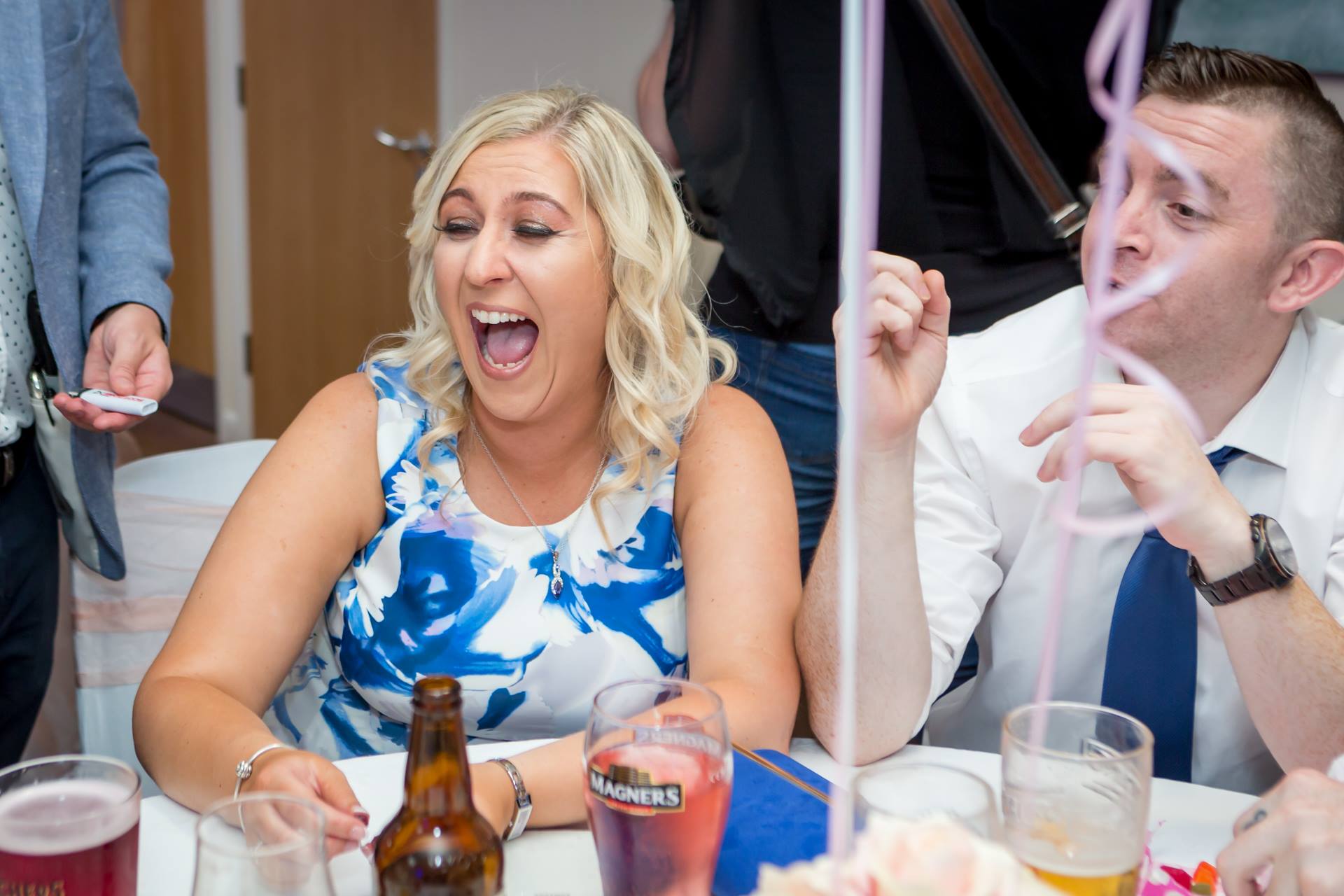 I've been a magician for over 20 years and I know that every event is different. That's why my shows are customized to the time, venue, and audience in order to create an effective experience of magic!
I can turn a room of strangers into your new best friends with the touch of my wand. Imagine how impressed and happy you'll be when these people introduce themselves to each other for hours on end, laughing loudly over jokes that would normally have been missed because they were at opposite ends of the party! I am an experienced entertainer who performs in both private events such as weddings or corporate functions like Christmas parties.
Phil performed his awesome magic skills at our wedding. Everyone including us were amazed by his tricks and we all enjoyed his performances as he made his way around the room ensuring all the guests had seen his magic. Phil is a lovely guy who made us all feel relaxed and engaged well with our guests.

Wedding Magician In Warwickshire.
If you thinking about hiring a magician for your wedding reception to go around the tables
When it comes to planning the entertainment for your wedding, there's nothing quite like hiring a professional magician. From entertaining adults with magic tricks and family-friendly comedy to making all of your guests laugh, my goal is just that: To get everyone laughing! From Nuneaton to Oxford and around the Midlands you won't find a better magical experience that is wonderful for evening entertainment or the wedding breakfast.
I guarantee that I will be perfect entertainment for both adults as well as kids during your reception or breakfast before heading out on their honeymoon trip.
When you want to create some magic in your life, or just have a good time with friends and family at the next party. I've got what it takes! My close-up table magic is perfect for entertaining those sitting nearby as well as delightful entertainment during dinner parties. For larger groups that can't get near enough to see our sleight of hand, I also offer an amazing mind reading trick where I read thoughts from across the room using only my eyes.
Phil Taylor Magic Circle Magician, I specialise in creating moments that will last forever – whether it's laughter between friends or photos capturing memories after the main meal.  Find out more about Phil Taylor Warwickshire Wedding Magician.
If you're having a summer wedding, I've written a blog on my top 10 games played at weddings.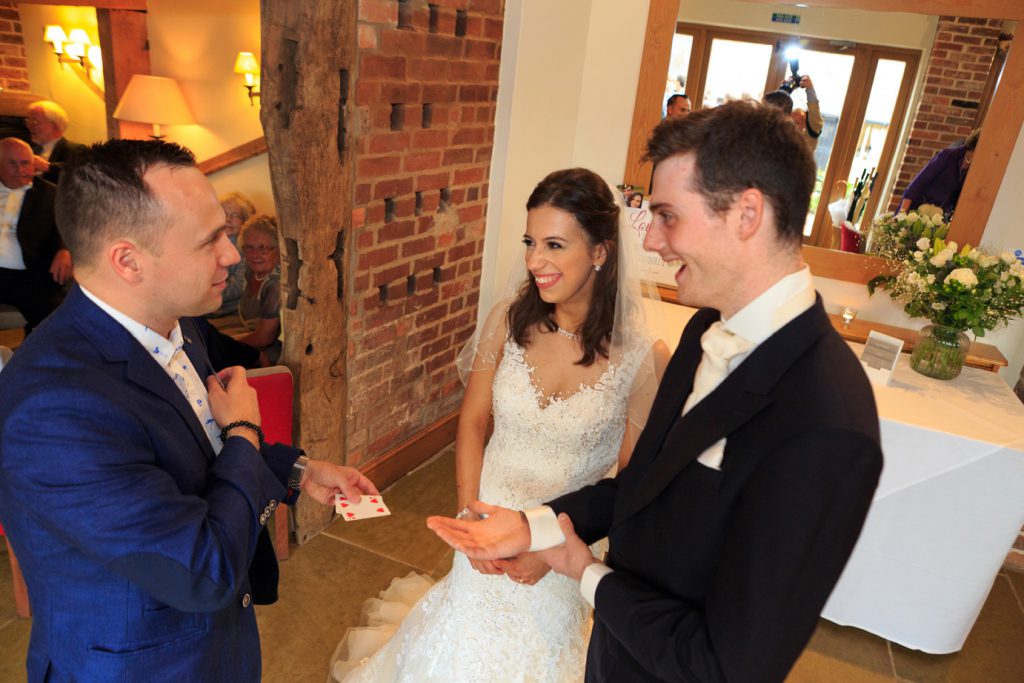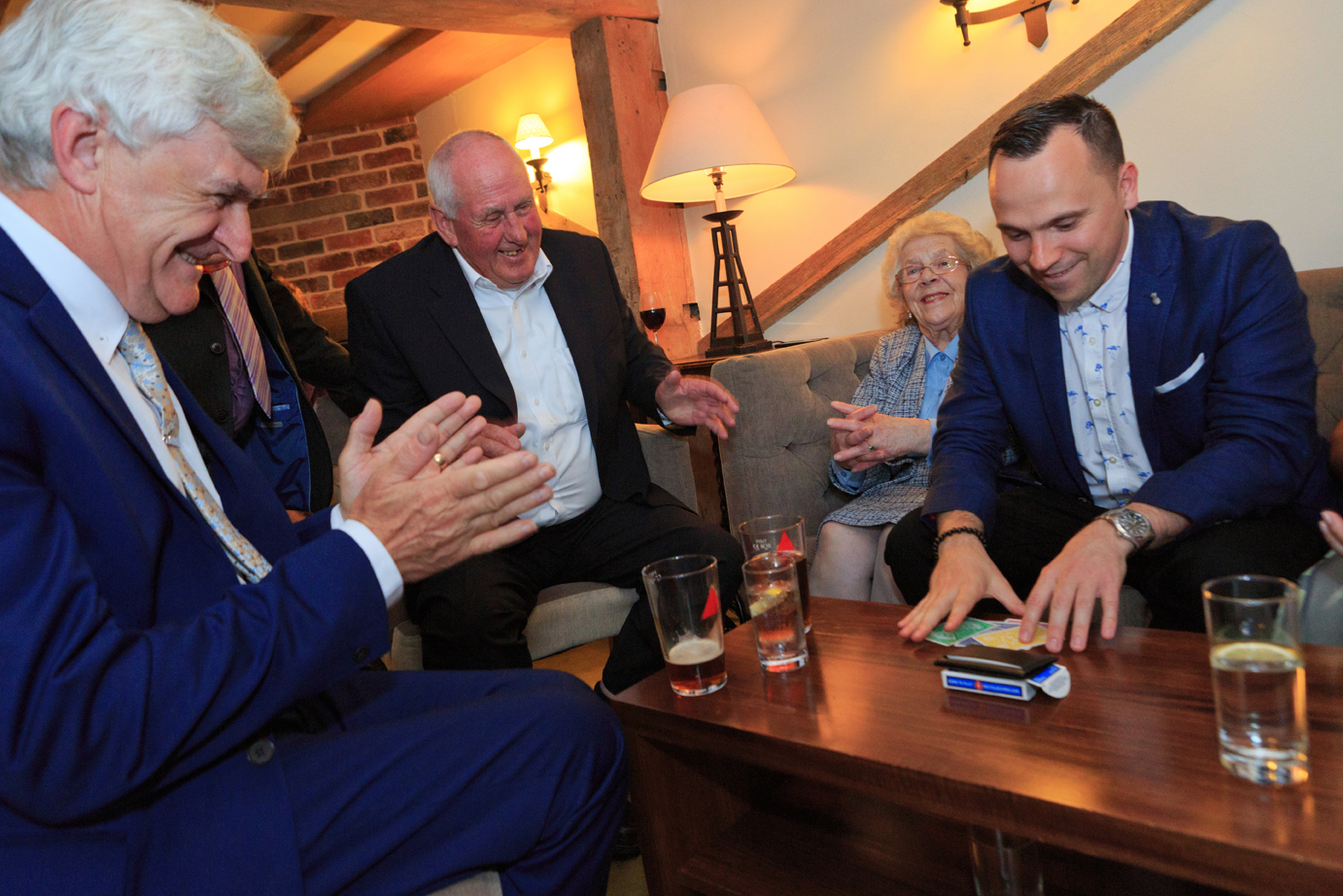 Party Magician In Warwickshire
I will wow your guest with my magical skills. With different styles of entertainment, I can provide you the perfect party experience for everyone! Whether it's a close-up magic show or table hopping and performing tricks around the room; no matter what type of event you're celebrating – birthdays, anniversaries, fundraisers, or corporate functions – hire me to create an unforgettable evening filled with laughter and amazement.
Mile Stone Birthdays should be celebrated in style, and with a close-up magician! You'll feel like you're living inside of magic. Get the BEST Warwickshire magicians to come to entertain at your party – they are guaranteed not just to leave people wondering how it works, but also entirely satisfied from laughing so hard their sides hurt.
With a magician on staff, any event is sure to be unforgettable. Whether you're planning an anniversary or birthday party, I can make all of your dreams come true!

Corporate Magician For Private Parties & Events In Warwickshire
Do you know the best way to entertain a group of work colleges? With your own personal magician! I've been honing my skills as an illusionist for years now and am ready to take on any challenge.
You won't believe how awesome it is when I pull out all these tricks, like making someone's card appear from thin air or even turning them into chickens with one simple hand gesture – that always gets a good laugh! Whatever type of event you're hosting, let me be there so we can have some real fun together.
Warwickshire Corporate Magician
Three reasons to book Phil Taylor for your next corporate function.
1. Perfect Warm-Up Act.
Most corporate events start slow. As guests trickle in to grab their first drink, they will usually orientate themselves with familiar faces picking up the conversation where they left off, work-related. Booking me as Warwickshire's BEST Corporate magician, I will provide a new point of interest, something different giving colleagues the chance to witness the impossible and experience the incredible. Corporate events should be about having fun and happiness. Work hard, play hard.
2. Create A Natural Talking Point.
Creating a shared experience allows your guests the opportunity to talk about what they have just witnessed. Something fun, something different. Guests will start to feel more relaxed and want to stay longer.
3. Make It Amazing.
We only get to party a few times a year. Why not make it special? Hiring me as your Warwickshire's Best Corporate Magician, that's what I do create the vibe engage with your guests and make sure they are having a brilliant time.
Be Part of the Magic.
If you want to find out more please get in touch now 07967155970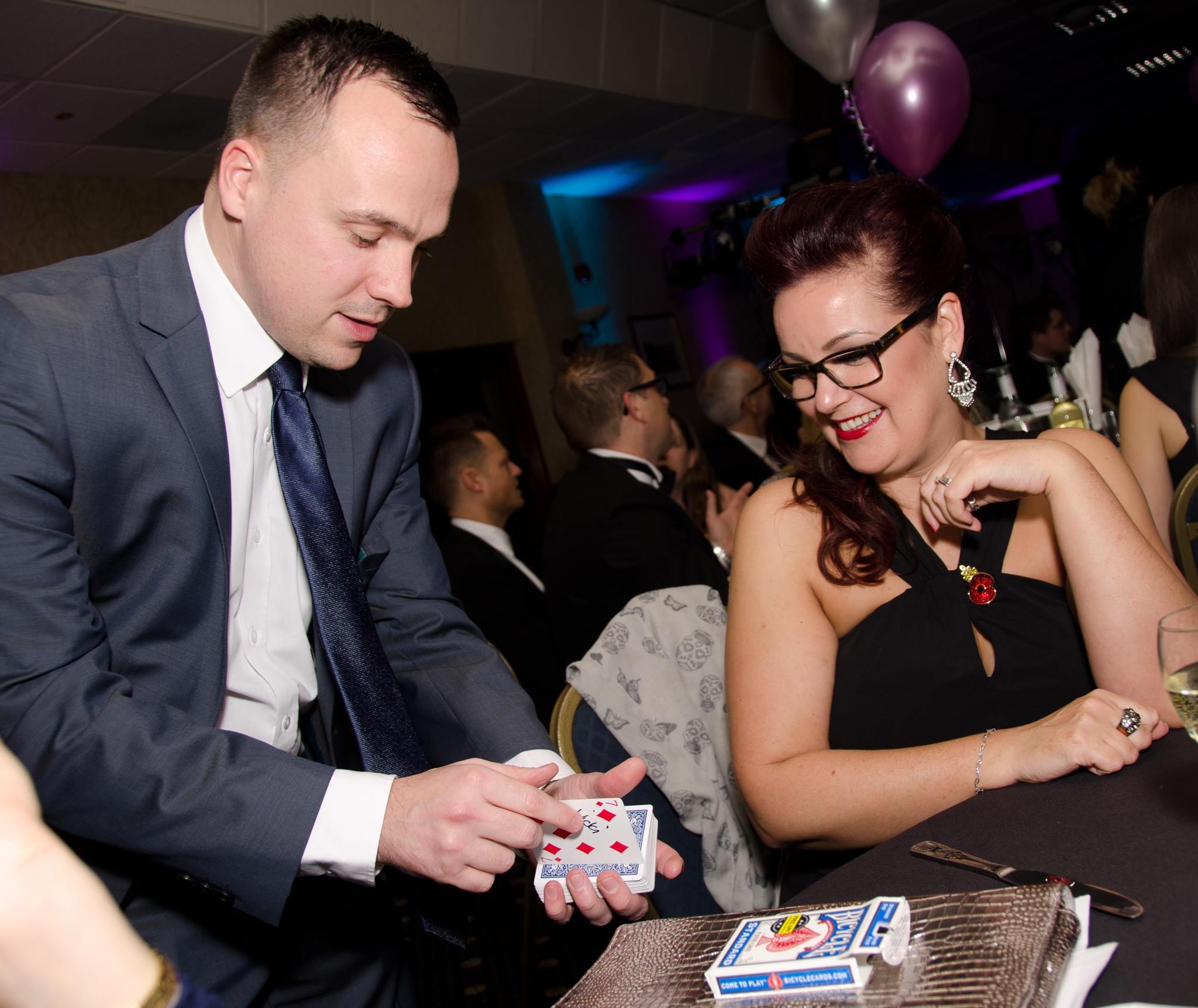 About Me
After a successful career as an acclaimed professional magician and illusionist, I am thrilled to be bestowed as Associate of The Inner Magic Circle   A.I.M.C. with a silver start for performance the highest honor when joining The Magic Circle. As an A.I.M.C member of this prestigious society, this is considered among very few magicians who have achieved such high levels in their craft – achieving what was once unthinkable for those not born into magic families.
I am absolutely honored that both my peers and family members regard me as a highly-skilled entertainer and performer.
Hired Phil for our wedding, we wanted something different, not cheesy.
Our guests are still talking about how great he was!
IM not joking his slight of hand is unreal!
Highly recommended!!!

Close Up Magician Warwickshire
Brace yourself for the most incredible show you have ever seen! You will never be able to look at a simple coin trick the same way again. For those who really want their guests to feel like they've been transported into another world of magic, my Close Up Magic will more than meet the requirements.
If you're still in doubt check out my quotes of impossible magic and creating a fantastic atmosphere
My performance will include borrowed money, coins, cards, and illusions that are unique and excellent for all occasions.
If you are looking for a bespoke no-obligation quote then get in touch today to find out what service I recommend for your next event.
Christmas Party Magician Warwickshire.
Christmas Parties Magician Warwickshire is a great way to give your guests an experience they'll never forget. If you want the best close-up magic in Warwickshire for your Christmas Party this year, get in touch with me today!
What type of Warwickshire Magician are you?
I am a close-up magician, but I also offer parlor shows for smaller audiences. Most often my performances can be seen at weddings, corporate events, or parties. The Christmas party is an area that has been growing in popularity over the past couple of years and this is something with which I have developed skills.
How long do you perform as Warwickshire Magician?
For how long do I perform my close-up magic? Well, it depends on your event and requirements. Typically, for a few hours as guests mingle or where they are standing – but that is just the gold package! If you're interested in performing an after-party show then get in touch with me to arrange it directly. And if this sounds like what's up to your alley (no pun intended) then let us know so we can get started planning together today!
Hire Warwickshire Table Magician
Table Magician, why go to a show when you can experience the magic of tricks and mind-reading right at your table LIVE?
Table magicians are masters at creating illusions. Guests will be amazed as they watch the magician pull scarves from thin air or make doves appear out of clothes without even moving! With an experienced table magician by their side, guests won't have any idea how the tricks work.