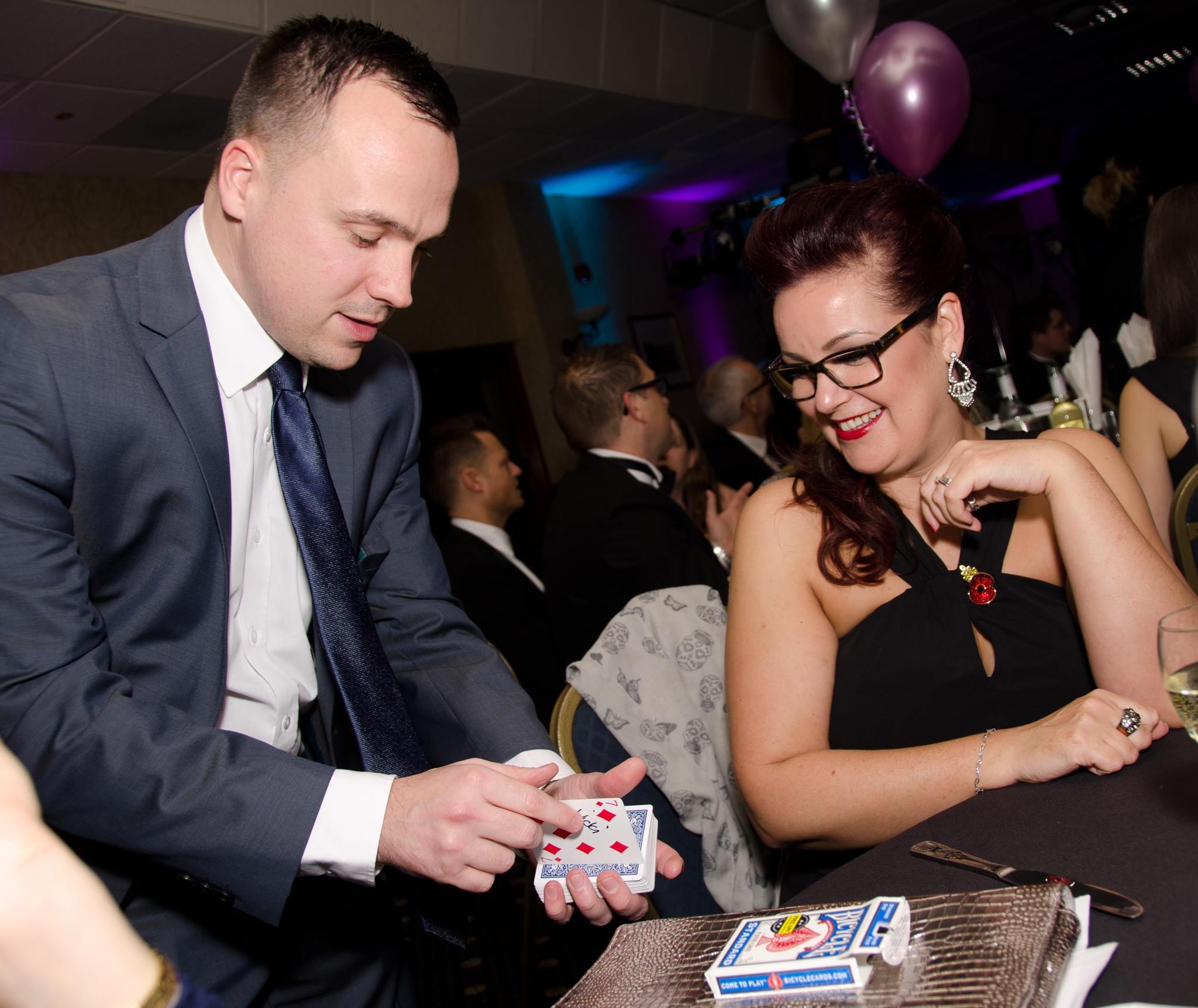 Christmas Magician
Hello, welcome my name is Phil Taylor the perfect Christmas party magician.
The best way to hire a Christmas magician is to make sure you know what the event will require. There are some great magicians out there, but not all of them can do all types of magic tricks and illusions! That's why I'm here with this step-by-step guide on how to find your perfect party entertainment hopefully for me.
Christmas parties are a staple in the year for both businesses and private events. It's no wonder that people like to get things booked months early as they know how popular some of these entertainers can be!

Christmas Parties
Christmas parties are the best time of year. We wear our most beautiful clothes, exchange presents and gets to eat all kinds of delicious food that we normally wouldn't be able to enjoy in December. Hiring a Christmas party magician is a great way to kick off the celebrations they will mix and mingle and perform amazing magic and mind-reading for the best Christmas ever.
When you've seen the best, it makes your event amazing. Close magicians have a knack for getting intimate with their audience and making them feel like they are all too special to be in such an exclusive club that is being shown something so incredible!

​About Christmas Party Magician Phil Taylor
I'm a proud member of the prestigious London Magic Circle.
I was lucky enough to join when I passed their rigorous examination, as  Associate of The Inner Magic Circle, A.I.M.C. with a silver star for performance the best you can achieve when taking your examination.
Now there's nothing that can stop me from performing world-class magic and mind reading at your Christmas company event.
Please visit my reviews online.
I'm so glad you checked out my reviews!
I want to make sure that I am the right magician for your event, and reading what other people have said about me can give you some indication of whether or not we would be a good match.
If there are things in particular that concern you, feel free to drop me an email at ptaylor@magicianscorner.co.uk

Booking a Christmas Party Magician
Christmas magician – The life of any party can always use some more magic. Add up the mix and mingle magic and mind-reading entertainment from one of our professional close-up magicians who has honed his skills over years at corporate Christmas events. These magicians will turn those dull dinner parties into spellbinding experiences where everyone feels as if they've had front row seats at Cirque du Soleil. Hiring the right entertainment is really important you're always better to book a Christmas magician in January for fun at your table or at private venues
​

A Corporate Event​
A Corporate event is​when a company hosts an activity, often organized by the HR department or one of its members to promote teamwork within the organization's ranks. Booking a Christmas party magician like me will ensure your evening is remembered for all the right reasons.

What Can I do For You?
I will perform close-up magic (walk around magic) is performed for groups sometimes in an intimate setting where you can mix and mingle with your guests. I'll amaze them by mind-reading as they're left wondering how it's possible! Performing at tables outstanding amazing magic and mind-reading at your next corporate Christmas party.

Company Christmas Dinners
Booking a Christmas party magician is the perfect entertainment to surprise and delight all your guests. After dinner is a great time to book a magician to perform his amazing magic tricks as guests are relaxed and ready for the next part of their evening or moving into the next room for a drink or to. Don't worry if your Company Christmas party is in January the drinks can still flow and hiring a professional table magician to perform magic would let your guests know they are in for a fantastic time.
Thanks for reading
Phil Taylor Magician
Hopefully, you understand what I can do for you and if you want to find out more or get a quote please fill in the form below or call me on 07967155970 for a no-obligation quote and a general conversation.
Three simple steps to booking me as your magician or call 07967155970
Fill in the form.
Find out more.
Book me.
Fill In the Form For A No Obligation Consultation & Quote
Phone Number: 07967155970
Email Address: ptaylor@magicianscorner.co.uk