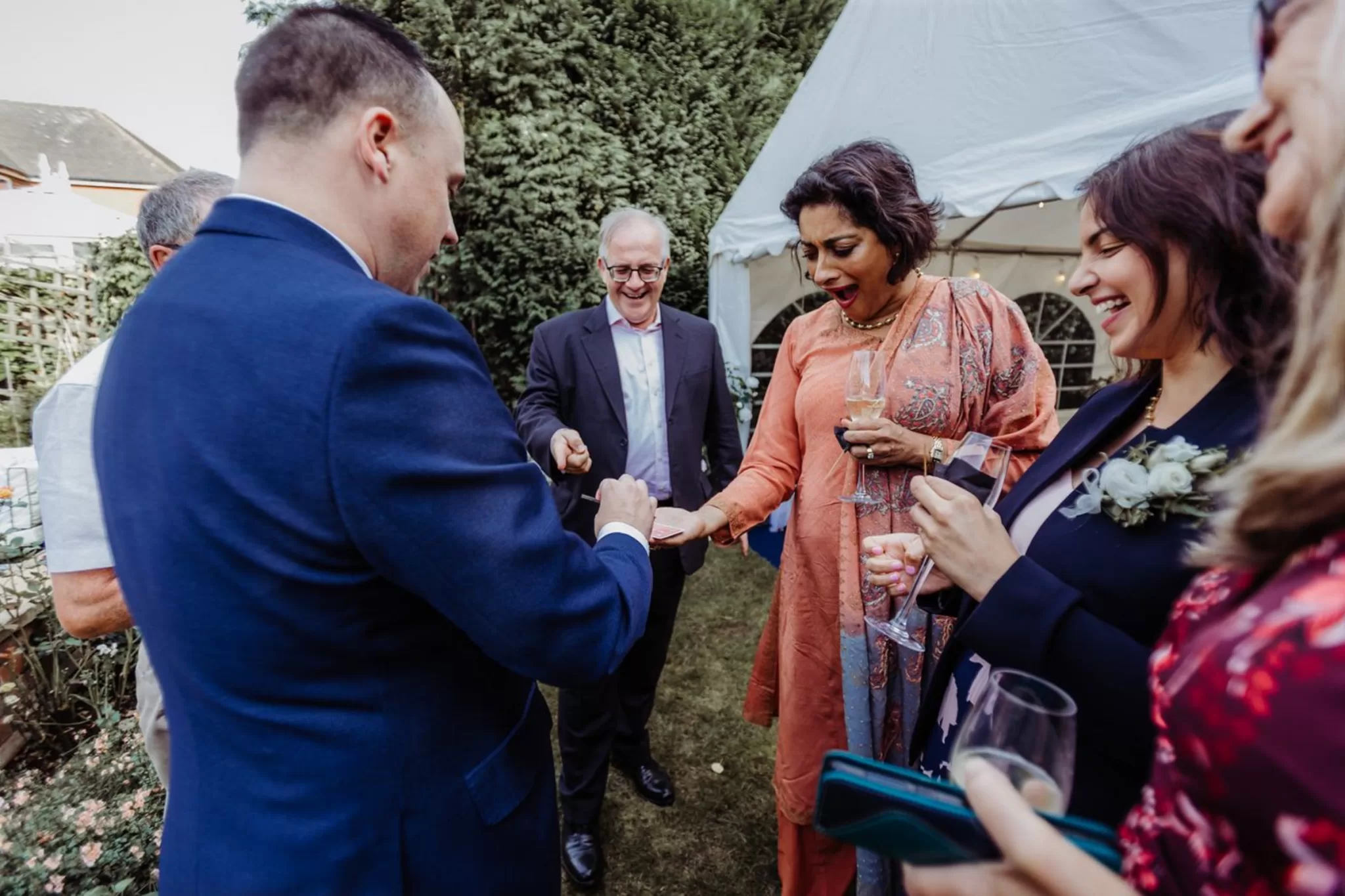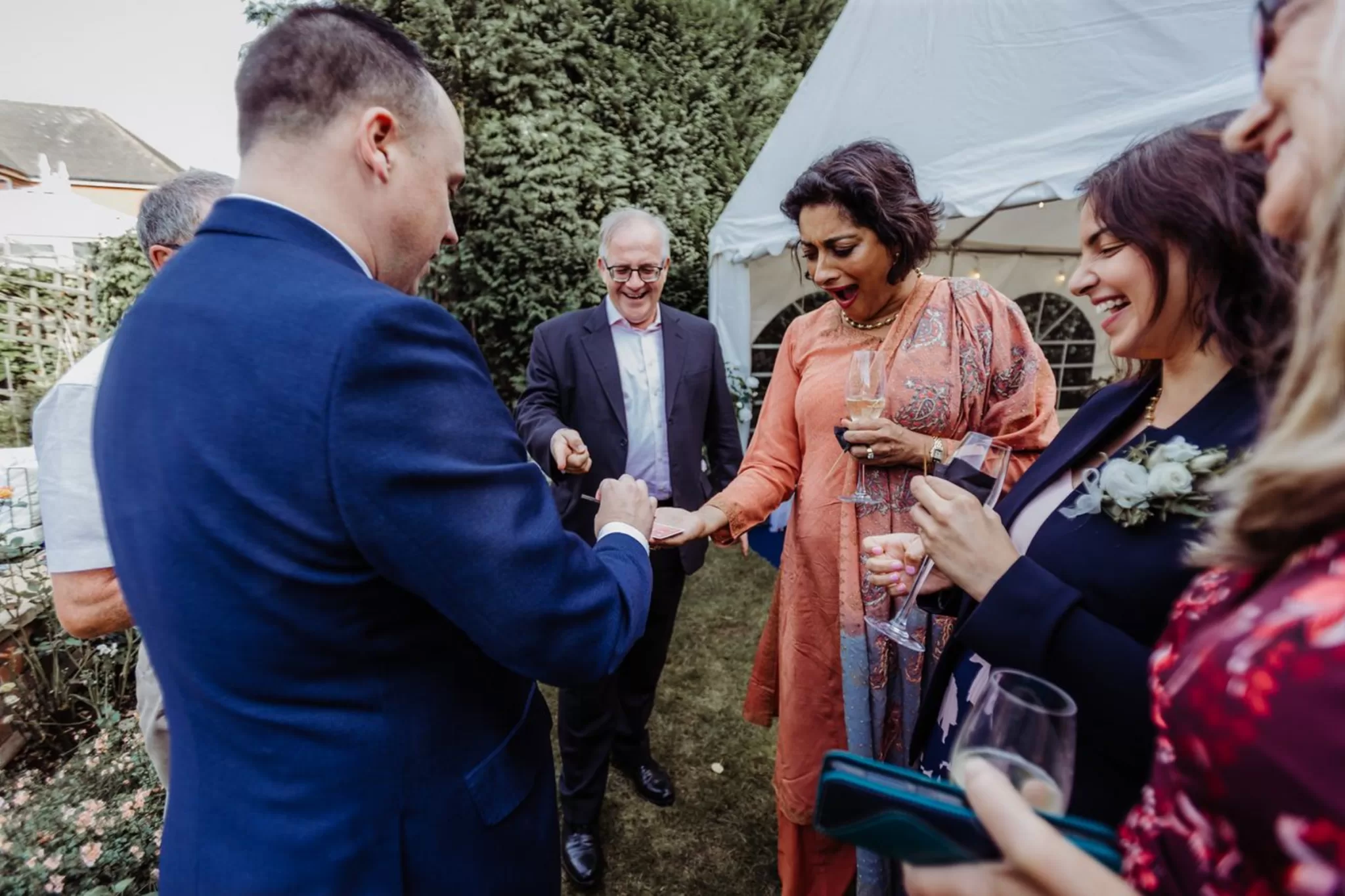 Take Your Party To The Next Level Hire Phil Taylor Magic Circle Magician
I'm a specialist in sleight of hand magic and psychological illusions for Weddings, Private Parties, and Corporate Events. There are always a lot of things to consider when organising any event.
Let me take the worry of booking entertainment off your shoulders I'm the best magician in Solihull awarded Associate of The Inner Magic Circle, A.I.M.C. with a silver star for performance the highest level you can achieve when joining The Magic Circle.
If you want the best magician get in touch for a no-obligation quote let's tick that box and get the ball rolling by emailing today ptaylor@magicianscorner.co.uk or call 07967155970.
Need more information about Solihull Magician, hear what my past clients have said about me, check out my reviews below or my showreel.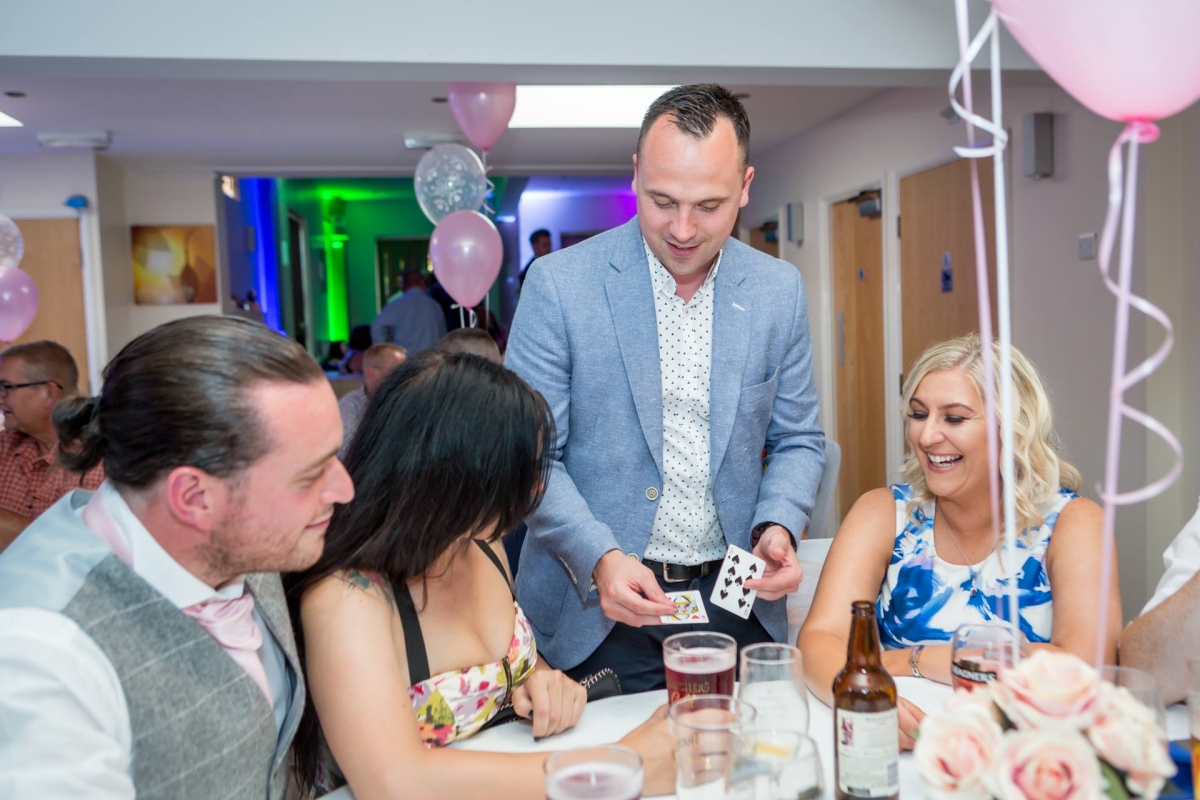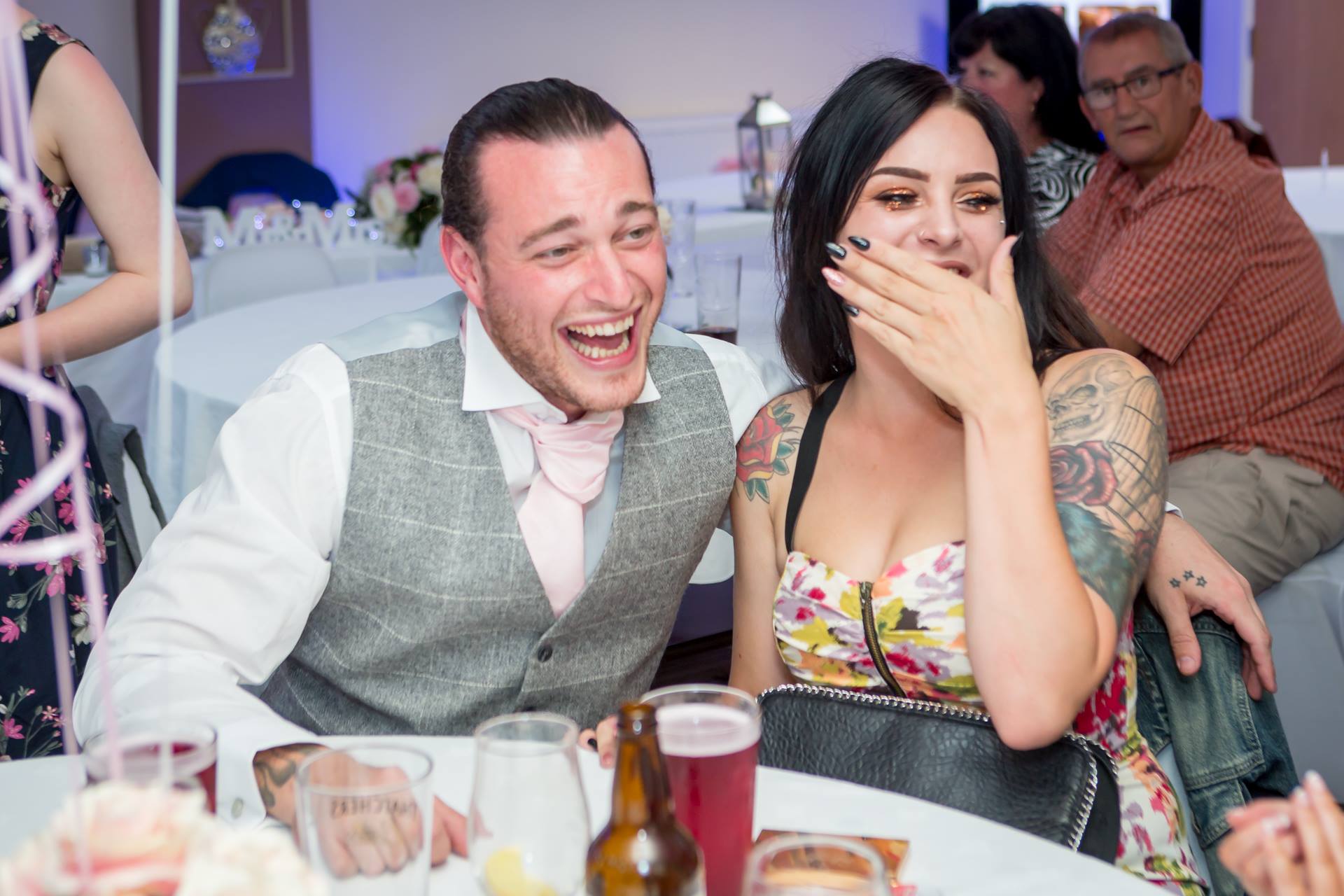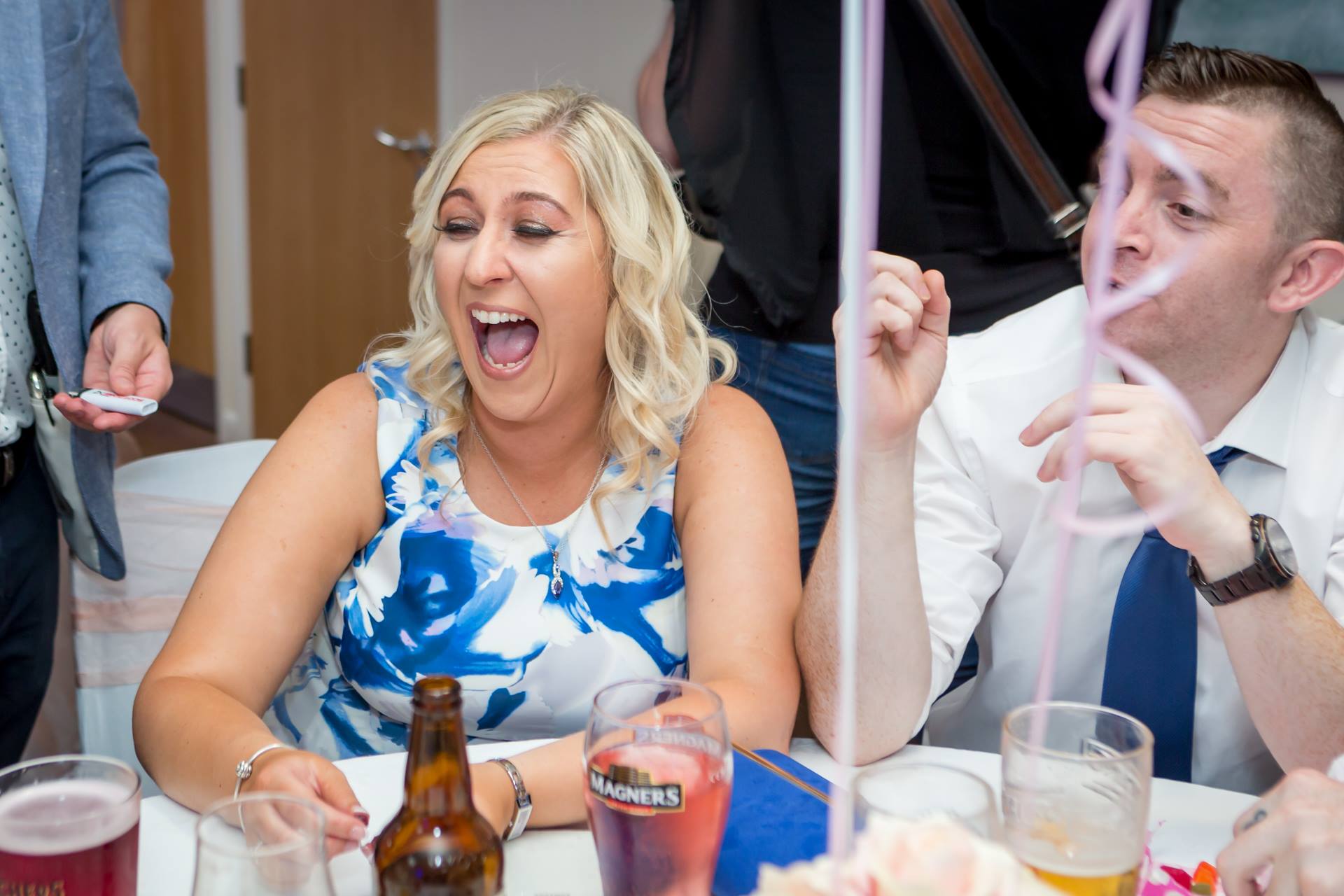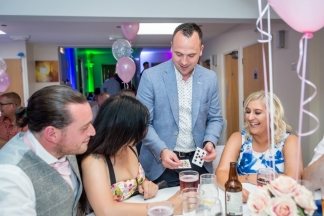 Hundreds Of Happy Clients.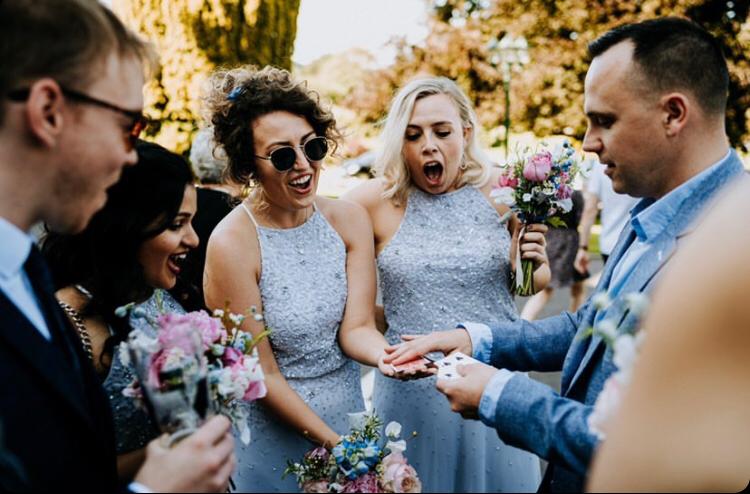 We thought you were amazing!  We found you to be very engaging with the audience, very professional yet welcoming. We really enjoyed working with you and hope to work with you again. Our Christmas plans are very exciting this year as our theme is Constellations. I'm sure we can tie magic in here somehow, so I will be in touch when we have a more firm plan.
Why Book Solihull Magician Phil Taylor?
It's rare we get together to have a wonderful time, catch up and relax.  So why not be entertained, create a natural talking point, bring people together, get people laughing, and having fun?  You can relax and enjoy the spectacle of close-up magic and then watch your friends become baffled, bemused, and amazed. Part of the fun of booking a professional magician is watching the joy of your guests enjoying the entertainment.
Most of the top brands across Solihull have booked me from the NEC to John Lewis Solihull and I often perform at a wedding in the prestigious Hogarths Hotel.
Over the years I have tailored my magic and entertainment so I will amaze you and your guests as they witness the delights of close-up magic and mind-reading. If you would like to know more, get in touch today.
"Award-Winning Magic Tricks For Your Next Party"
Solihull Wedding Magician
Make sure your guests have the time of their lives at your wedding by booking a professional Magician Phil Taylor
When booking entertainment, everyone's expectations are always very high.
If you are looking to keep guests entertained during the drinks reception or ending the night with a bang, there will always be plenty of moments to make your wedding day/night feel amazing.  Adding Solihull's finest wedding magician to your big day, I will ensure your guests are feeling fantastic, experiencing amazing magic, and leaving them with memories that will last a lifetime.
When you book me as one of your suppliers my whole aim is to ensure your day is perfect. I'm not just a magician, I'm your exclusive entertainment. Did you know most people will only ever see a close-up magician twice in their lifetimes, some will have never seen a magician "live" before, giving them the gift of magic at your wedding is the perfect unexpected surprise? If you would like to know more, please get in touch today.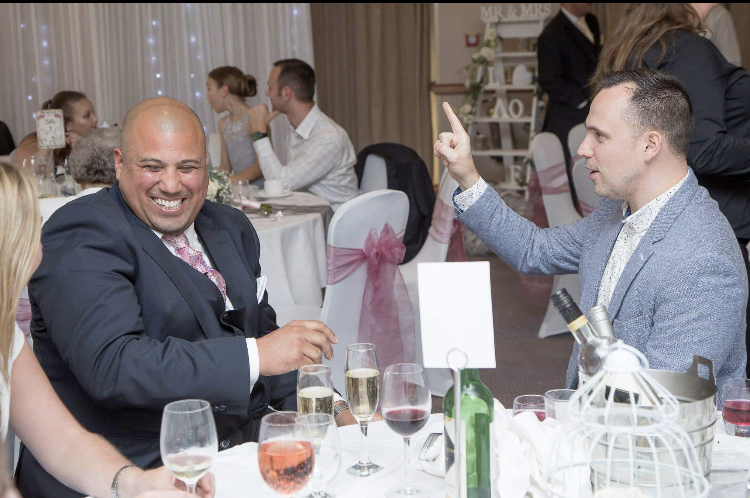 My Guarantee to you.
As Solihull Magician.
✅ Perfect Icebreaker
✅  Creates Fantastic Photo Opportunity
✅ Crazy Moments Of Magic
Wow…we had Phil at our wedding and he astonished all our guests, I had people come up to me all night saying the magician blew their mind… amazing! And such a lovely guy.. would highly recommend to anyone ..thanks Phil
FaceBook 5 Star Review  Oringal Source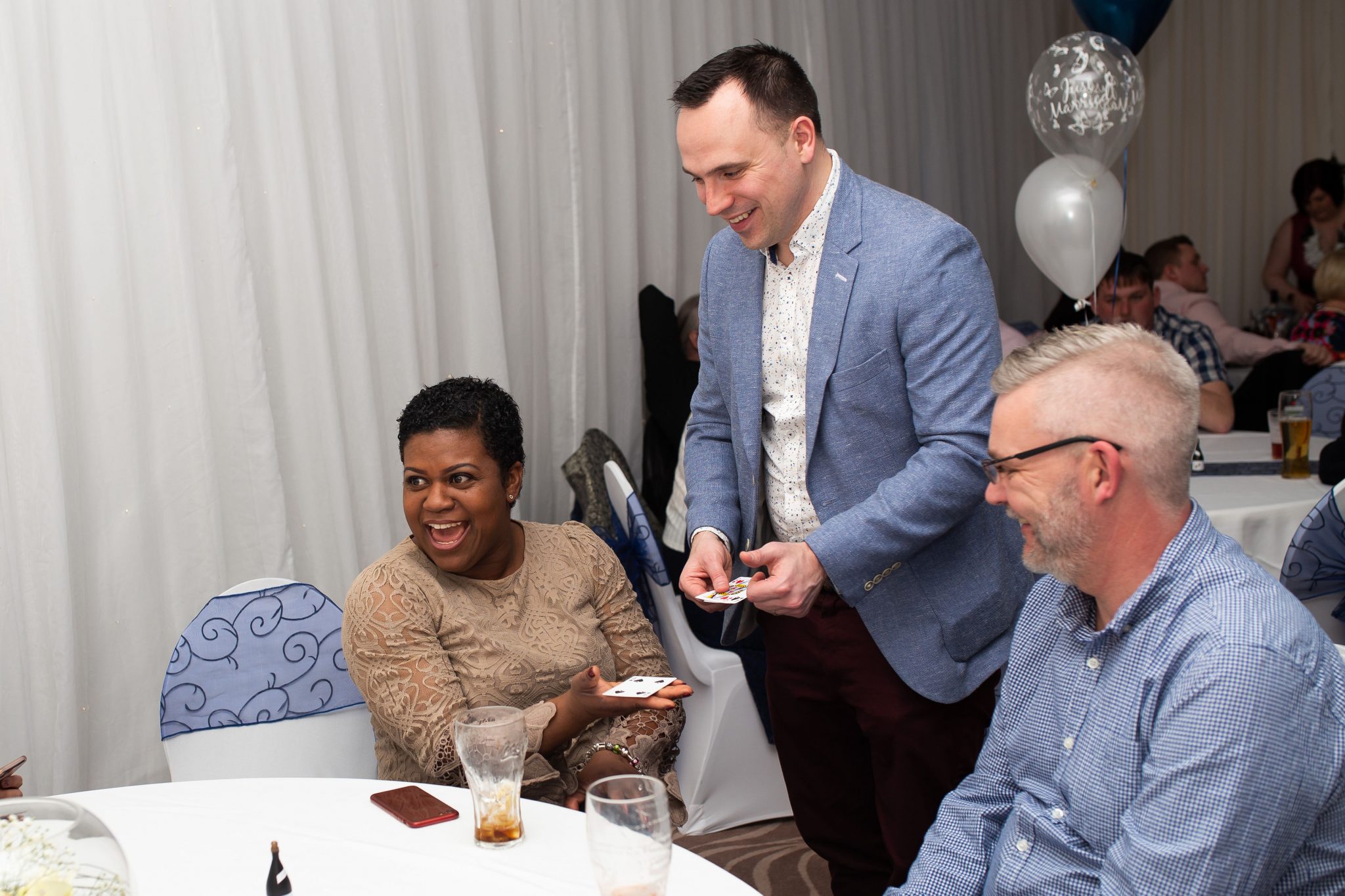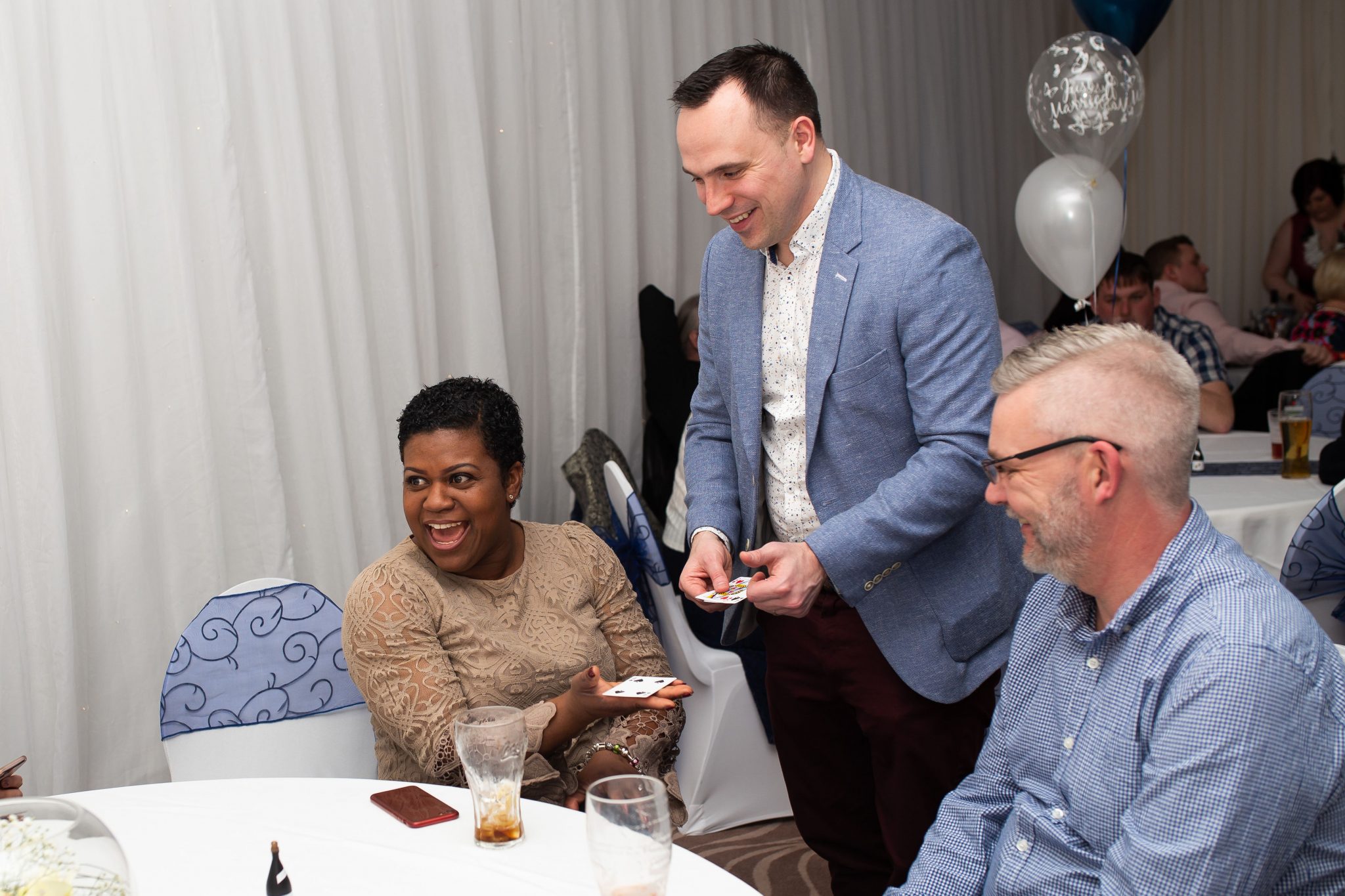 Party Magician Solihull
Planning a party and need entertainment? Hiring a professional magician is the perfect way to break the ice, bring people together and make sure all your guests' experience something special? But more than that, it lifts the mood and lets guests know they are in for a wonderful time.
As a party magician, I like to introduce myself to your guests, either join them at their table or where they stand. Show them something crazy, let them settle down and then do it all over again. You will hear laughter and delight as I move around the room and then after you will hear tales of "how did he do that?" "What just happened?" sparking recent conversations and connecting people together with a shared experience, creating memories that will last a lifetime.
If you're still not convinced and want to know more about booking a magician I've written a blog on what to look for when hiring a magician.
If you would like to know more about my packages, please get in touch for a no obligation quote and consolation.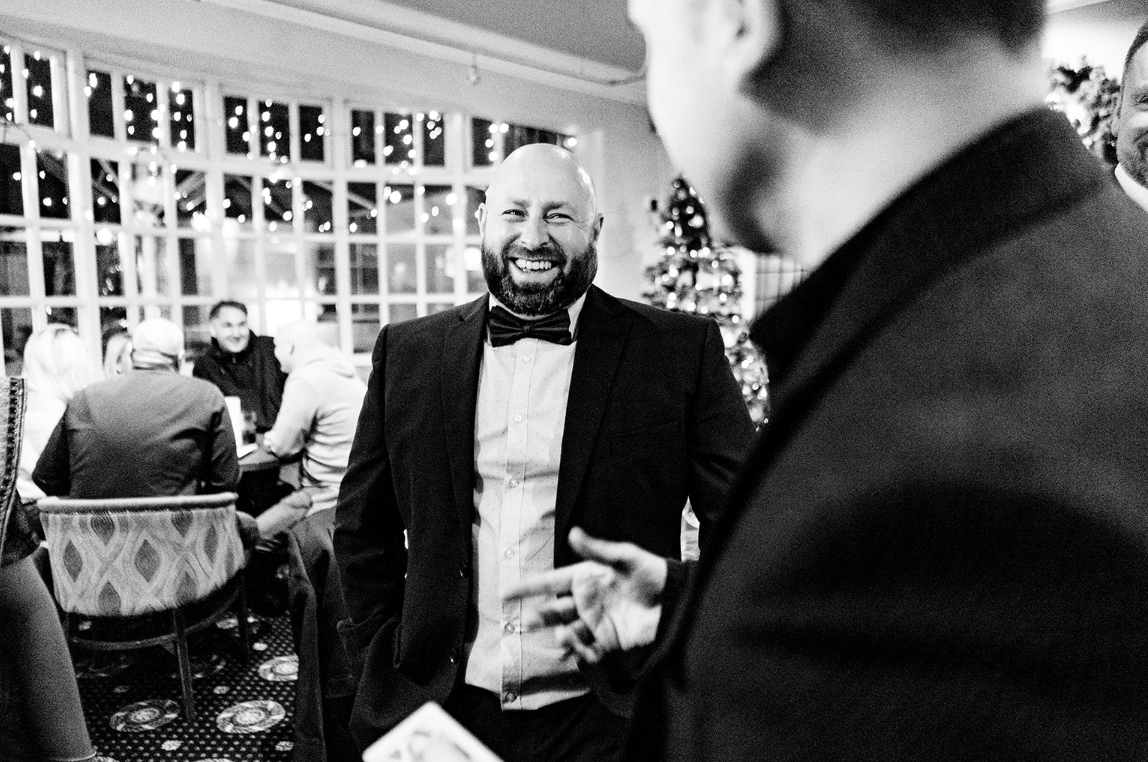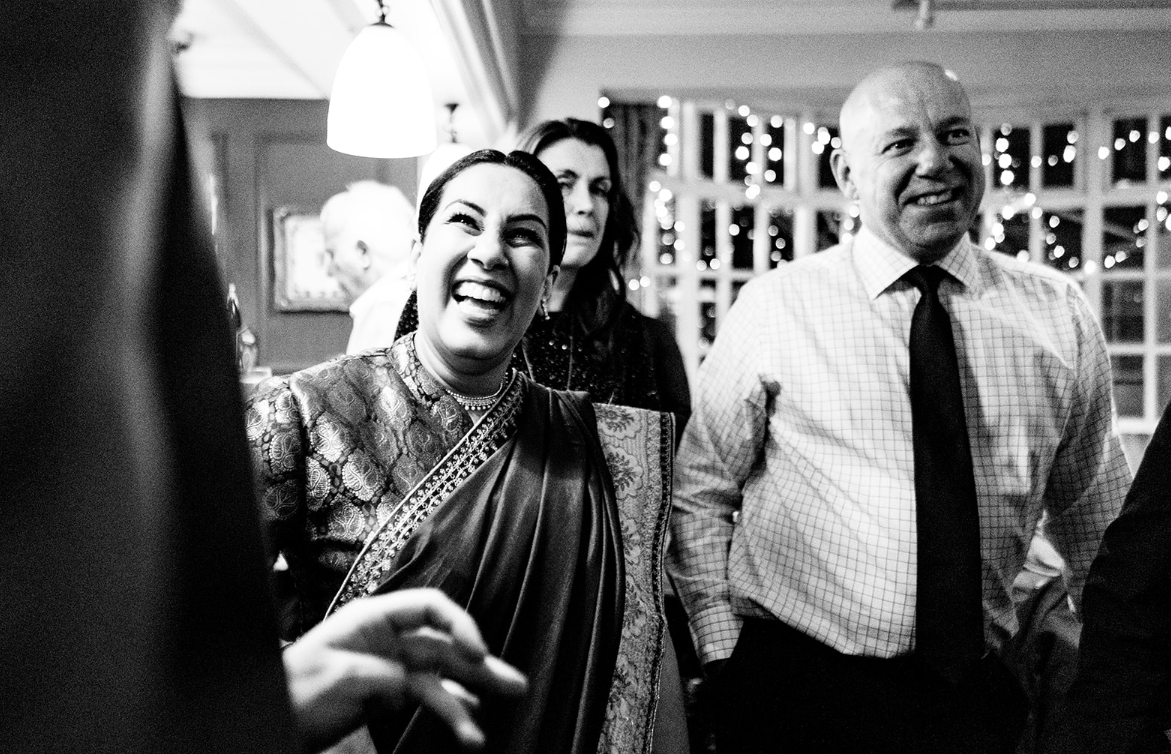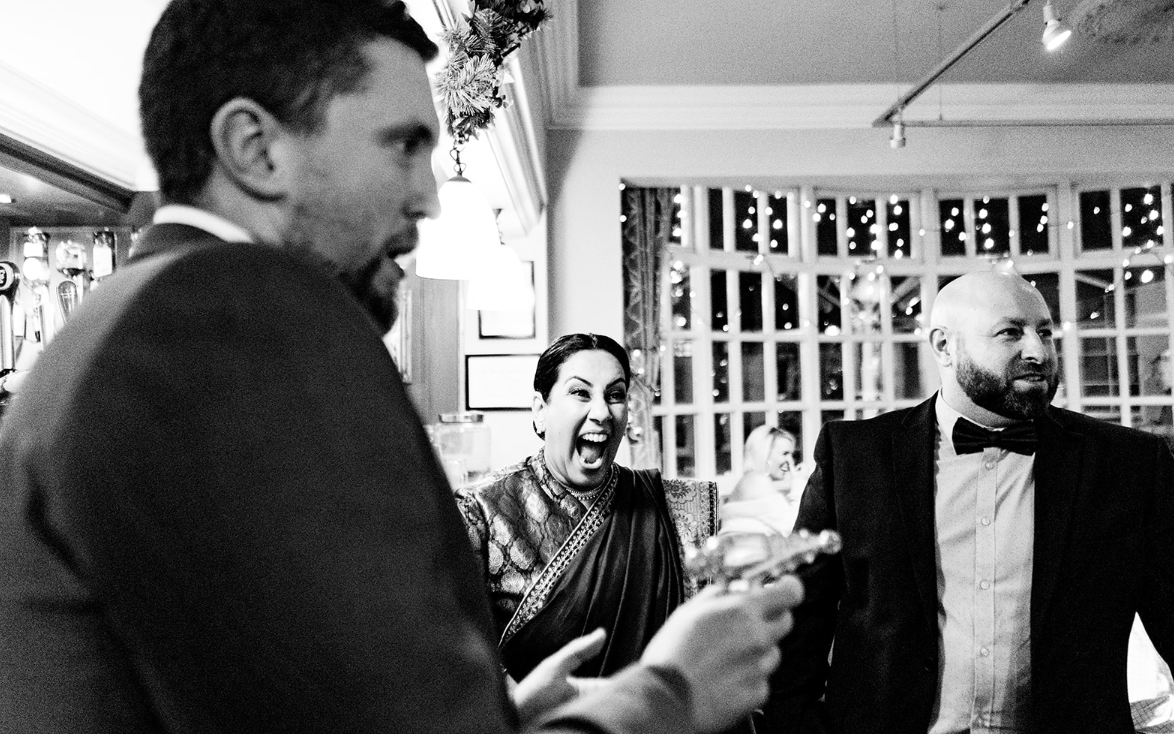 Frequently Asked Questions
After Dinner Magician in Birmingham
I have been performing professionally for over 15 years and I am one of the most talented magicians in Solihull. My performances are different because, unlike other close-up magicians' shows, my show is interactive! Guests get to be a part of all the tricks that they see me perform – whether it's a magic trick or an illusion.  Being able to experience something so special makes people happier that creates the run and sets the tone for the event.
Christmas Party Magician Solihull
Don't let your Christmas party guests suffer this year. Get in touch with the best close-up magician to make it a night they won't forget!
Hire close up magician in Solihull For House Parties
House parties can be a tricky thing to host. You are constantly on edge, wondering who will turn up and if it'll be fun or not. But I come with the perfect solution! Hiring me as your close-up magician means you don't need to worry about anything at all – my skills in entertainment ensure that your house party is one for the books!
What type of Magician are you?
 I am primarily known as an intimate close-up magician, but even with my parlor show, I can still entertain audiences from 10 to 1000 people at events such as weddings and corporate parties. The Christmas party is one event in particular that has skyrocketed over recent years; it's something where you'll find me specialising year after year after year – time and again!
How long do you perform your close-up magic at my event in Birmingham?
This will depend on a few things, like the number of guests, time of year, and venue location.
How much do you charge to perform close-up magic?
My fees range from £350 – £1200 please get in touch for a quote.
Getting in touch directly is best ptaylor@magicianscorner.co.uk for a personalised quote.
Get In Touch With Manchester Magician Phil Taylor
Fill In the Form For A No Obligation Consultation & Quote