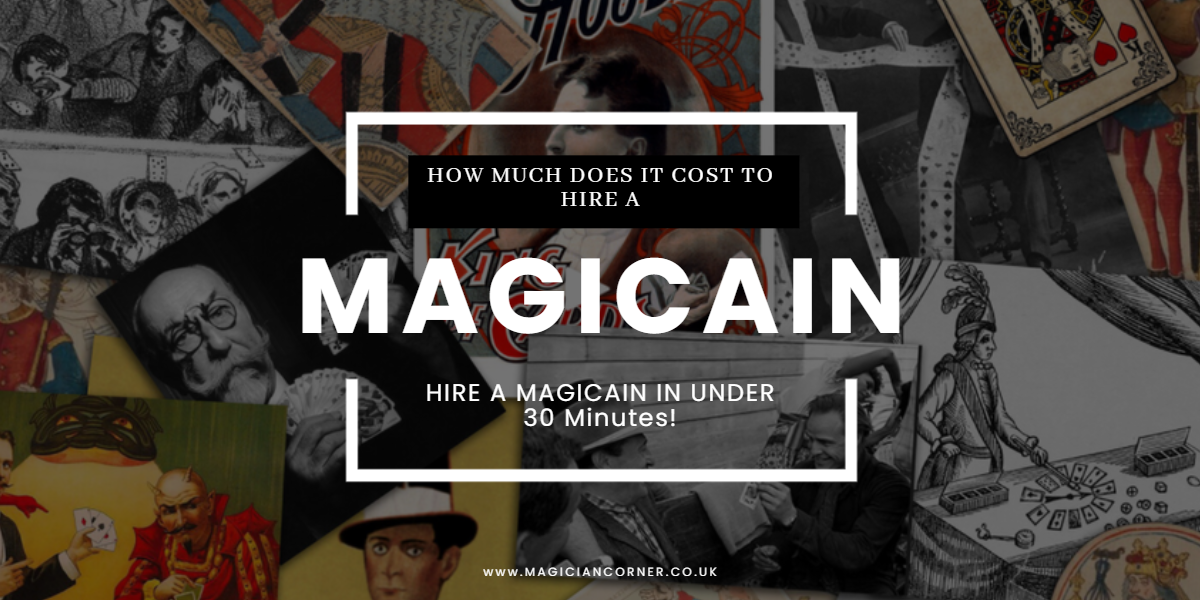 How much to hire a magician?
When you're hiring a magician, there are different factors to consider. The magician's type and performance style will be the main factors in their cost. For example, a close-up magician may charge less than a stage magician because they would need fewer props and equipment to do their tricks.
On average, a professional magician can cost between £350 – £1500, depending on their level of skill and experience.
The cost of hiring a magician can vary depending on their level of skill and experience. A beginner will generally charge less than someone who has been performing for years.
There are different types of magicians and performance styles to consider when you hire a magician. You can hire amateurs for as little as £50 or professionals (as seen on TV) for upwards of £35,000.
We have all heard the saying "you get what you pay for." Most people want to know the price before they even hear what magic tricks you perform or offer. In this blog, you will learn the difference between what a professional and amateur magician costs and why booking a professional magician is going to be so much better for your next event. Price isn't everything, entertainment, impact and your guests' enjoyment are. It's not always about time, it's about the experience of a moment your guests will share and talk about for years to come, that's why you are hiring a magician for the magical moment.
Quick Guide

Magician Costs. 
Hiring a magician will depend on what type of event you're planning, there are many styles of magicians as you will see below.  It's important to do a little research to see what magician will work best for you and your budget.
Below is a guide price for hiring a magician depending on their experience.  You don't want a rush into hiring a magician who may embarrass you.   You're better off doing a little research reading to find a great magician to add that magic touch 🙂
Magician Levels
Amateur magician. Little or no performance experience – Fee £50 – £250
Semi-professional magician.  They perform once or twice a month and may have other income. £250 – £400
The professional magician. Who performs weekly, it's their solo income stream. £400–£800
The best magicians. Top 10% found in the bigger cities. £800–£1500
TV Magician.  Dynamo, David Blaine, Darren Brown. £1500–£30.000
3 Common Magician Rates and What to Expect from Each
Per Hour
This is the most common type of rate that magicians charge. It usually varies depending on the type of service, with hourly rates for some types of entertainment like comedy or juggling being less than £200 an hour while other types like ventriloquism or close-up magic range from £350-£1,500 an hour.
Flat Fee
A flat fee is a price for the event as a whole and this could include festivals, workshops, weddings, trade shows and more. This means that there are no hidden costs. It can be a great way to save time and energy when planning an event with many moving parts.
Specific Time
Some events, like weddings, will only require a magician to perform at a specific time, such as during the photos or after the wedding breakfast. Most professional magicians will be hired by the hour, not by the event.

How to Hire a Professional Magician at the Best Price Possible In Your Area In Under 30 Minutes!
There are many different types of magicians to choose from when looking for a professional magician. If you're looking for more than just card tricks, you'll want to find someone with experience, proof (IE photos, reviews), and membership of The Magic Circle.
Google Search
When looking for a magician, your first port of call should be the internet. When you do a quick Google search for local magicians, you should find all the information needed about them and their business on their website.
TOP TIP: When searching for a magician, try typing "magician Birmingham" or "magician Manchester" into the search bar. This will narrow down local professional magicians.
If you broaden your search, you may find a magician who lives in London. You want someone who is local to you.
This does one of two things: a local magician will not have to travel far, keeping travel costs and times to a minimum, a magician traveling far will charge you for this within the total price.
Supporting local business helps to build a stronger community and connections ( you never know when you'll need entertainment next)
Check Out Reviews
The next thing to do is write down a list of the top magicians with the best reviews within your area. There is usually a list of top local magicians with ratings available on a completed google search.
Once you have a list, take a look at their website. Do they offer what you require?
You'll need to do some more research on your event before you can make a decision. Is this for walking magic or are you after a magician to perform on stage, like a formal show?
Now it's time to get in touch with the magician to get a quote. The fast and simple way to do this is by offering as much information as you can at the start to keep the email exchange and brief.
Contact
In your email, you should list the date you require, the time you are thinking you will need entertainment, the event, for example, a wedding, an office party, or a milestone birthday, and how many guests will be attending.
Once you have a template, it's time to email or call the magician for a quote.
Quick Email Template
Dear Magician
I'm having a party to celebrate my husband's 40th and I really think it would be great if we had a table magician.
We would like to organise an evening of entertainment after the main meal on the 8th January 2022 at around 19:30 in our own private venue in Birmingham for up to 100 guests.
If I could provide you with a quote, it would be most helpful!
Regards
keywords to remember for your email: date, the time required, occasion, venue location, number of guests attending

What Are The Different Styles of Magician?
The Different Types of Magicians That Can Make Your Event Unique and Personal.
Magicians are entertainers who specialize in creating illusions of things that seem impossible. They are often seen as intriguing, entertaining, or sometimes mysterious.
The types of magicians that can make your event unique and personal include: * Stage Magicians * Close-Up Magicians * Mentalists * Illusionists
Stage magicians work with larger props and grand illusions on stage with their audience.
Close-up magicians work in more intimate settings, performing with close items like cards and coins for example.
Mentalists typically use mental tricks to read people's minds or predict the future by reading their minds. Illusionists create the illusion of the supernatural through magic tricks like levitation, teleportation, etc.
Illustrators are the same as stage magicians, but they have bigger props and more stagehands to perform their acts.
Amateur magician.
The amateur magician is someone who performs magic as a hobby.  The best way to describe this to you, the uncle who can do a few tricks.  If you're happy with that, then the best and most cost-effective way is to contact a local magic club.
Semi-professional magician. 
The Semi-professional magician could be of great value for money. They perform regularly to a good standard.   Most magicians are semi-professional, building up their experience into professional magic before leaving their day jobs.
The Professional Magician.
A professional magician will work every weekend, devoting all their time to the craft of magic and running a successful business. You should expect a great level of customer service and quality entertainment.
The Best Magician.
Expect to pay a premium, they will be top of their game and you will be lucky to hire them.  To book a top magician you would have to go, thought an agency. Usually found at high end exclusive events and will deliver an experience like no other.
TV Magician
People like Darren Brown, David Blaine, Dynamo, Penn and Teller, Mac King, Lance Burton can be booked through agencies if they are not on tour.  We can hire some TV Magicians through this agency
Hire A Magician from A Magic Club
There will be plenty of amateur/ professional magicians to choose from and who knows you may even find a hobbyist magician who's superb!
Local Magic Clubs
South South Staffordshire Society of Magicians of magicians.
Leamington & Warwick Magic Society

Where Do Magicians Perform?
Weddings
Parties
Privet dinning
Stage Shows
Restaurants
Festivals
Trade Shows
For most events, hiring a magician for mix and mingle close-up magic is perfect.
The magician should be flexible with your event, working with you to find the correct time to entertain you and your guests.
Most couples who hire a magician for weddings choose from photos, a wedding breakfast or drinks reception.
If you hire a magician for private dinning party the best time is after the meal when people are relaxed and happy to be entertained.
There are many opportunities to have a magician perform. When hiring a magician it's better to contact them directly and have the conversation with the magician.

What Magic Tricks Do Magicians Perform? 
There are so many magic tricks and styles of magician with that said there are a few stand tricks you can expect when hiring a magician.
Card Tricks
Coin Magic
Mind Reading
If you hire a good magician, they will have signature effects something amazing for you and your guests to enjoy.

How Do You Hire A Good Magician?
The first thing to do is ask your friends and family, can they recommend any magicians or have they seen any at weddings or parties?  If the answer is no, then the next best thing is to Google "hire a magician" a quick search shows about 7,830,000 results.  The thing you're looking for is Google Places you will quickly see 5 star reviews, click on a magician you like the look of check out their reviews and website if you like the feel for them get in touch.  Get a few quotes and see who offers the best service for your event.
Magicians like me will have spent a lifetime studying, practicing and performing their material.  I learn from the best in the world and often seek mentor-ship from world class magicians.  You can check this out by listening to my podcast magicians advice podcast where I speak to some of the best magician in the UK and around the world.
If you would like to know how to spot a bad magician, check out my blog. How to spot a bad magician.

Why Hire A Magician.
There are loads of reasons to hire a magician.
Great Ice-Breaker.
Creates a fun atmosphere.
Sets the tone of your event.
Fantastic photo opportunities.
Brings guests together.
Natural talking point.
Amazing moments that some may never experience again.
When you hire a magician like me my whole aim is to make sure you and your guests are having a brilliant time, really enjoying your party/wedding and seeing some incredible magic tricks.  It's taken me years to find the best magic and learn the secrets for you guys to enjoy.

frequently asked questions
How much does a children's magician cost?
A children's magician can be hired to perform for a birthday or other celebration. The cost varies depending on the performer, the length of performance, and other factors.
The average cost of a children's magician is about £150 per party. This includes the time it takes to set up for the show, perform, take down after the show, and travel to and from your location.
How much does a private magic show cost?
The price for a private magic show is usually determined by the length of the performance. For an hour-long performance, the cost can range from £350 to £1500.
The price of a show can vary depending on what type of performer you want. For instance, if you book a magician as your performer, they may be more expensive than a mentalist act because of the set-up time and props they will need to perform their act.
Let Phil know what type of performance you are looking for and he will let you know what the price point is for that specific performance.
How much do magicians make UK?
Magicians' job is to entertain and perform tricks of illusion for their audience. In the UK, it can be a difficult task to find out how much magicians make per hour or what they charge.
A magician in the UK will typically make £35,000 per year and charge £350 – £500 per event.
However, there are a lot of variables that go into the pricing of services. For that reason, it's best to speak with the magician direct to find out your specific needs and the costs involved. Each event is different so it's important to understand those specifics first.
How much do you tip a magician?
It depends on the type of show that you are watching and who is performing it.
Tips for magicians typically range from around £5-£50, depending on your own personal finances.
If you are in a restaurant, tipping the magician is common practice (if you have enjoyed his or her act)
There are many reasons why people tip magicians. They may do so because they are entertained by the performance, to show appreciation for the performer's skills, or to express gratitude for the entertainment.
How much does it cost to hire a mentalist?
The cost of hiring a mentalist will depend on a number of factors. First, their experience, their skill, and lastly their prestige.
You can typically pay £350 – £1500, depending on the show or performance you require.
A live show can be a great way to engage your audience. From comedy to seances, to mind-reading acts, it's easy to find a live show that suits your needs.
How much does it cost to hire a magician for a birthday party?
The cost of hiring a magician will depend on their performance and how long you want them to stay.
The typical price to hire a magician for a birthday party is between £100 and £500 for their services. The price is dependent on the skill level of the magician and what they offer in terms of entertainment.
Every birthday party is different and unique. There are many factors that go into a quote for a birthday party. It is best to get in touch with the magician directly to determine if they are the correct magician for your party.

Summary
In conclusion, "How much does it cost to hire a magician?" will depend on many factors, as we have already discussed.
You will need to take into account what type of magician you require, stage, close-up, illusionist, or mind reader. You will then need to take into account where you would like your entertainment to happen and what time frame you have.
I hope this post has been helpful to you. If you need a magician, please get in touch with me directly. Thank you for reading.