Wedding Magician Midlands
A Midlands Wedding magician that is perfect for your big day!
The best wedding entertainment is available for hire today!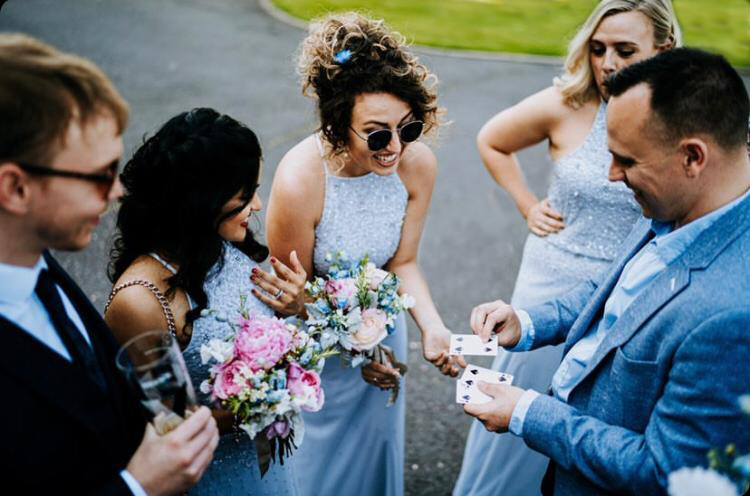 "Hello, I'm Phil Taylor, an Associate Member of the Inner Magic Circle (AIMC)".
Wedding Magician Midlands
Hello, welcome so you're looking for entertainment for you big day, all the boxes have been ticked now its time to get the fun stuff sorted. Hiring a wedding magician to astound and amaze your guests is the perfects solution.
How do you go about finding the right magician? Well you're in the right place. I am a member of the magic circle as A.I.M.C with a sliver star for performance the highest level you can achieve when taking your exams with the magic circle.  But not only that I have many great reviews, videos and photos of me performing at different weddings.
I has performed at hundreds of weddings across the Midlands. Its my aim and mission that your wedding is the best day of your life, that's why hiring me to entertain your guest on the most important day is a must.  I will ensure every guests is treated to AMAZING magic tricks, they will witness the impossible, experiencing the incredible leaving each guests with fantastic memories that will last a life time.
Wow…we had Phil at our wedding and he astonished all our guests, I had people come up to me all night saying the magician blew their mind… amazing! And such a lovely guy.. would highly recommend him to anyone ..thanks Phil
Facebook 5 Star Review Orignal Source

A questions I always get asked is what is the best time to hire you for?
Well that depends on what you have planned already and the venue arrangements.  The most popular place to hire a wedding magician is whist you're having your photos taken.  Guests will be left standing around with drinks in hand waiting for their turn with you.  This can become boring for some.  Breaking the ice between guests can be difficult that's where I step in.  I will bring guests together showing them some amazing close up magic tricks, making them laugh building a shared experience after when I leave them guests will have a natural talking point that will lead onto conversations breaking the ice and lifting the mood.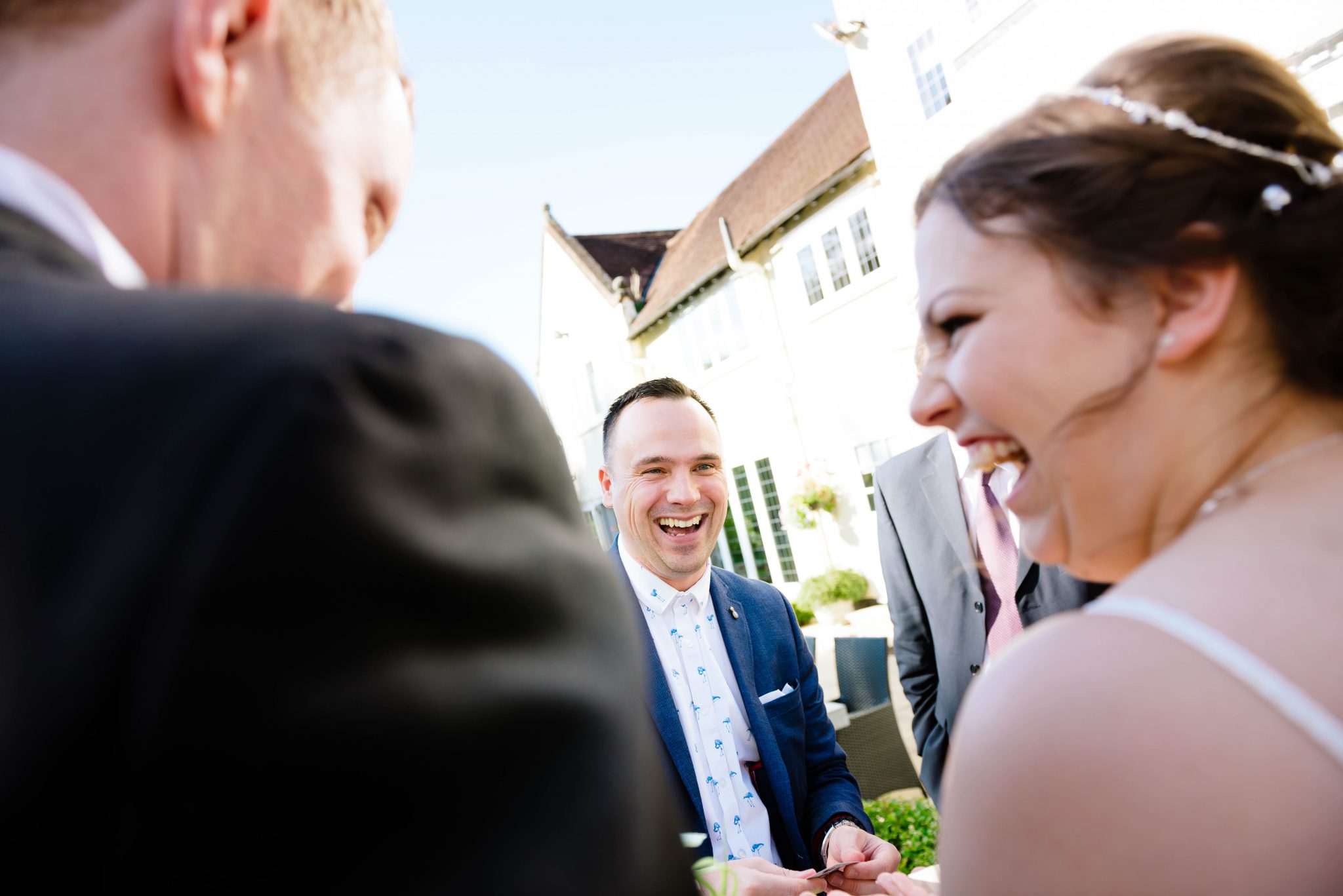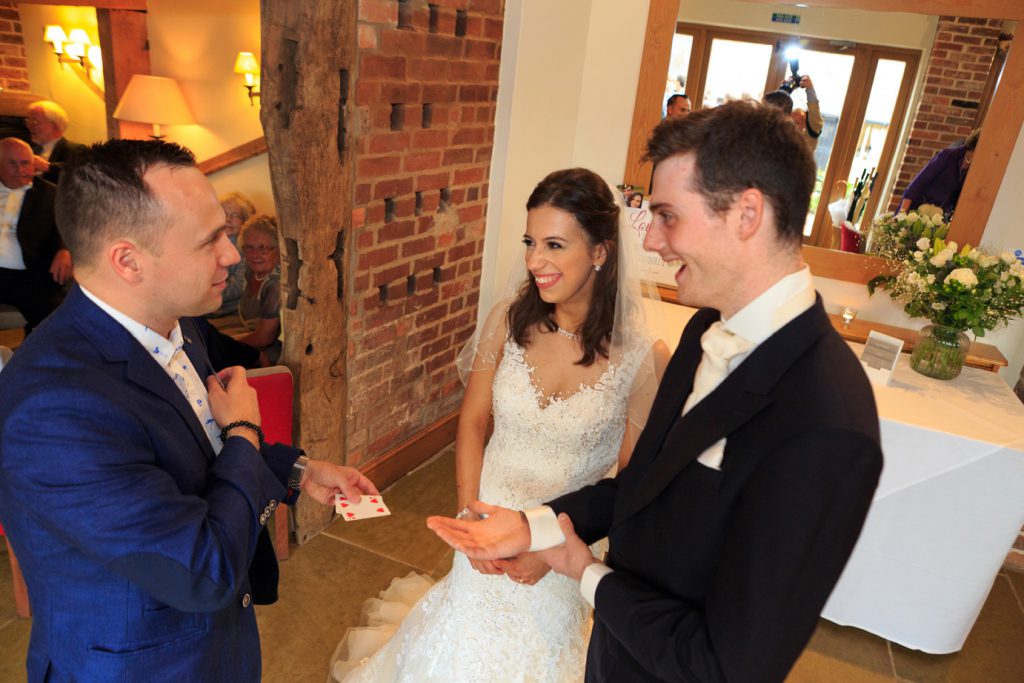 Another popular place and time…
Another popular place to hire a wedding magician midlands is after the wedding breakfast.  Its nearly time to start the party but there could be a few hours between the evening guest arriving and the room turn around.  Your guest will be left at the bar or worst in a room with out anything to do.  That's where I come in injecting the energy, lifting the mood and entertaining everyone with crazy bits of madness.

Every Wedding In The Midlands Is Different
Every wedding is unquie there are plenty of more places a magician can work his magic its best to get in touch for a no obligation quote.
Weddings are more special when a breathtaking magician Phil Taylor comes to your wedding! I pride myself on providing world class entertainment that will leave your guests with amazing moments that will last a life time. 
Phil Taylor is a professional Midlands Magician who has performed all over the UK.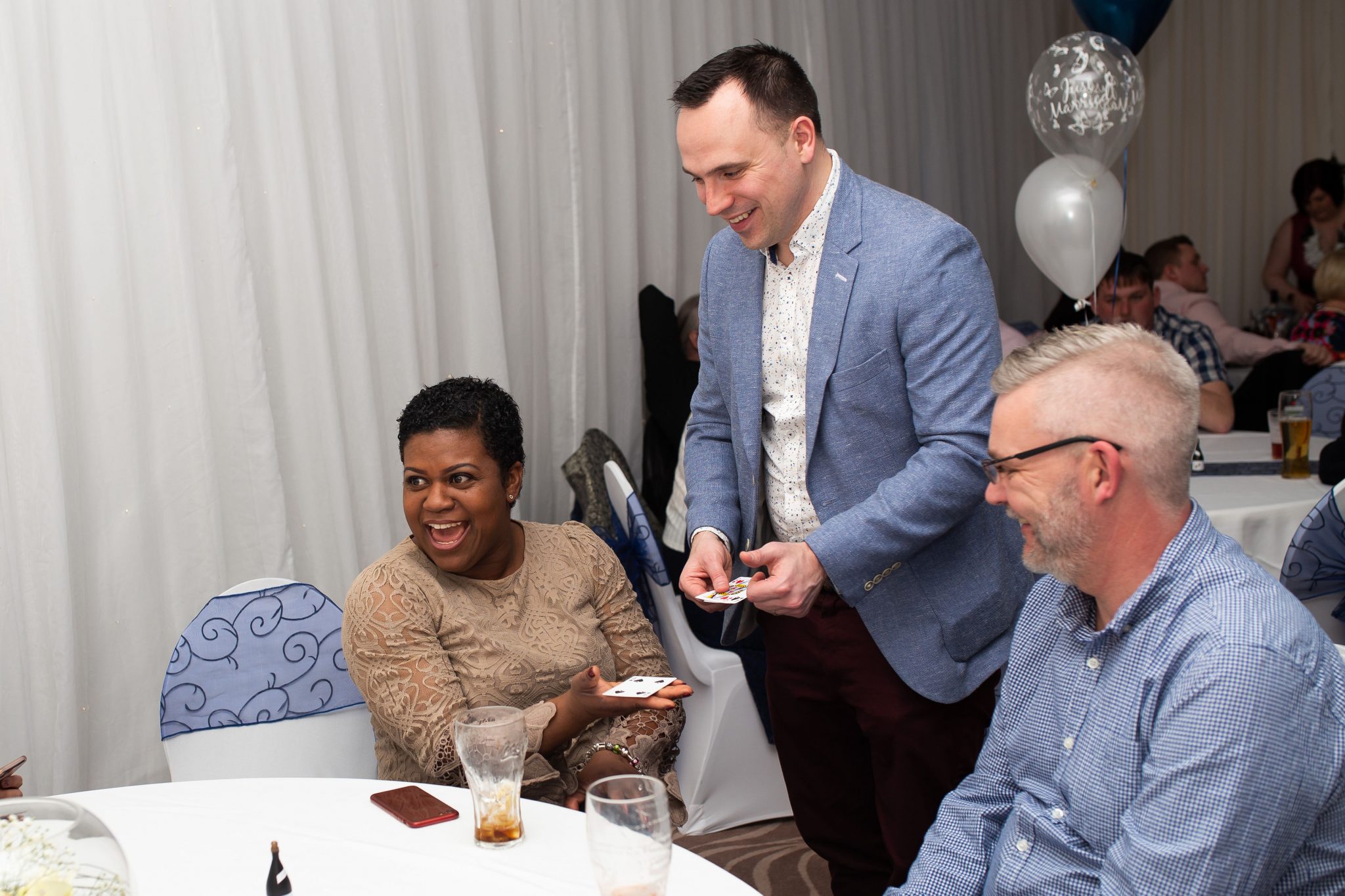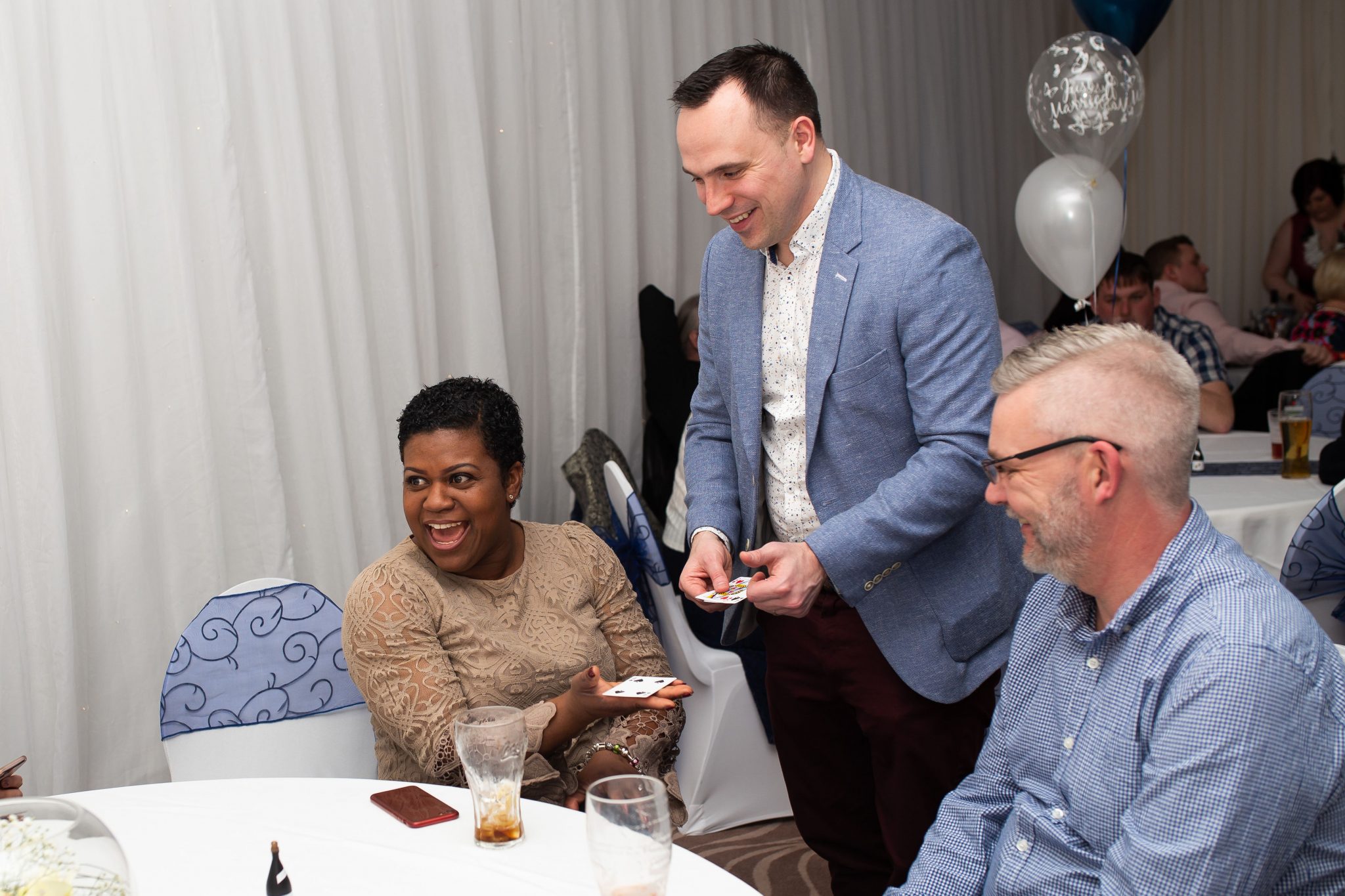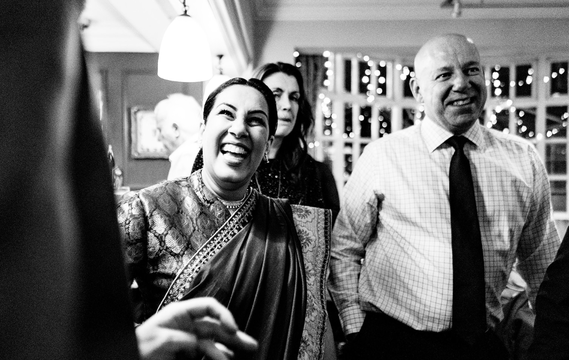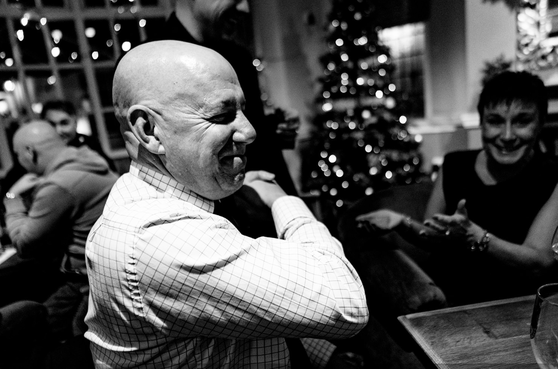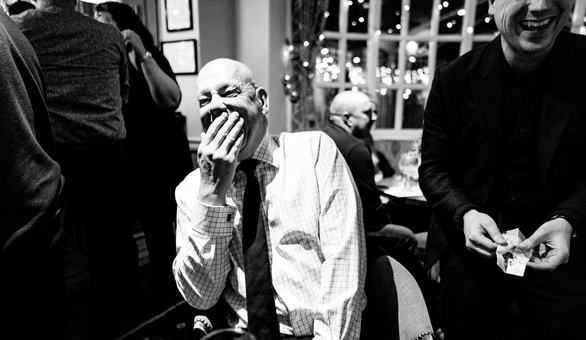 Wedding Magician Birmingham
Hired Phil for our wedding breakfast, we wanted something different, not cheesy.
Our guests are still talking about how great he was! IM not joking his sleight of hand is unreal!
Would Highly Recommend Him!!!
FACEBOOK REVIEW 5 STAR WEDDING

About Me
I recently joined the prestigious London Magic Circle and I am proud to be a member with my silver star at the highest level possible when taking your exam. The club has been around for over 150 years and it was one of the first magic clubs in the world.
I will be putting on a fun and unforgettable show for you and your guests with sleight of hand magic, close-up magic, mix and mingle as well as some witty humor to keep things light. It will be a one-of-a-kind experience that you won't find anywhere else
Planning a wedding? Let us dazzle you with an entertaining and award-winning mix and mingle MAGIC!
What you Need to Know About Hiring A Wedding Magician Midlands
First, figure out what you need. Do you need a magician to entertain the whole family or just the kids? It's good to check if the magician is part of the magic circle and what level they joined it at.
Once you've found someone, contact them to talk about what you need and see if they can offer the service you want. Be sure to ask about their rates and any past events that are relevant.
Deciding to book a magician for your wedding can be overwhelming with all the different choices available. There are many variables when it comes to booking a Midlands magician.  Do you want a magician who will blend in with your guest?  A magician who is from The Magic Circle?  or are you after someone who is a different in looks etc
How To Research A Magician For Your Wedding In The Midlands
1) Don't just look for the first magician who comes up on a google search without comparing their skills, skill level, and performance. Consider whether they're available on the date of your wedding. Get quotes – so you know what you'll pay when you hire an entertainer!
2) When you've found a magician that looks good request a Zoom call, ask to see a performance of a few magic tricks. See how he comes across to you.
Frequently Asked Questions
What type of Magician Are You?
I mostly perform close-up and table magic at weddings. This includes mix-and-mingle magic at the wedding breakfast or as the room is being turned around waiting for your evening guests to arrive.
What Type Of Magic Tricks Do You Perform?
I am an expert at sleight of hand, misdirection and psychology. I use all three elements to produce a world class performance of close up magic with coins, cards and other objects.
How Long Will You Perform At My Wedding?
It really depends on what you need! I have all-day packages as well as packages to suit different times of the day. Every wedding is different, so it's best if you get in touch.
How Much Do You Charge To Perform At My Wedding In The Midlands?
Depending on requirements and availability my fees start from £400 I also offer an all day package that works very well for some weddings.