Christmas Party Magician
Book Phil Taylor (Associate of The Inner Magic Circle, A.I.M.C.)
Hello, welcome my name is Phil Taylor the perfect Christmas party magician.
The best way to hire a Christmas magician is to make sure you know what the event will require. There are some great magicians out there, but not all of them can do all types of magic tricks and illusions! That's why I'm here with this step-by-step guide on how to find your perfect party entertainment hopefully for me.
Christmas parties are a staple in the year for both businesses and private events. It's no wonder that people like to get things booked months early as they know how popular some of these entertainers can be!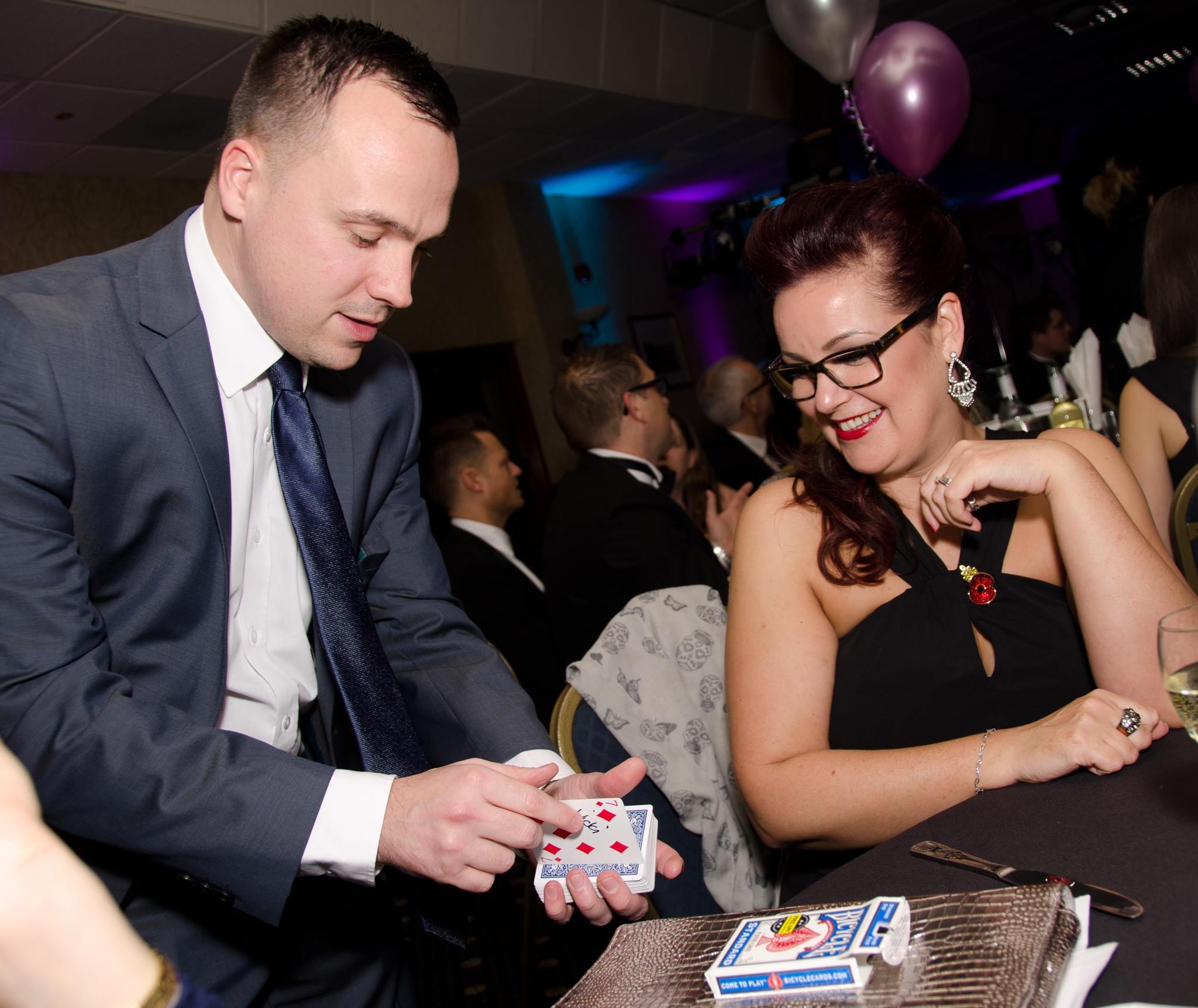 Christmas Parties
Christmas parties are the best time of year. We wear our most beautiful clothes, exchange presents and gets to eat all kinds of delicious food that we normally wouldn't be able to enjoy in December. Hiring a Christmas party magician is a great way to kick off the celebrations they will mix and mingle and perform amazing magic and mind-reading for the best Christmas ever.
When you've seen the best, it makes your event amazing. Close magicians have a knack for getting intimate with their audience and making them feel like they are all too special to be in such an exclusive club that is being shown something so incredible!
​
You were absolutely amazing and exceeded my expectations, my guests couldn't stop talking about you.
About Christmas Party Magician Phil Taylor
I'm a proud member of the prestigious London Magic Circle.
I was lucky enough to join when I passed their rigorous examination, as  Associate of The Inner Magic Circle, A.I.M.C. with a silver star for performance the best you can achieve when taking your examination.
Now there's nothing that can stop me from performing world-class magic and mind reading at your Christmas company event.
Please visit my reviews online.
I'm so glad you checked out my reviews!
I want to make sure that I am the right magician for your event, and reading what other people have said about me can give you some indication of whether or not we would be a good match.
If there are things in particular that concern you, feel free to drop me an email at ptaylor@magicianscorner.co.uk
​
​
Booking a Christmas Party Magician
Christmas magician – The life of any party can always use some more magic. Add up the mix and mingle magic and mind-reading entertainment from one of our professional close-up magicians who has honed his skills over years at corporate Christmas events. These magicians will turn those dull dinner parties into spellbinding experiences where everyone feels as if they've had front row seats at Cirque du Soleil. Hiring the right entertainment is really important you're always better to book a Christmas magician in January for fun at your table or at private venues
​
A Corporate Event​
A Corporate event is​when a company hosts an activity, often organized by the HR department or one of its members to promote teamwork within the organization's ranks. Booking a Christmas party magician like me will ensure your evening is remembered for all the right reasons.
What Can I do For You?
I will perform close-up magic (walk around magic) is performed for groups sometimes in an intimate setting where you can mix and mingle with your guests. I'll amaze them by mind-reading as they're left wondering how it's possible! Performing at tables outstanding amazing magic and mind-reading at your next corporate Christmas party.
Company Christmas Dinners
Booking a Christmas party magician is the perfect entertainment to surprise and delight all your guests. After dinner is a great time to book a magician to perform his amazing magic tricks as guests are relaxed and ready for the next part of their evening or moving into the next room for a drink or to. Don't worry if your Company Christmas party is in January the drinks can still flow and hiring a professional table magician to perform magic would let your guests know they are in for a fantastic time.
​
​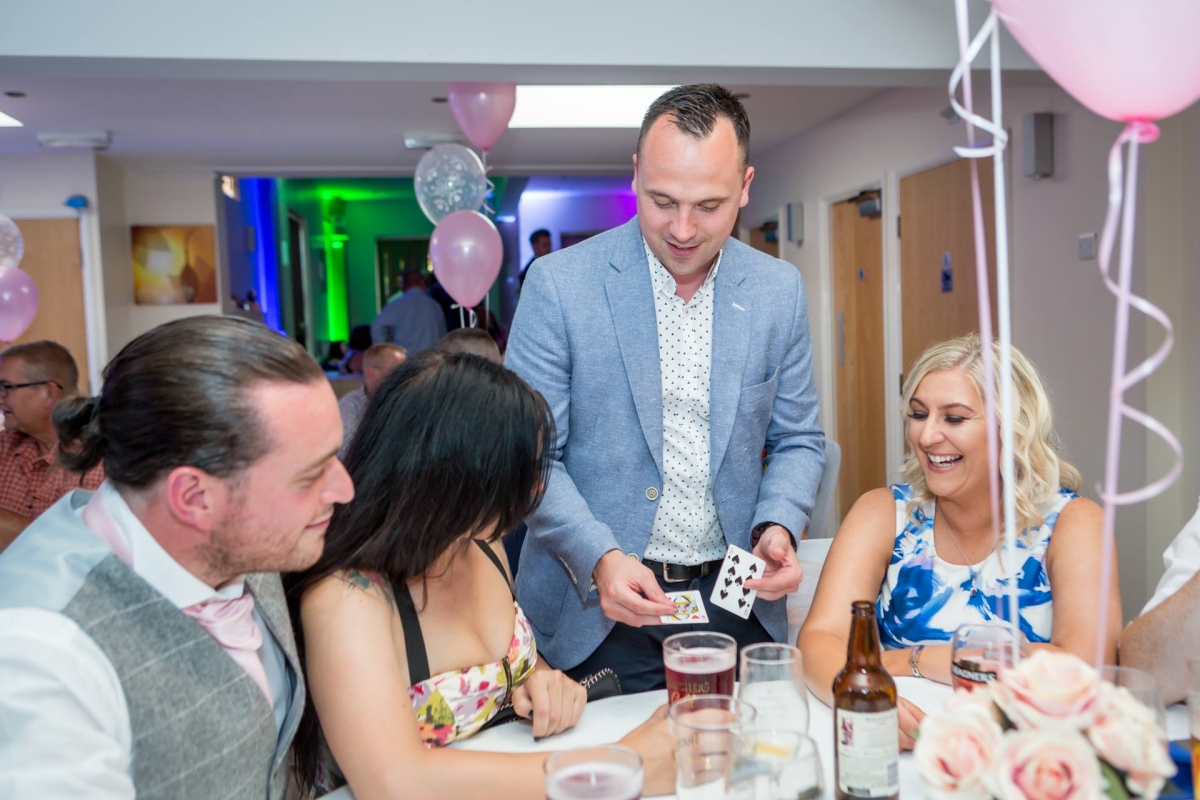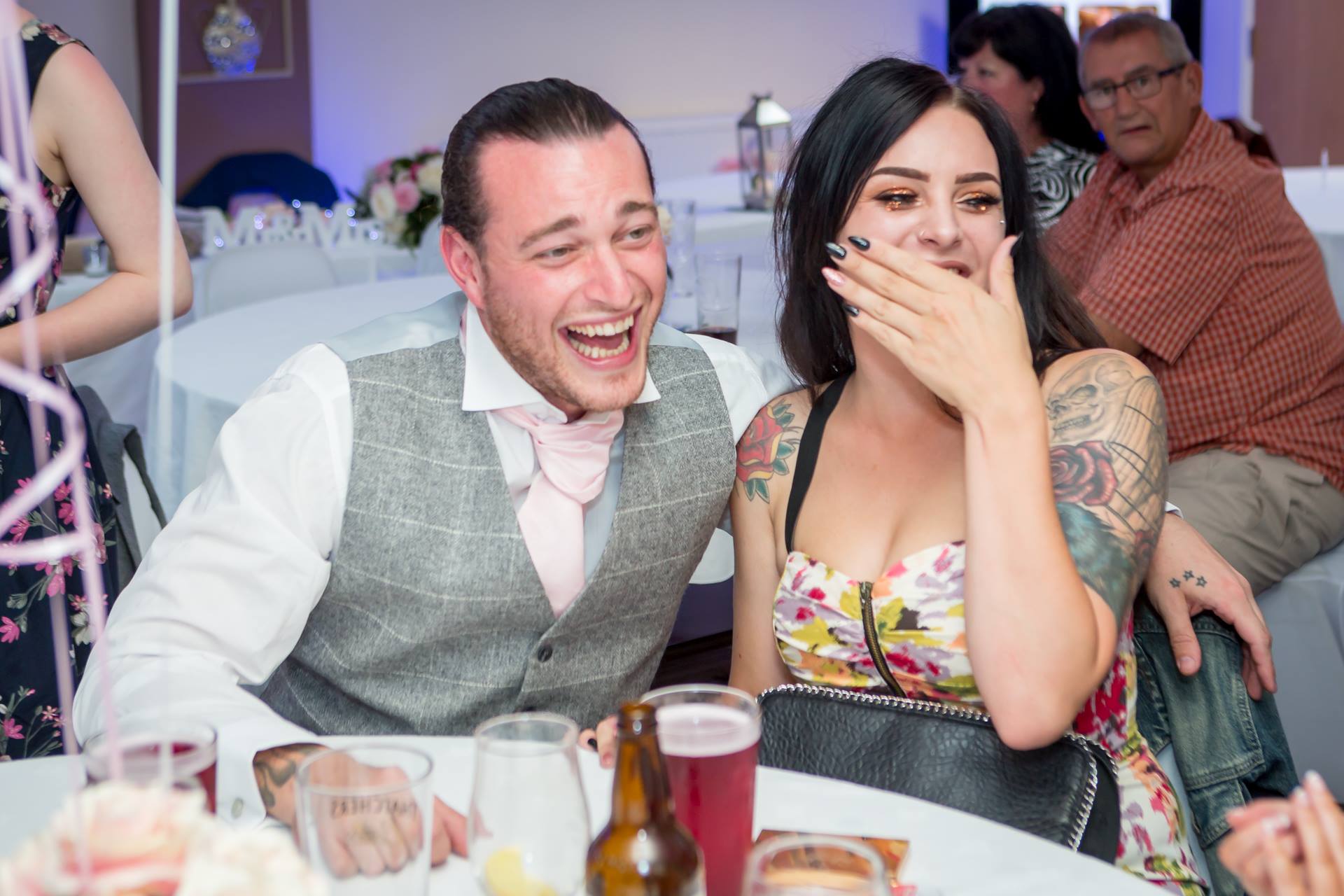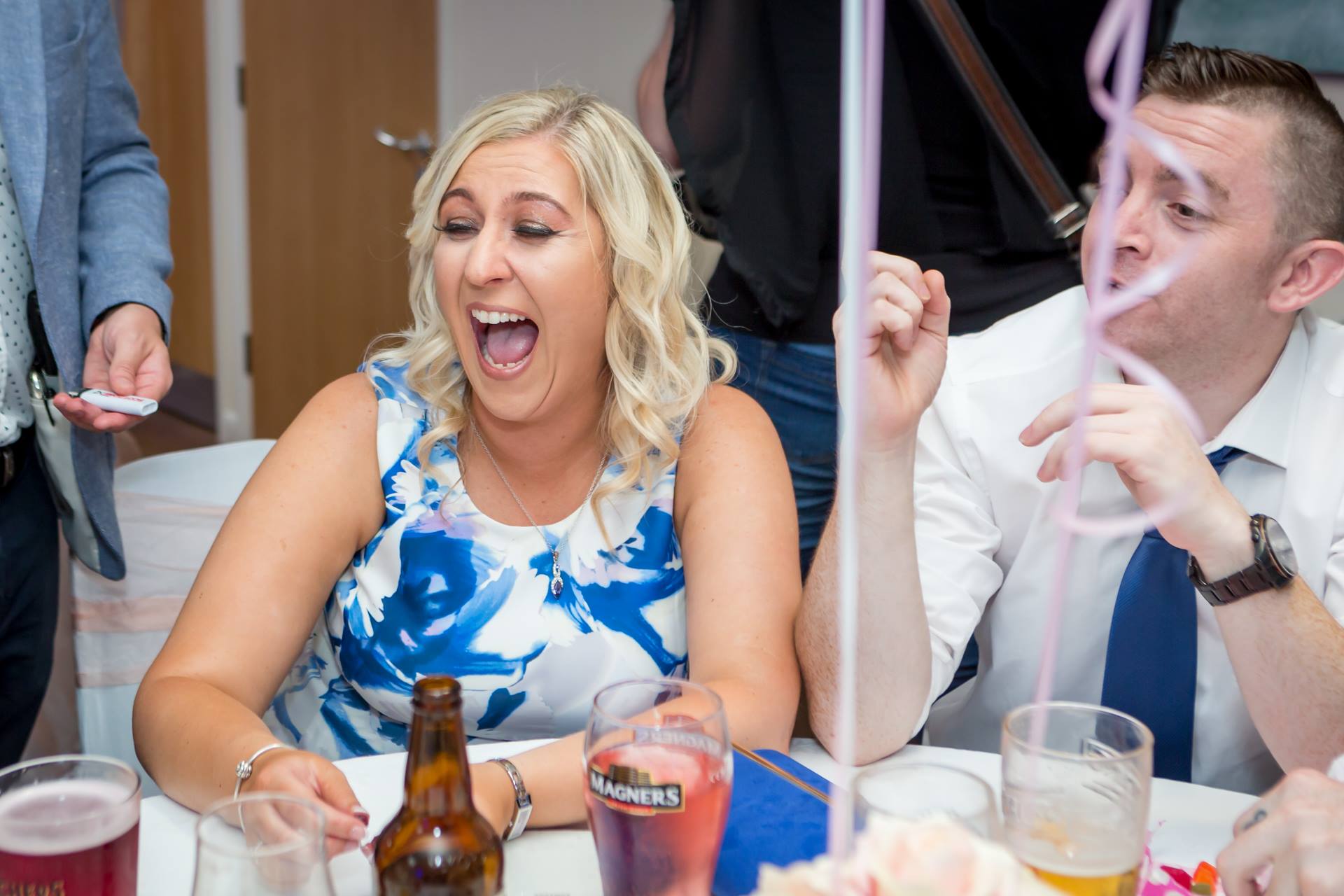 What magic tricks will you perform as our Christmas Magician?
I love this question. For many years I have studied magic from cards to coins, and hypnosis too! My repertoire is vast so I like to tailor my show for the people in front of me – it's a nice way to build rapport with your guest while showing them something extra special!
Keep it quick and clever with a fun, visual touch. I find magic for the young adults in my audience is best when they can see objects change right before their eyes! If you're looking to get some serious attention from your friends or family there's no better way than by blowing them away with an awesome illusion that will have everyone asking how did he do that?
As adults, we become very linear in the way that we think about this world. These repeated patterns are so ingrained into our brains and they've worked their ways to a point where it's second nature for us- things like logic and past experience help mold how decisions get made when navigating unknown terrain. But what if I told you there was someone who could see these repeating patterns too? Someone whose job is based on using those repetitions against your own brain by creating illusions of trouble spots or gaps only to have them disappear at just the right moment, leaving you unprepared without any idea as to why! In order for me (the magician!) to create such spectacular moments from thin air time after time with my audience always none the wiser.
Please check out my reviews, photos, and videos and get in touch for a free consultation.
​
We thought you were amazing!  We found you to be very engaging with the audience, very professional yet welcoming. We really enjoyed working with you and hope to work with you again. Our Christmas plans are very exciting this year as our theme is Constellations. I'm sure we can tie magic in here somehow, so I will be in touch when we have a more firm plan.
Mix & Mingle Close Up Magic.
Close up magic is by far my most requested service. My style of entertainment is flexible with your event. I can perform where guests congregate around the bar or at their tables. Close up magic allows for me to connect with groups of individuals so everybody sees the thrills and astonishment of wizardry. Your guests will laugh as the witness their own personal performance, bespoke magical effects accompanied with my particular style of humor and a little pick-pocketing.
Table Magic.
Table magic has became extremely fashionable. It's now part and parcel of what I do. As food is being served, in between courses there are multiple opportunities to interact with guests as they are seated. If the tables are incorporated with guests that don't recognise one another it's an excellent way to break the ice, to spark conversation after the performance is over. My primary focus is to make certain your guests are having the most marvelous time. When people are enjoying themselves they relax, stay later, helping to create a happy vibe.  Ultimately, therefore you book a professional magician to ensure your event is a huge success.
After dinner show.
An evening with a magician.
I base the after dinner show on psychology, synergy, magic and observation. Once guests have finished their mains, I urge them to sit back and relax and witness the wizardry.
How the program works.
I will establish myself and set up a space on the main dining table where all your guests can see and thus we start the entertainment. A brief introduction followed my a manifestation of misdirection to break the ice. The premise of the act is magic, psychology, and misdirection. This is a view behind the veil of how we as individuals perceive the world of illusion. I will use psychology, NLP, and misdirection holding your guest's hand as we take a trip down the yellow brick road with a few surprises along the way.
We divide the program into two thirty minutes sets with a fifteen minute break to provide the guests to freshen up, recharge their jars as they take their seats for the second half.
If you wish your guests to have an absorbed, private, memorable experience then this is the package for you.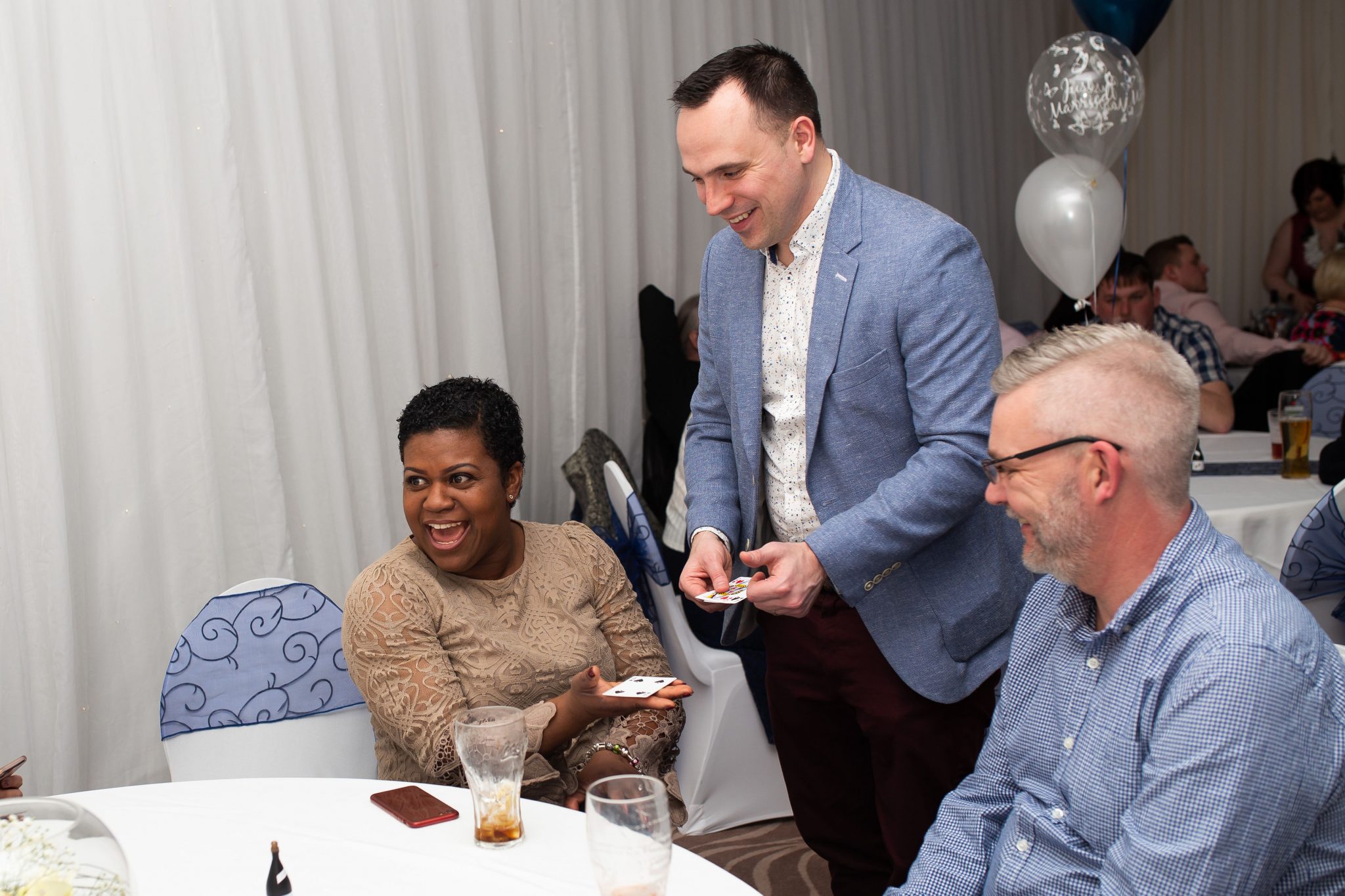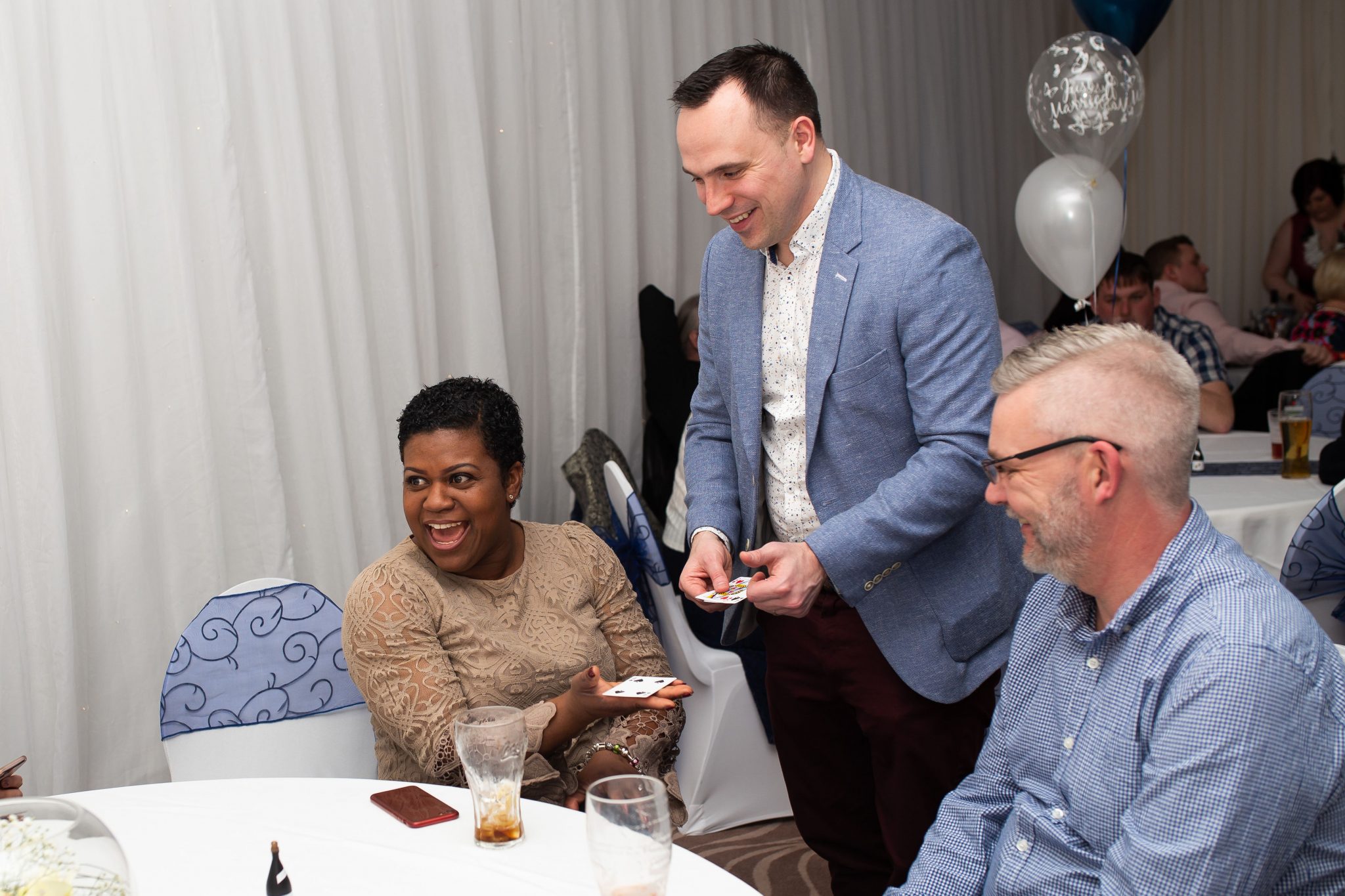 Hopefully, you understand what I can do for you and if you want to find out more or get a quote please fill in the form below or call me on 07967155970 for a no-obligation quote and a general conversation.
Three simple steps to booking me as your magician or call 07967155970
Fill in the form.
Find out more.
Book me.
Fill In the Form For A No Obligation Consultation & Quote
Phone Number: 07967155970
Email Address: ptaylor@magicianscorner.co.uk