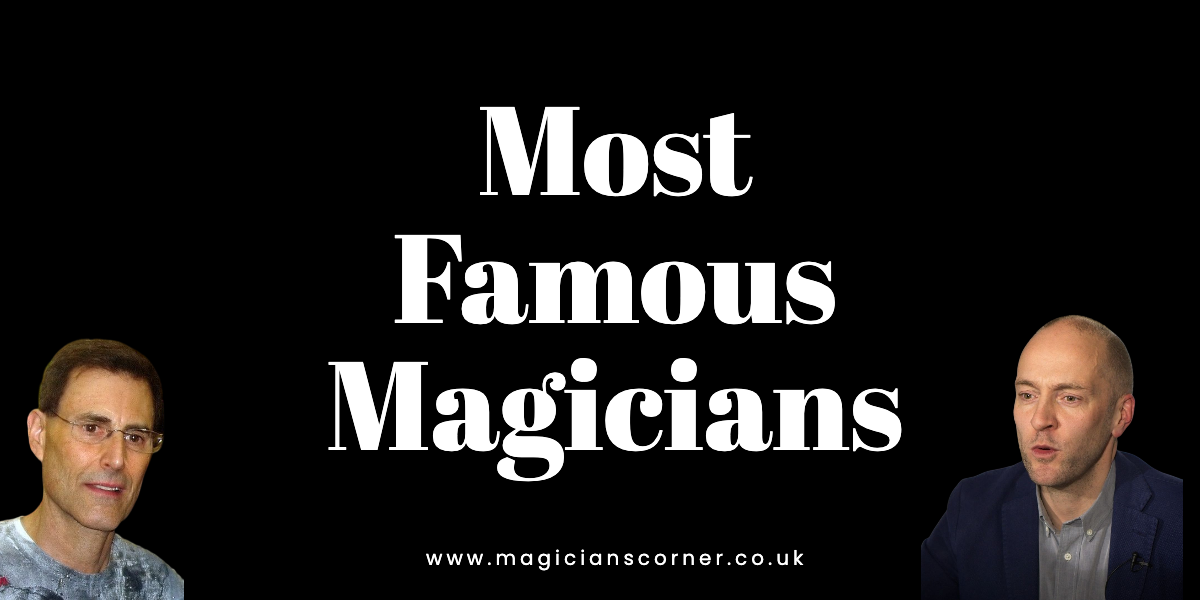 Magic and illusions have been around for centuries. From the Ancient Greeks to the Romans, there are many instances of people performing tricks and illusions.
The most famous magicians in history are Harry Houdini, David Copperfield, David Blaine, and Uri Geller to name a few. They are famous because they have all performed feats that were considered impossible at the time.
Harry Houdini was one of the first famous magicians in history. He is best known for his escape acts – getting out of handcuffs and straitjackets while suspended upside down over water or hanging from a rope by his feet in front of a crowd.
There are so many famous magicians around the world and throughout history; it would be hard to pinpoint them all. However, I have listed the most famous for the public and the most famous magicians.
The Questions Is Who Is The Most Famous Magician Of All Time?
The world's most famous magician of today may be Criss Angel, who is known for his television show "Mindfreak." Other well-known magicians include David Blaine, who is known for his street magic, and Dynamo, who is known for his close-up magic.
9 Of The Most Famous Magicians From The 21st Century
Who do you think is the most famous magician of the 21st century?
David Copperfield
Ricky Jay
David Blaine
Dynamo
Penn and Teller
Derren Brown
Lance Burton
Chris Angel
Uri Geller
David Copperfield.
David Copperfield is one of the most famous and influential magicians in the world. He has been recognized as a legend in this field. David Copperfield was born on September 16, 1956, in Metuchen, New Jersey. He started his career at the early age of 12 years old.
David Seth Kotkin, also known by his stage name David Copperfield, is one of the most commercially successful magicians in history with a net worth of $875 million. He is a living legend in magic with so many outstanding magic shows and is still running at the MGM in Vagus today (2022) with his show called "Seeing is believing".
Check out some of David's best illusions and tricks over the years here.
https://www.youtube.com/watch?v=QCBUx4g5H04
Ricky Jay
Ricky Jay is a magician who specializes in card tricks. He is well known for his appearances in films, on television and on the stage. Ricky Jay is also the author of several books including, Card As Weapons, Learned Pigs & Fireproof Women, Dice: Deception, Fate & Rotten Luck and many more.
Check out Ricky Jay's fantastic performance of 52 assistants.
https://www.youtube.com/watch?v=FtgUSUHnzLI&t=183s
David Blaine
David Blaine is a world-renowned magician, illusionist and endurance artist. He has performed over 1000 stunts. He's also the first person to ever hold his breath for 17 minutes and 4 seconds underwater. David is a master endurance artist always pushing the limits of what the human body can achieve.
Check out some of the best illusions David Blaine has performed.
https://www.youtube.com/watch?v=NFqpO4Do0-M
Dynamo
Who is Dynamo magician magic tricks?
Dynamo, a.k.a. Steven Frayne, is an English magician and television presenter who specialises in close-up magic. He has presented the Channel 4 series "Dynamo: Magician Impossible" and the ITV series "The Next Great Magician". He is one of the best know magicians in the UK and around the world.
https://www.youtube.com/watch?v=uA7BxSrhjw4
Penn and Teller
Penn and Teller are two of the most famous magicians in the world. They have been performing together since 1975, and now headlining their own show at the Rio Hotel & Casino in Las Vegas. With their mix of comedy, magic, and a few current events, Penn & Teller have created a show that is unlike anything else on the strip.
Penn and Teller are hosts of the reality show Fool Us, in which magicians try to fool the hosts for the prestigious award and trophy.
https://www.youtube.com/watch?v=O95XixQnwFc
Derren Brown
Who is Derren Brown, the mind reader, magician, and television show
Derren Brown is a British TV personality, best known for his TV show "Trick or Treat." In this show, he can be seen as a mind reader and hypnotist who performs tricks on people. He also has a long-standing theatre show that tours around the UK and the USA.
https://www.youtube.com/watch?v=PrlFGPB0rpg
Lance Burton
Who is Lance Burton, the magician from Las Vegas?
Lance Burton is an American magician and actor, who was born in Conroe, Texas on born March 10, 1960 in Columbia, Kentucky. He is known for being a member of the Society of American Magicians and for performing 15,000 shows in Las Vegas for over 5,000,000 people an amazing achievement.
https://www.youtube.com/watch?v=pBj_Ifln-oo
Chris Angel
Chris Angel has been entertaining and shocking audiences for the past two decades with his world-famous magic and illusion. With an impressive track record of success, it's no surprise that he is one of the top magicians in Vegas.
https://www.youtube.com/watch?v=I2skcgh3QLU
Uri Geller
Uri Geller is a world-famous illusionist and mind reader, who is best known for his television appearances during the 1970s when he demonstrated what he claimed were psychic powers. He became famous for bending spoons live on TV and predicting the future.
https://www.youtube.com/watch?v=zD7OgAdCObs
29 of the most popular magicians for magicians (Dead And Alive)
Rene Lavand
Alex Elmsley
Ascanio
Paul Daniels
Eugen Burger
Lenart Green
Juan Tamariz
Ricky Jay
Max Maven
Paul Harris
David Roth
Tommy Wonder
Daryl
Michael Ammar
Mac King
Robbert Giobbi
Peop Carroll
Jeff Mcbride
David Williamson
Fred KapsSlydinin
Ed Marlo
Al Koran
Dai Vernon
James Randi.
Dani De Ortiz
Ben Earl
Garrett Thomas
Asi Wind
Helder Guimaraes
Questions And Answers
Who is the most famous magician of all time?
The most famous magician of all time is Harry Houdini.
What are some of the most famous magic tricks?
Some of the most famous magic tricks include sawing a person in half, making a person disappear, and levitation.
How do magicians become famous?
Magicians become famous by becoming popular performers. They gain popularity by becoming well-known for their stage shows, street performances, or busking. They may also become famous by starring in their own television shows or movies.
How do magicians keep their tricks a secret?
Magicians keep their tricks a secret by not revealing how the trick is done to anyone. The fewer people who know how a trick is done, the better. Magicians will often have a team of people who help them create and perfect their tricks, and these people are sworn to secrecy. Magicians may also use misdirection and deception to make it appear as though a trick is more complicated than it actually is.
What is the difference between a magician and an illusionist?
A magician is someone who uses their skills to perform illusions, tricks, and sometimes escape acts. An illusionist is someone who creates illusions for entertainment purposes.
What's a good name for a magician?
A good name for a magician could be "The Amazing John" or "The Incredible Jane." "Carrdini" "The Great Lafayette" If you can't think of a name go with your birth one, like "David Blaine".
Who is the most famous illusionist?
The most famous illusionist is David Copperfield.
Summary
The most famous magicians in the world are those who have mastered the art of deception. They have fooled people into believing in the impossible and have left them wondering how they did it. The most famous magicians are those who have made a career out of their craft and have become household names. They are the ones who continue to amaze and inspire us with their illusions.