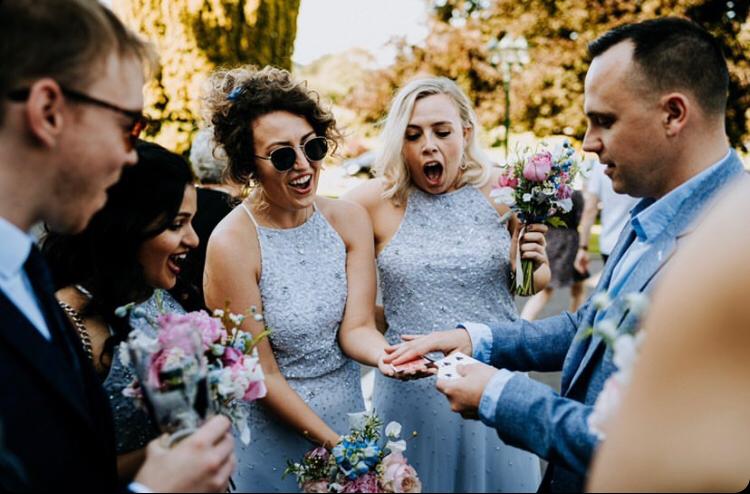 Wedding Magician
Magic Circle Magician Phil Taylor
Magical Entertainment For Your Big Day
Hire a world-class Magic Circle magician, perfect entertainment for your big day.
Passionately providing live, modern close-up magic for each individual guest or group for an experience they will never forget.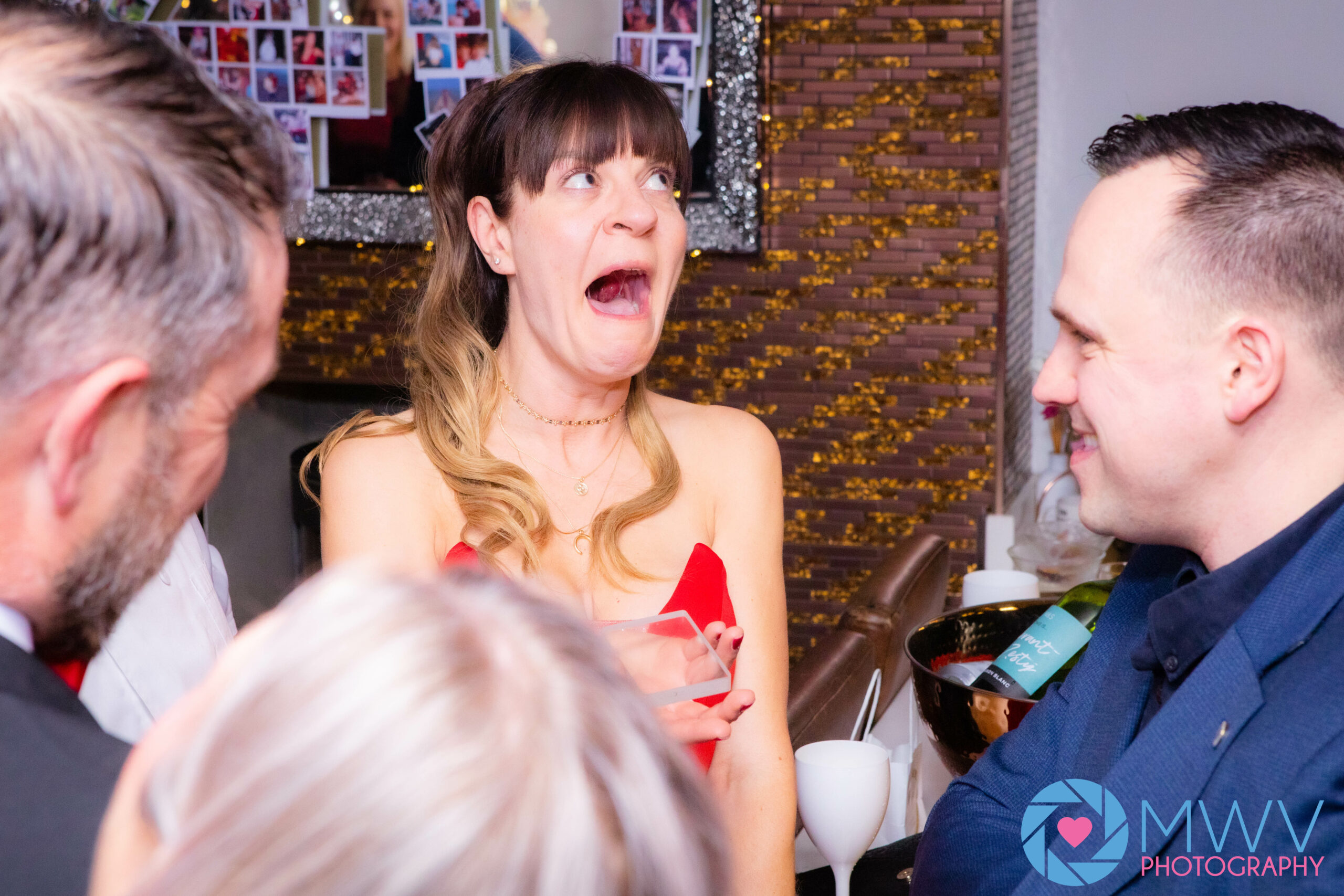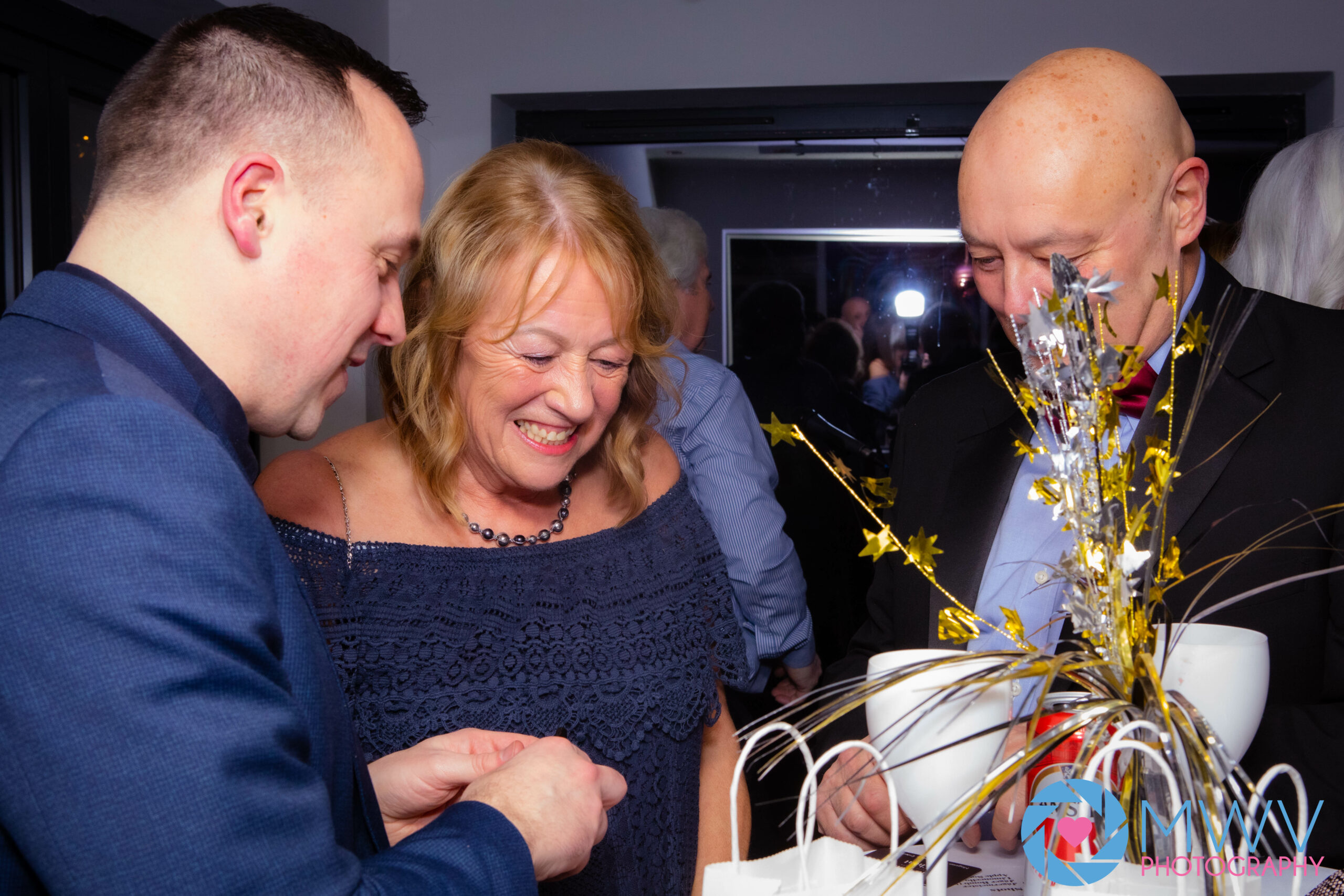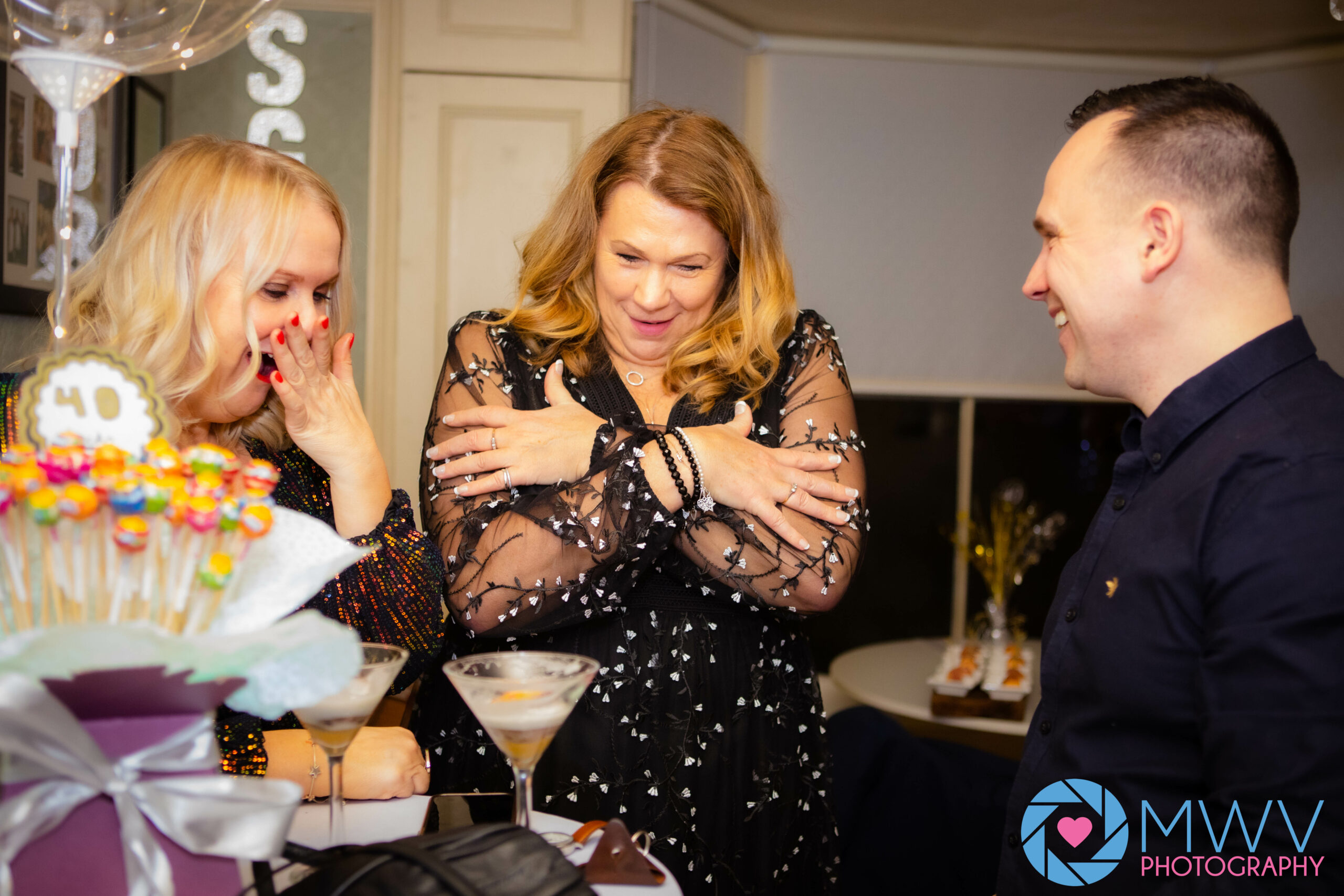 Why Book Me As Your Entertainment
Icebreaker Wizard
Impossible Bits Of Madness
World Class Magicain
Great Photo Opportunitys
Kill The Lulls
Magic Circle Magician
Over 100 5 ⭐ Reviews
15 Years Of Experience
Sleight Of Hand Magic Expert
GOLD WEDDING PACKAGE
Now the fun begins the perfect way to start your celebrations.
Mix & Mingle Close Up Magic
Select from either during photographs, after the wedding breakfast.
Ideal for 50-80 guests
Phone or email consultation.
PLATINUM WEDDING PACKAGE
Perfect entertainment for room turn around and as the evening guests arrive.
Ideal for weddings with 80+ guests.
Photographs, after the Wedding Breakfast or at the Drink Reception.
Close Up Magic, Mind Reading & Metal Bending.
Newlywed top table exclusive performance.
The Secret Keepsake.
No extra charge for any breaks.
Zoom Consultation and performance.
VIP WEDDINGPACKAGE
For the couple who wants it all & some.
All day entertainment when and where you need it.
Magic, Mind Reading, Metal Bending.
Top table exclusive VIP bespoke performance.
Unlimited phone consultations and emails.
In person consultation to plan out where entertainment will happen.
Tailored package working with you to create your perfect wedding day.
Step 1.
(Get A Quote)
When it comes to weddings, every couple has their own personal style, idea and location.
With this in mind, when you contact me for a quote share as  much detail on the big day as possible so that I can get a feel for your requirement.
There are three packages below to help you decide, Gold, Platinum or VIP.
Step 2.
(Book Your Consultation)
If you're happy with the quote now it's time for the consultation.
 In order to make sure you get the perfect entertainment package for your big day, we need to spend some time talking about your plans, I will share ideas of what has worked for other couples and to top it off Ill show you a few magic tricks.
Step 3.
(Book Me)
It's quick and easy to book me once you are happy with your quote & consulatation, just fill out a online booking form. Ill send you an online contract, which has all the details of our agreement written down.
That's it, we are now ready to party!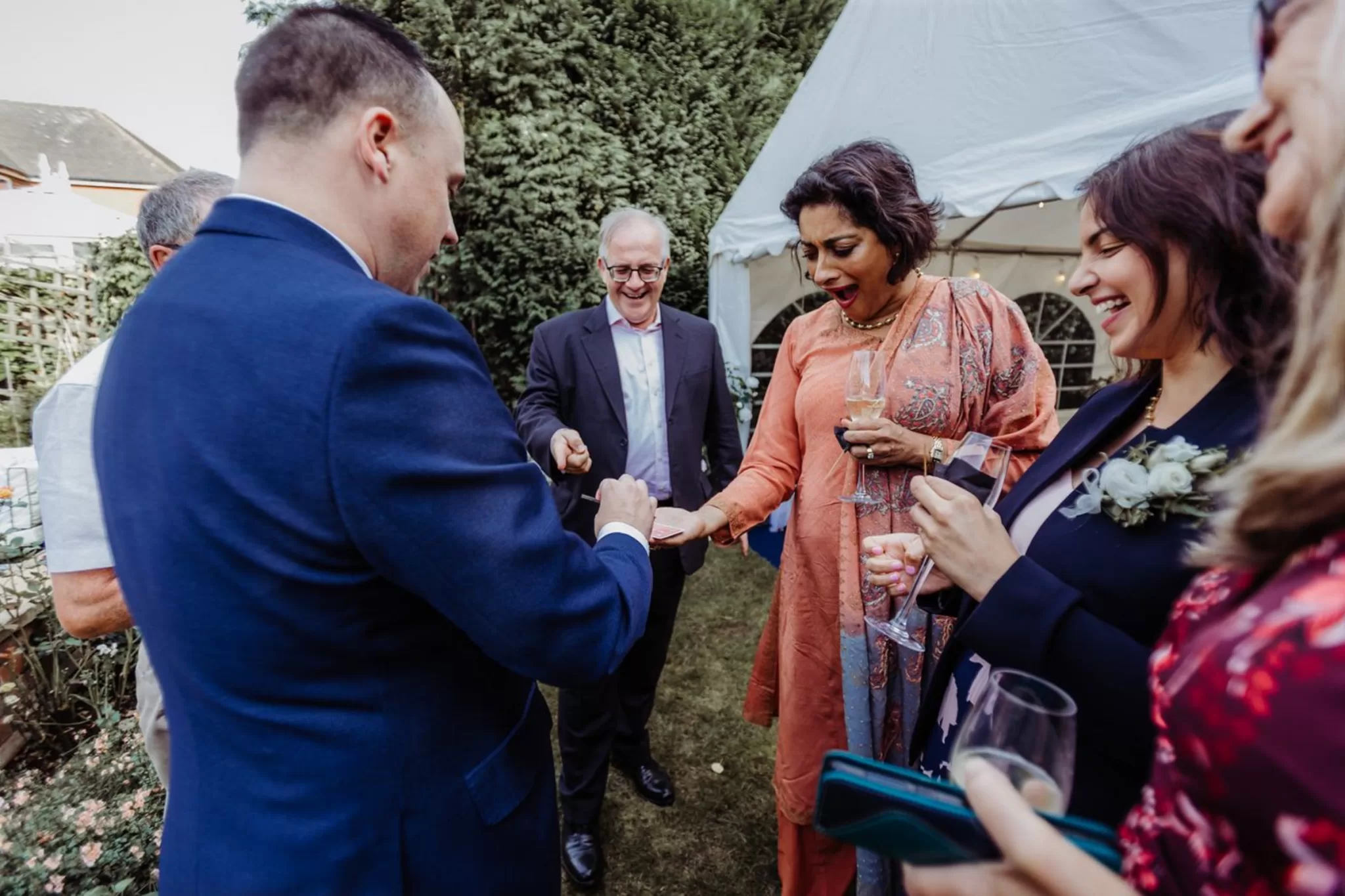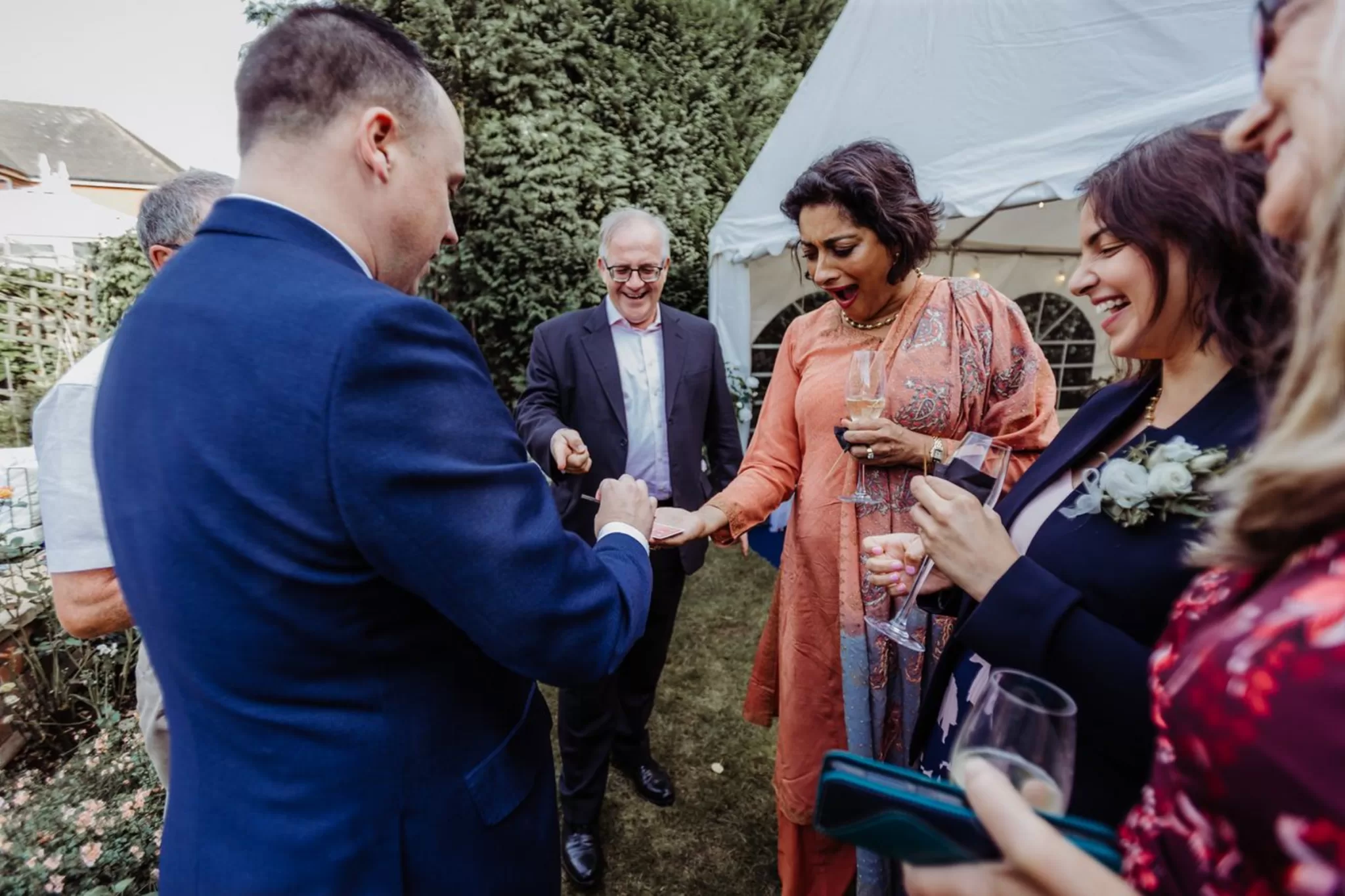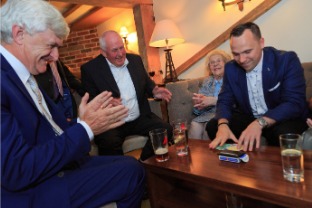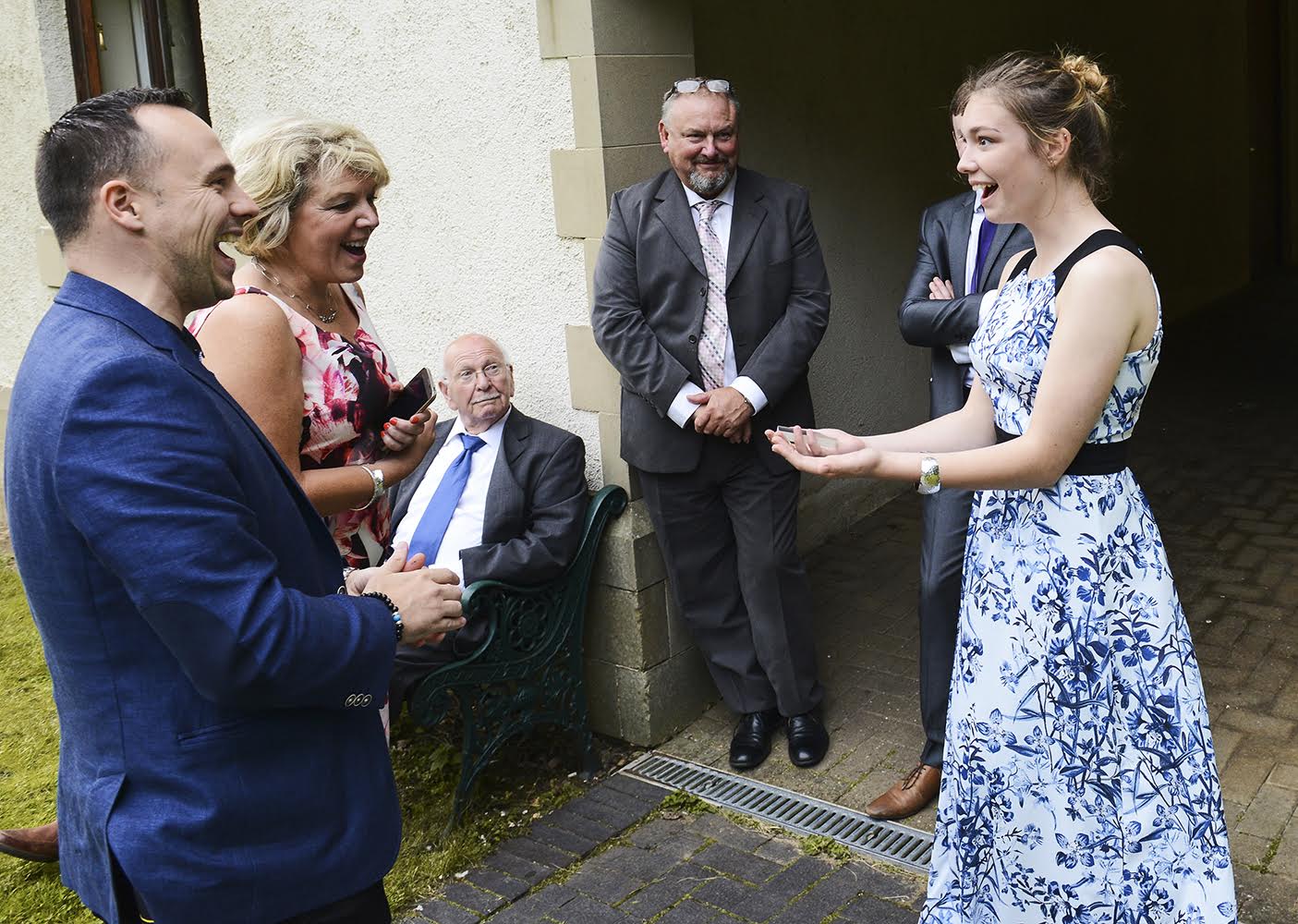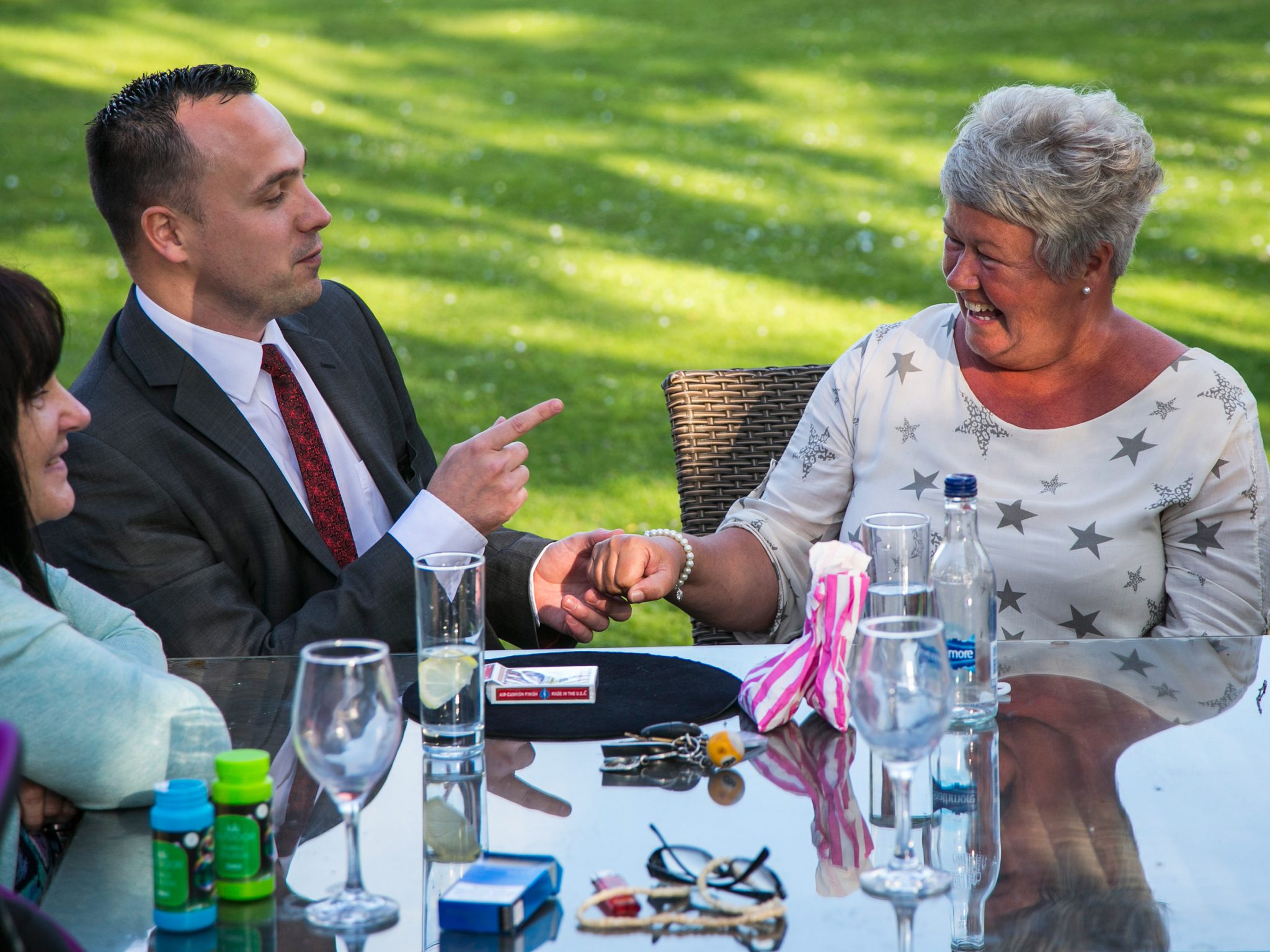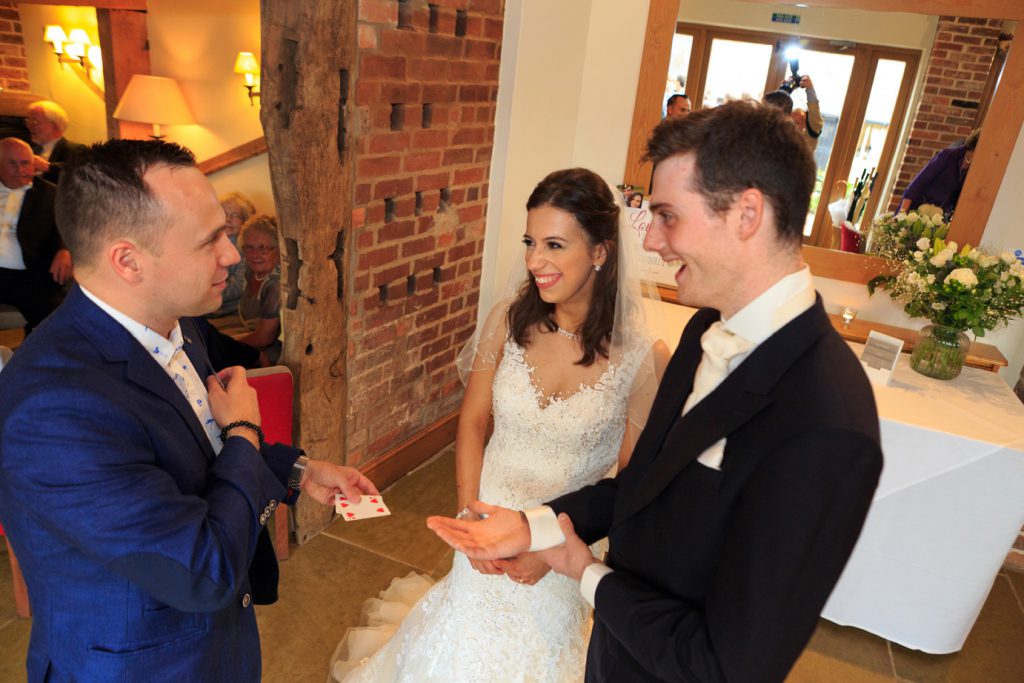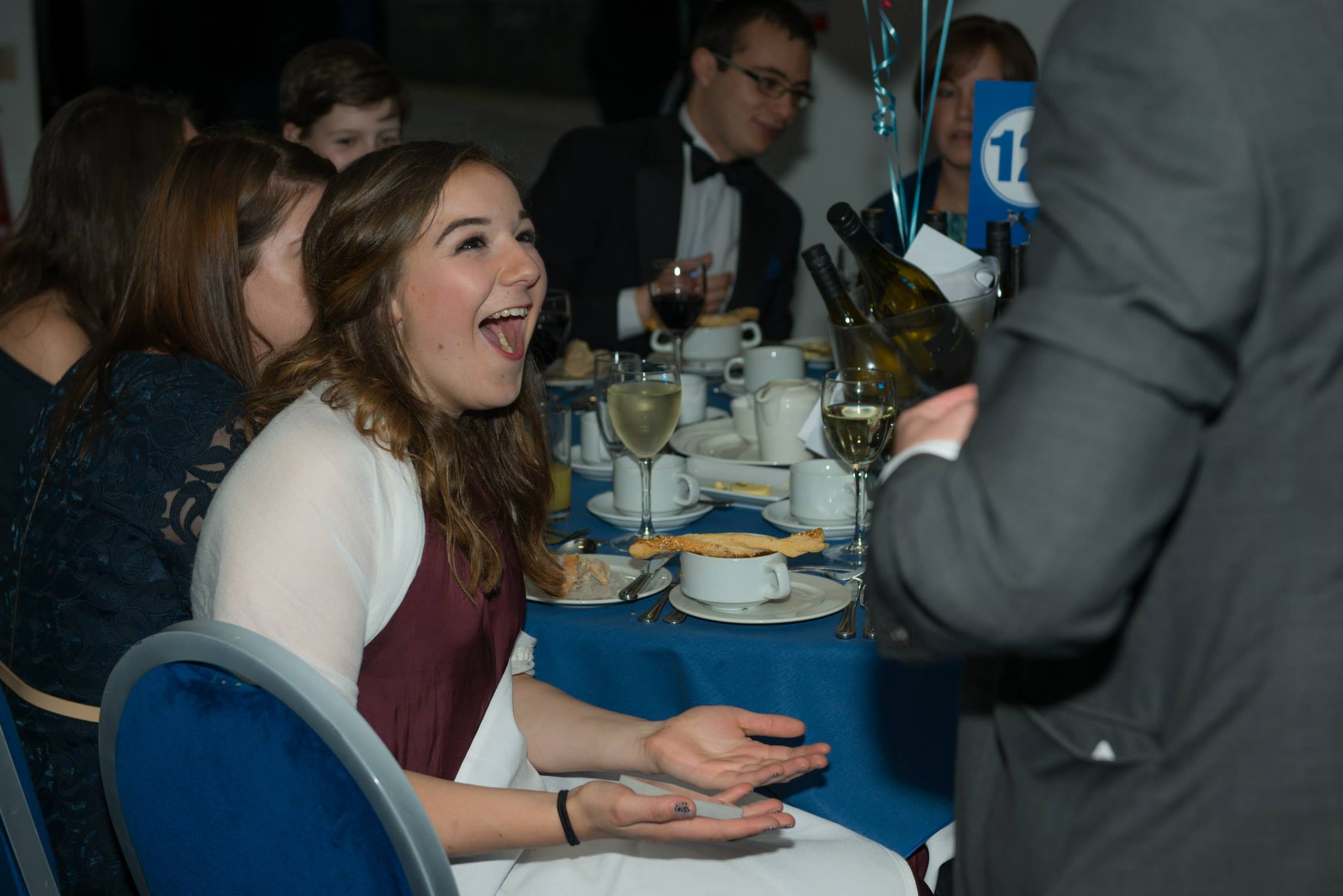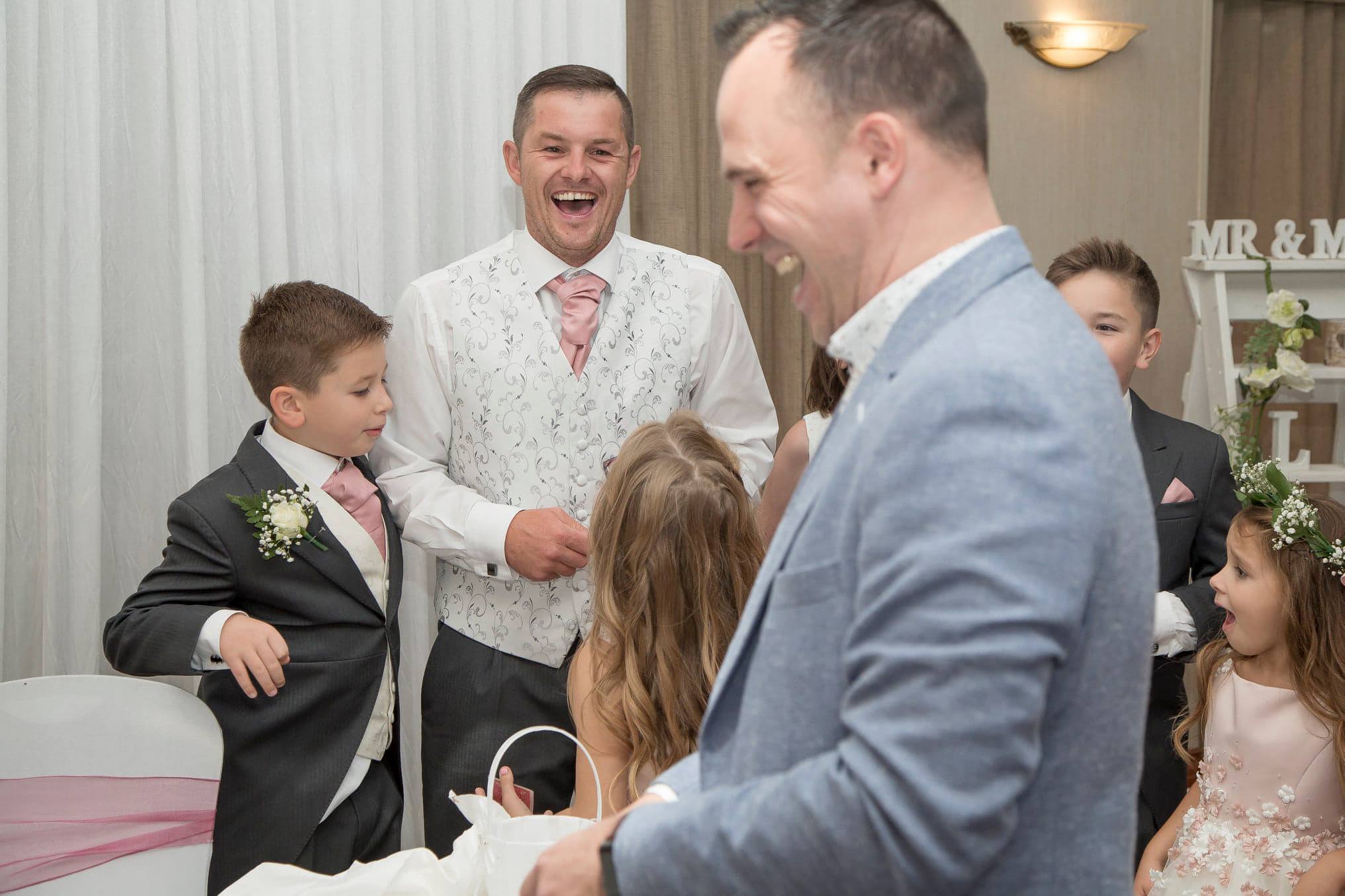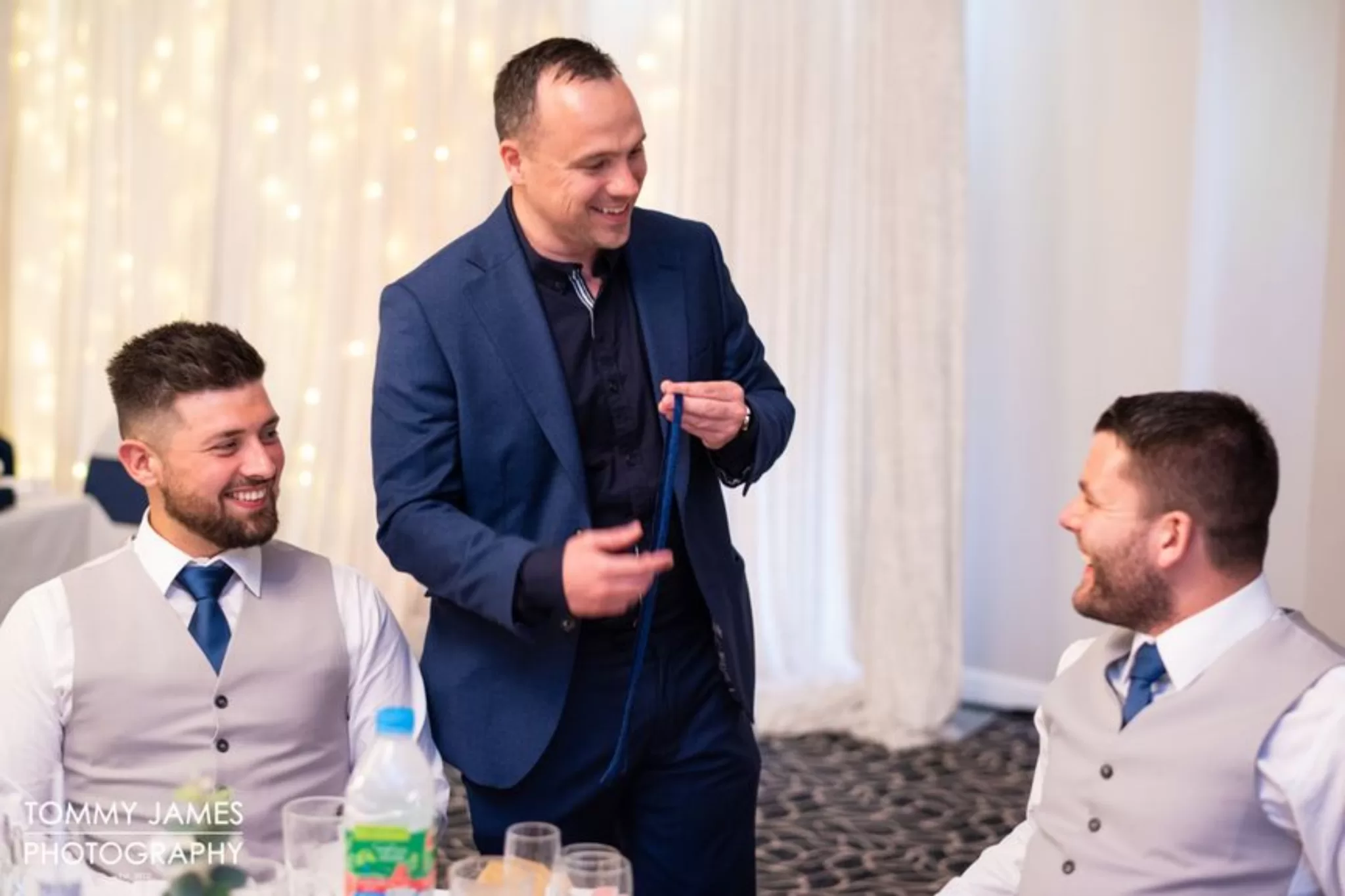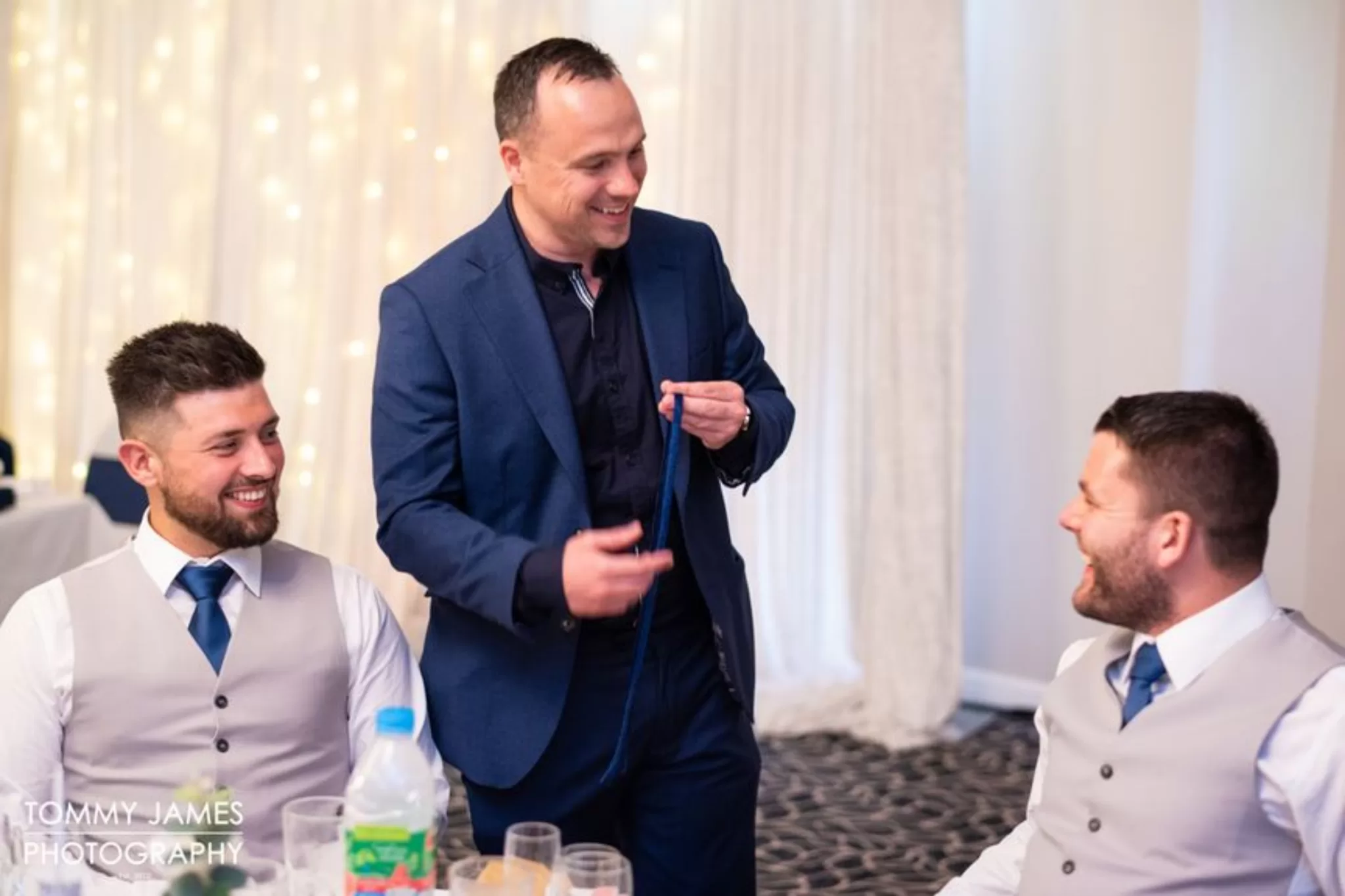 Primary Wedding Performance Times
Champagne Drinks Reception
(After The Ceremony)
Champagne Drinks Reception. This is between the Wedding Ceremony and Wedding Breakfast, but it's not too early to get people in that celebratory mood! The photographer usually gets everyone together for all-important photos of your day so you can cherish those moments forever. Guests are left standing around their drinks waiting anxiously for their turn. That's where I step in with amazing mix and mingle magic.
Drinks receptions typically run about an hour long and after this eventful break, they'll be refreshed and ready for the rest of the day.
Room Turnover
(Between The Wedding Breakfast & Evening Party)
The turning over of the main room can be a perfect place to have an entertainer. Let me explain, as your guests make their way around and wait for drinks at the bar they will need some time filling up that empty space between the evening guest arriving and the disco right? This is where I come in with my award-winning close-up magic skills!
The room turnover could take anywhere from one hour or two, depending on how well oiled the venue is.
The Party
(Your Evening Reception)
As the evening guests arrive and the day guests mix in with the new arrivals, I will be there amazing people creating a buzz whilst you guys enjoy your party into the evening. Not everyone will be waiting to dance so why not provide something different, amazing magic for all to enjoy a wedding magician/close-up magician.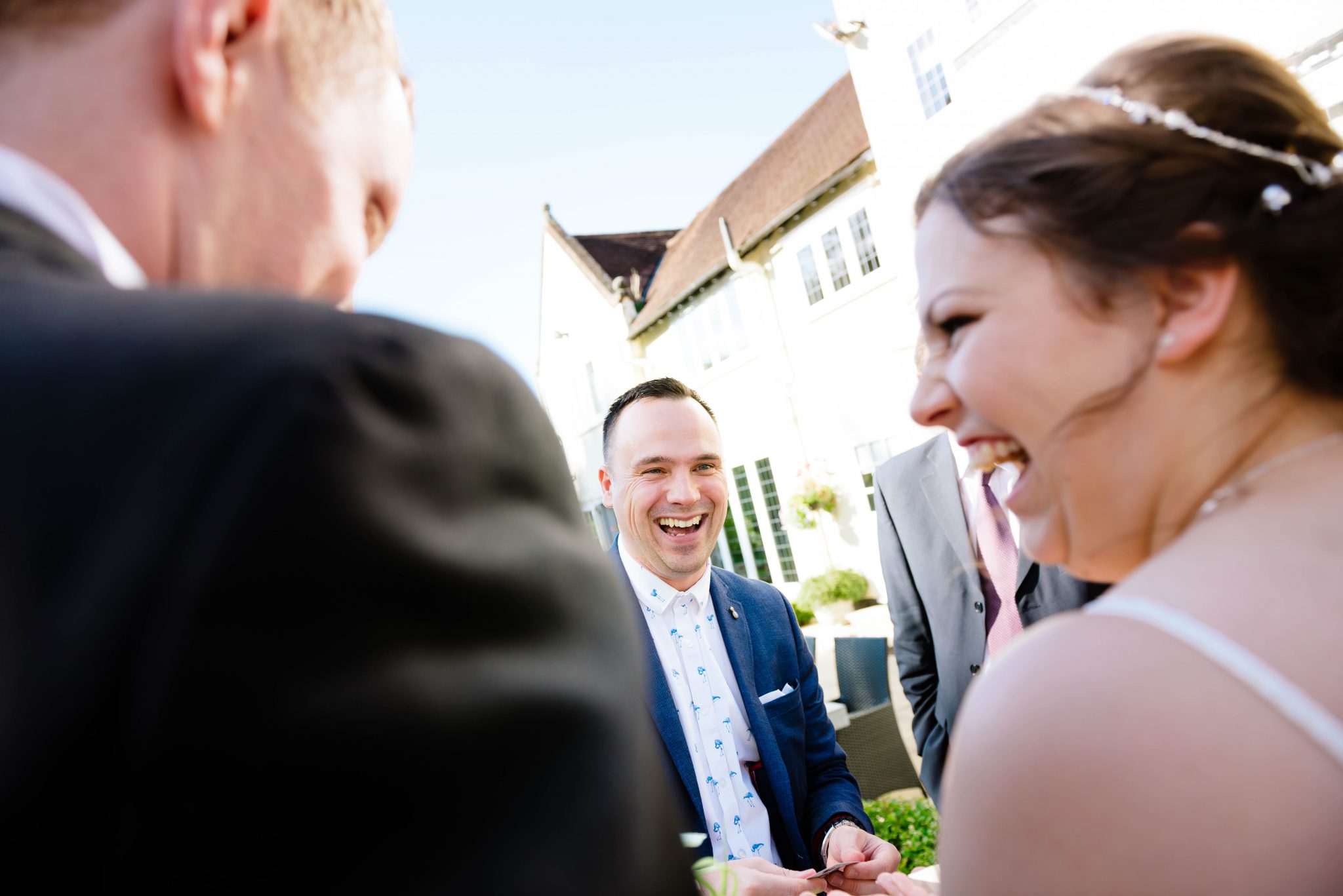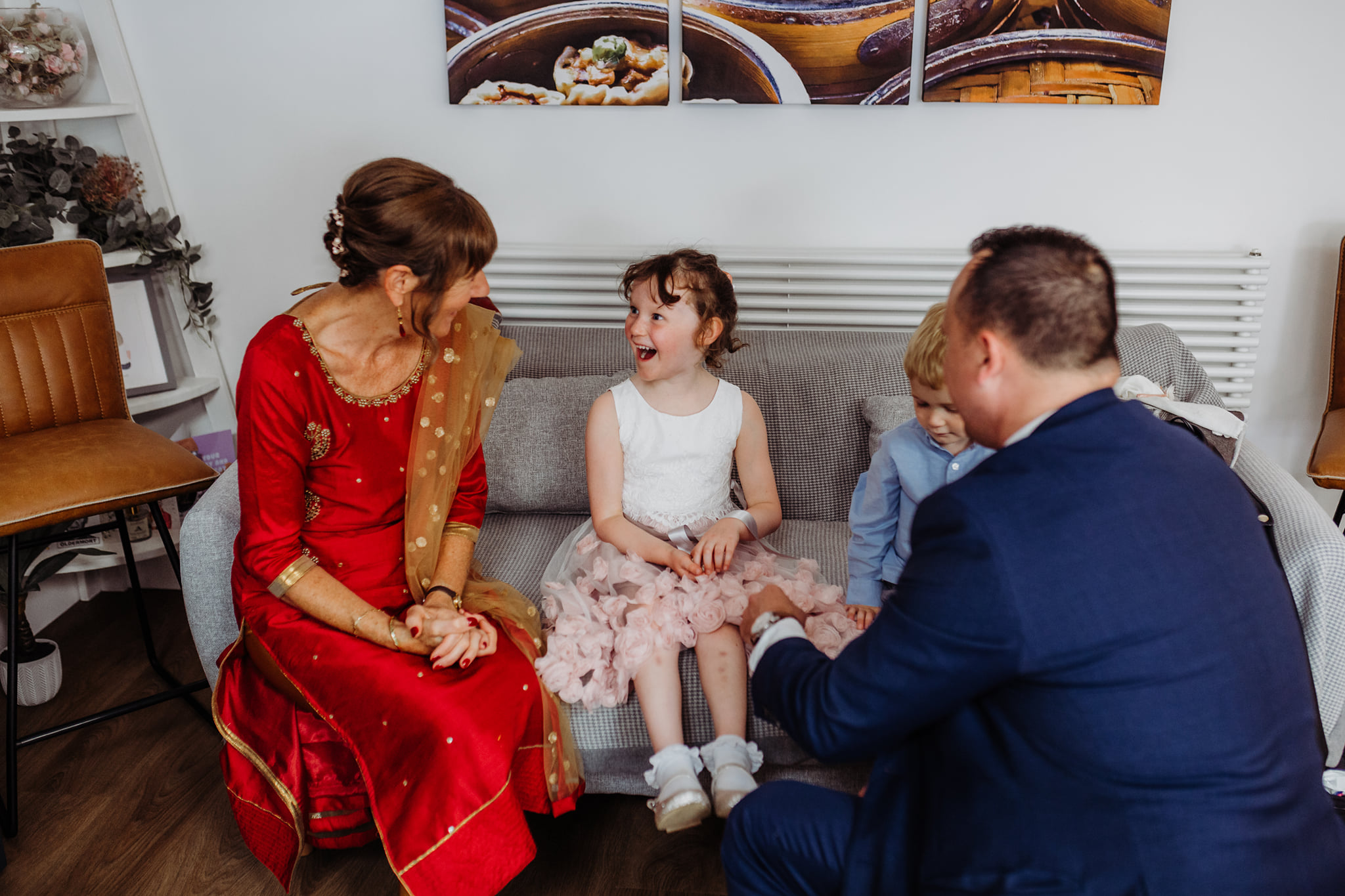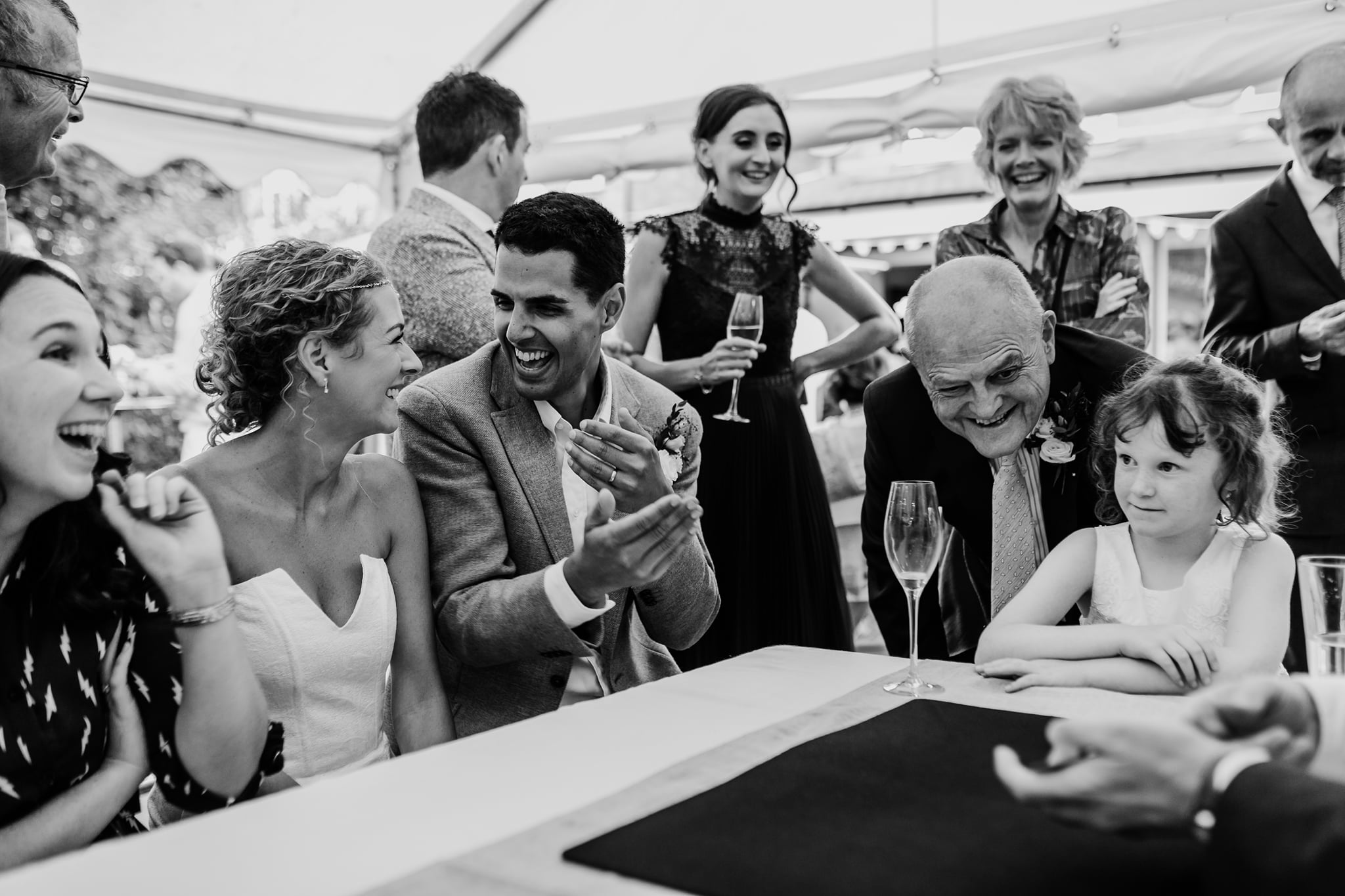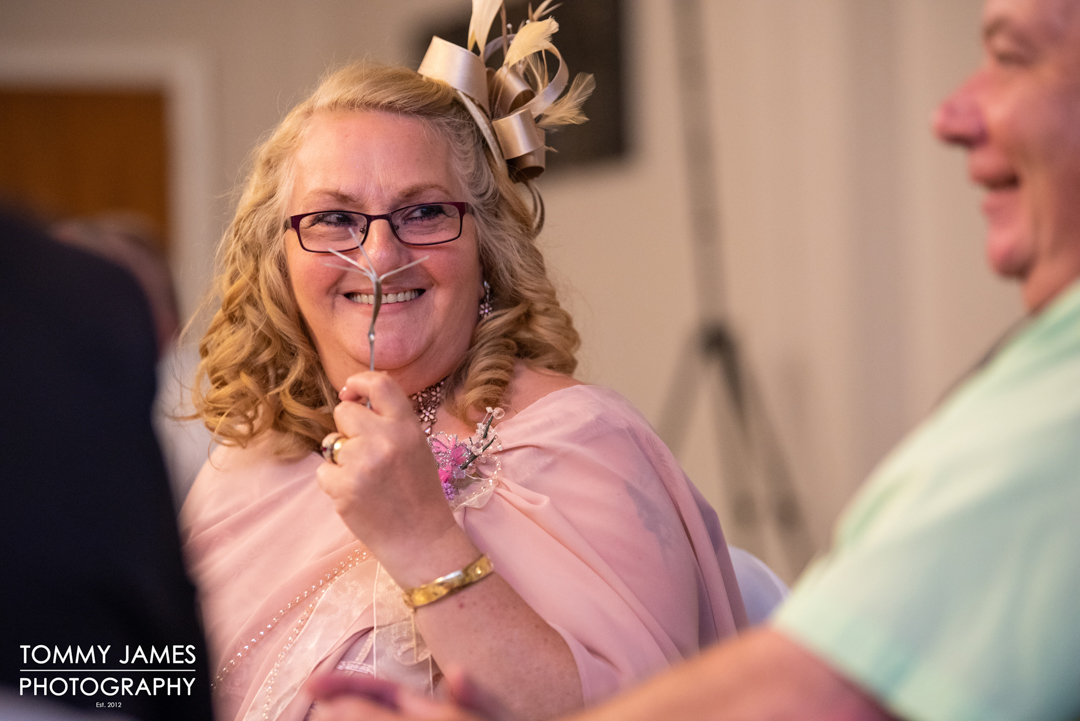 I'm a proud member of the prestigious London Magic Circle.
The club has been around for over 150 years and I am associated with a silver star at the highest level possible to achieve when joining the club through examination.
When you hire me as your magician I will be combining expert sleight of hand, close-up magic, mix and mingle and the artful melding of humor with drama- all in an effortless package you won't find anywhere else!
It can be hard to find a true professional magician so it is worth checking out if they are local and part of the Magic Circle to make sure you get the best wedding magician for your big day.
Providing you with a dazzling magician and award-winning mix and mingle MAGIC!
Frequently Asked Questions
Why you need a magician for your wedding?
A professional wedding magician will entertain guests as they are seated or at the bar.  They will bring friends and family members together, break the Ice between guests and entertain with sleight of hand magic tricks with cards, coins, and mind-reading. Magicians can also be used as a part of your theme if you have an idea of what you want for your event.
However, they are not just there to entertain people with tricks and illusions – they also inject the fun into the longer parts of your day and bring groups of people together.
What kind of magic can a magician do at a wedding?
A magician can perform any kind of magic at a wedding. They can use their skills to entertain the guests and create a memorable event for the bride and groom. A magician can do anything from making an object disappear to making someone's card change into the queen of hearts with just a snap of their fingers.
How much does it cost to hire a magician for your wedding?
Hiring a magician can cost anywhere from£350 to £2000 depending on their skill level and what type of entertainment they offer.
Do you need to have a specific theme in mind for your wedding when you hire a magician?
Magicians do not require you to have a specific theme in mind for your wedding when they are hired. Phil has been booked for many Harry Potter-type theme weddings.
How many magicians would it take to cover all aspects of my event?
The number of magicians it would take to cover all aspects of your big day depends on the type of wedding that you are planning. If you are planning a large-scale wedding with over 500 people it's a good idea to have two or three magicians to entertain guests.
What kind of magic can a magician do at a wedding?
Magicians are well equipped to entertain guests at a wedding with sleight of hand and mind tricks.
Magicians can perform quick and easy magic tricks. They can also do tricks that guests will be talking about for years to come. Magician's skills include sleight of hand, card trickery, and mind-reading.
Magic has been the focus of many weddings in the past few years. It is a good idea for people who like to be entertained and enjoy mystery and suspense events.
When is the best time to hire a magician for your wedding?
The best time to hire a magician is as the photos are being taken, after the wedding breakfast, or as the evening guests arrive.
How do I find the right magician for my wedding?
Finding the right magician to perform at your wedding can be daunting. There are so many different types of magicians and it can be hard to decide which one will suit your needs best.
Magicians come in all shapes and sizes as well as specialties, such as close-up magicians, illusionists, or mind readers. Their performances can range from a standard magic show to more interactive types of performances where the audience is actively involved.
The type of magician you pick depends on what you want out of your performance and what type of show they specialise in.
It's best to check out Google reviews, photos, videos and to check if they are in the Magic Circle.
It's Going to be Perfect!
Let's Plan Your Big Day!
Get In Touch With Wedding Magician Phil Taylor
Fill In the Form For A No Obligation Consultation & Quote