Warwickshire Magician
Weddings, Parties & Corporate Events
Hire For Crazy Magic Tricks & Unforgettable Mind Reading.
Click For Quote
Call Today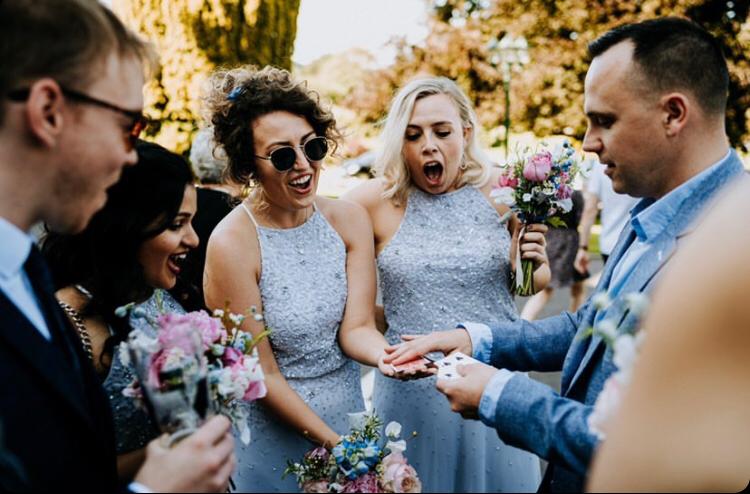 Are you thinking about hiring Warwickshire Magician?
Then look no further I'm the BEST Warwickshire Magician.
Booking me as your Warwickshire magician I will provide wonder and awe you and your guests will witness the impossible, experience the incredible and be left with memories that will last a lifetime.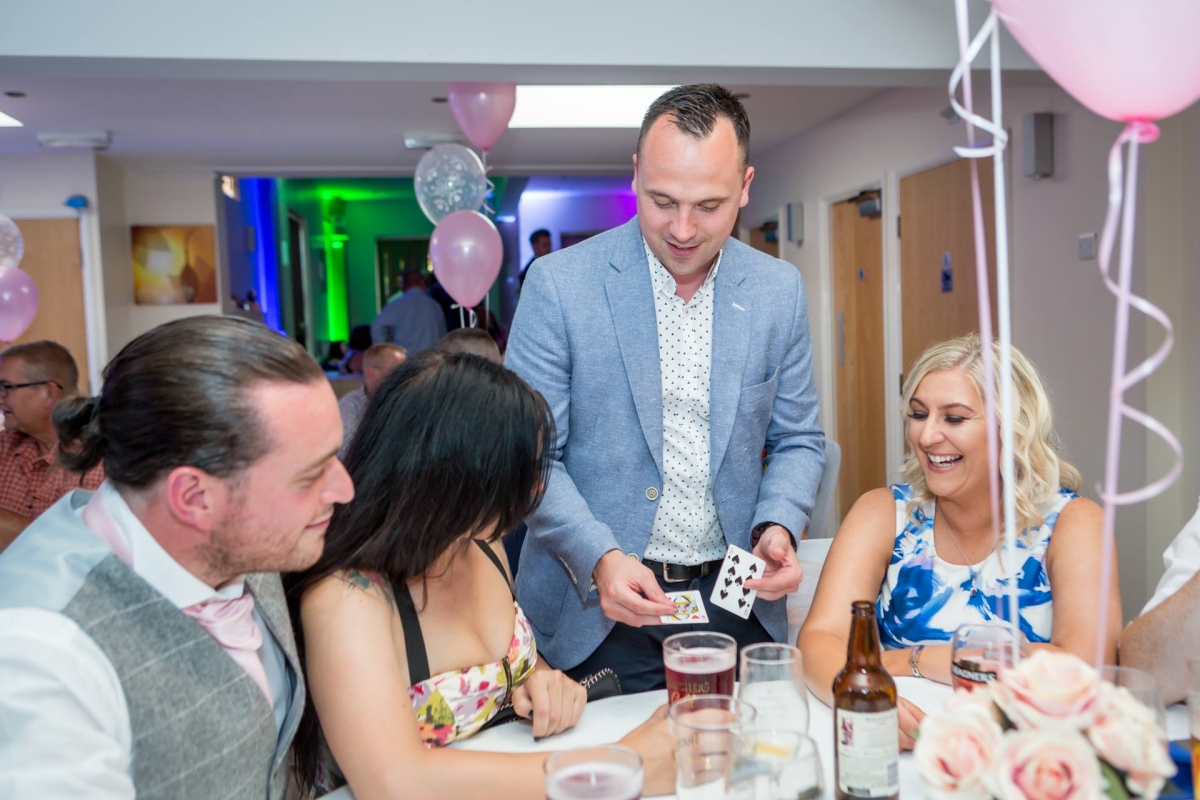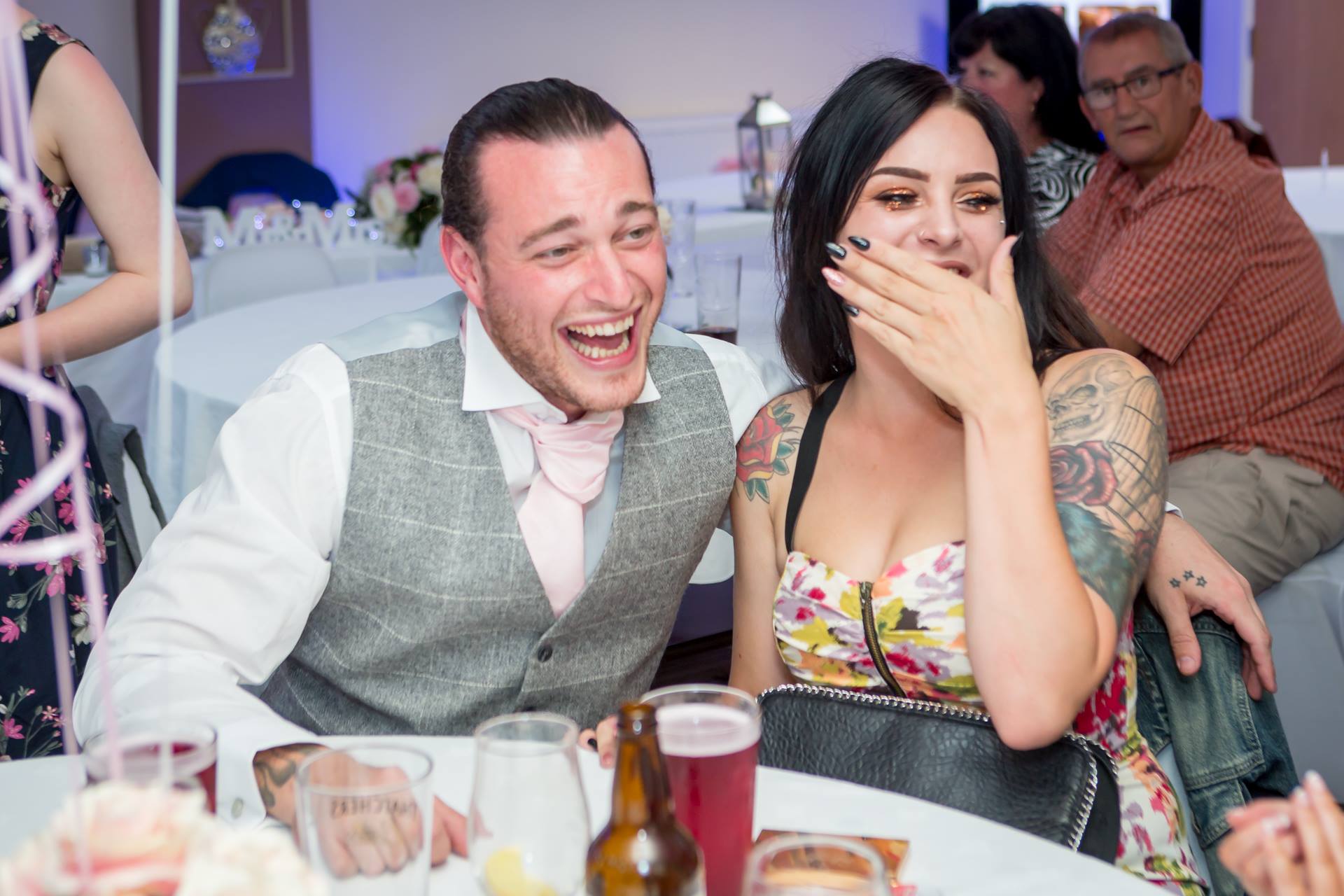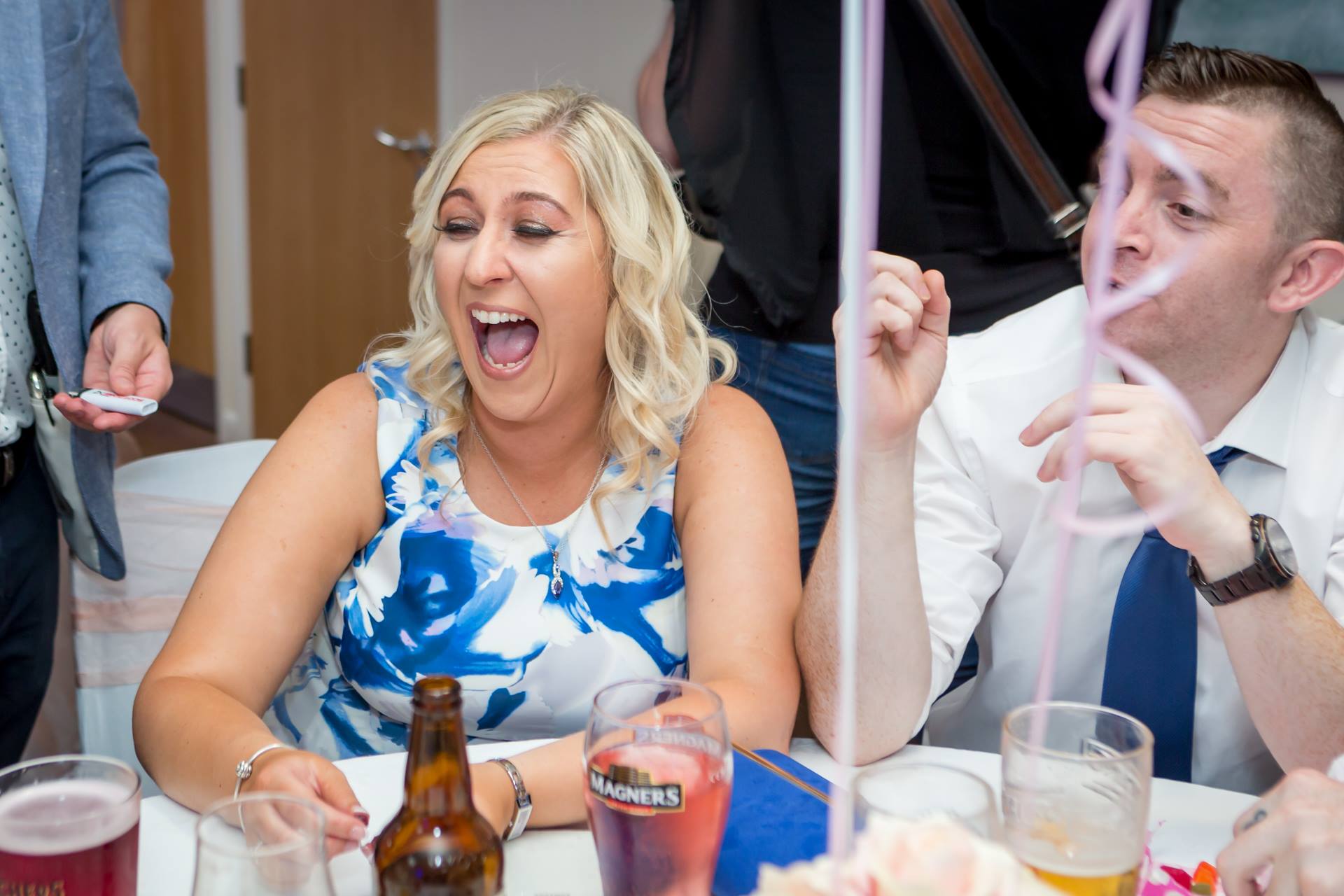 Many clients book me for Private Party's, Weddings and Corporate Events.  They require something different, something fun, something to lift the mood. Booking me as your Warwickshire's magician, I provide that and much more. I will make sure you and your guests are having an amazing time whilst witnessing impossible magic and mind reading demonstrations. You will hear laughter and fun as I move from group to group. Guests will wait with anticipation for their turn to observe unforgettable magic and incredible mind-reading. Get  in touch to find out more
Phil performed his awesome magic skills at our wedding. Everyone including us were amazed by his tricks and we all enjoyed his performances as he made his way around the room ensuring all the guests had seen his magic. Phil is a lovely guy who made us all feel relaxed and engaged well with our guests.

Wedding Warwickshire Magician 
Weddings should be about fun, love and laughter. It's rare we get together as a family and friends, making the most of the occasions is important. Booking me as your wedding magician, I will bring people together, show them amazing magic and break the ice between guests that don't know each other, providing a shared experience for all.
Every wedding there are lulls in between proceeding, not all guests will have a room hiring me as your magician. I provide entertainment whilst there are down times. Many couples' book me to entertain during the photos or as they turn the room around. It's important to keep the mood uplifted, happy and keeping your guests having a fantastic time.
Hiring me as your wedding magician, my priority is to make sure everyone is having a brilliant time and you are having the perfect wedding day. I'm one of your team making sure your big day goes according to plan.
My promise to you
Impossible Mind Reading & Magic Tricks
Breaking the ice between guests.
Providing great photo opportunity.
Creating memories that will last a life time.
There are a few excellent times to book a wedding magician at the drinks reception, after the wedding breakfast or as the evening guests arrive.
Get in touch for a now obligation quote and consolation.
If you're having a summer wedding, I've written a blog on my top 10 games played at weddings.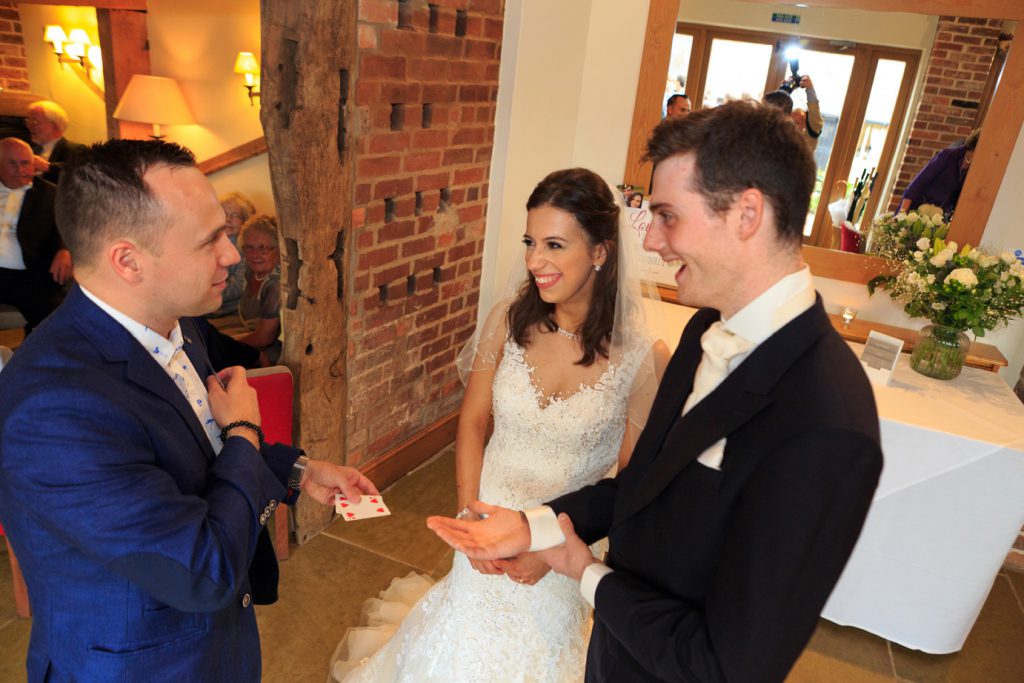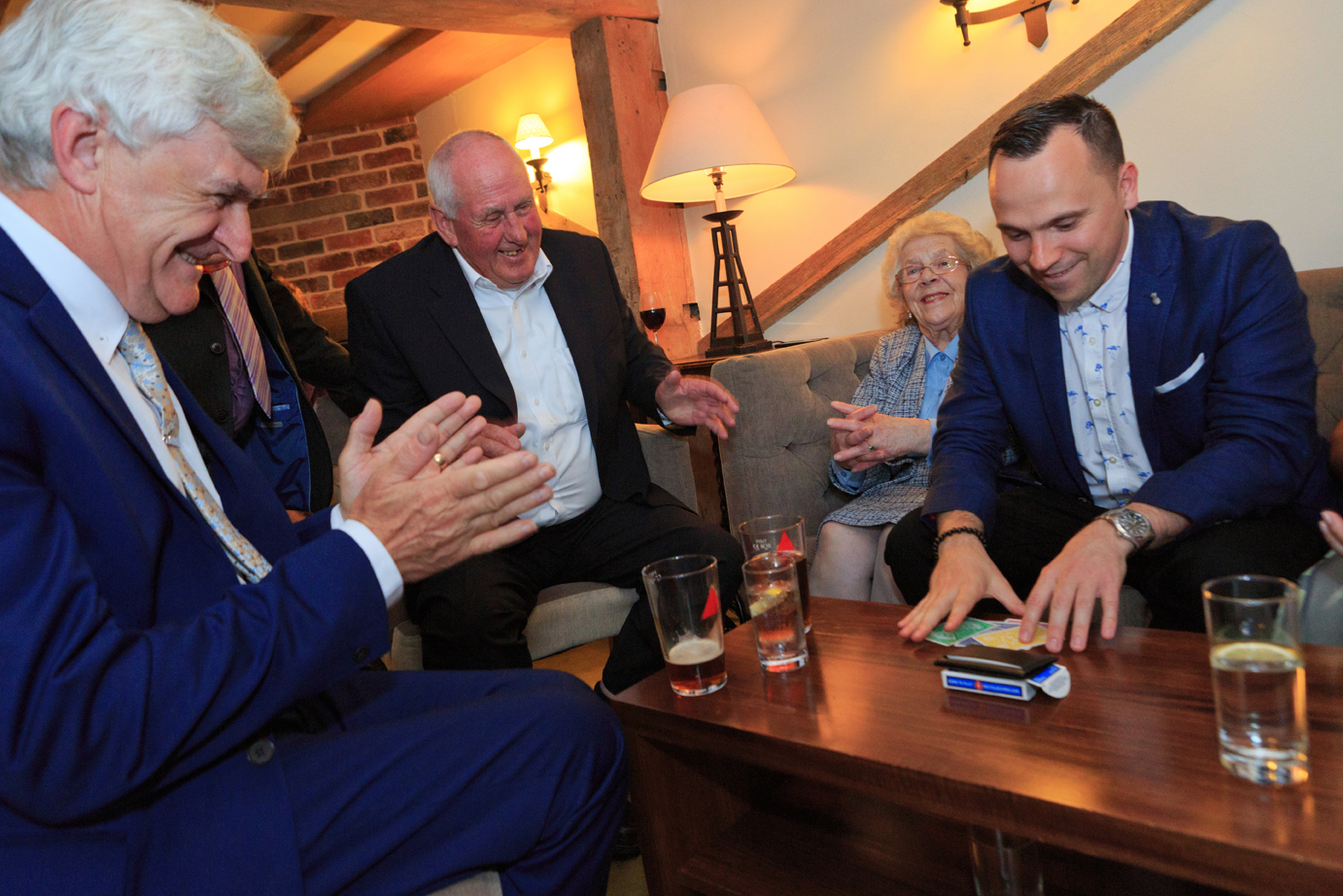 Warwickshire Magician Hire For Party's.
So you're hosting a party and need some entertainment? Booking me as your party magician, I will make sure you and your guests are witnessing the impossible, experiencing the incredible and above all having a fantastic time.
It's rare we get to celebrate with our friends and family so why not make it special hiring me as Warwickshire magician is the perfect way to whoop it up and celebrate in style!
My Promise To You
✓ Incredible Magic
✓ Laughter & excitement
✓ Polished performance
✓ Tails of madness
Leaving you with the perfect party, marking the occasion with memories that will last forever.
If this sounds like what you want, get in touch today to find out more..
Checkout a blog I wrote about planning the perfect party. There may be some ideas you have missed.
Warwickshire Corporate Magician
Three reasons to book Phil Taylor for your next corporate function.
1. Perfect Warm Up Act.
Most corporate events start slow. As guests trickle in grab their first drink, they will usually orientate themselves with familiar faces picking up conversation where they left off, work related. Booking me as Warwickshire's BEST Corporate magician, I will provide a new point of interest, something different giving colleagues the chance to witness the impossible and experience the incredible. Corporate events should be about having fun and happiness. Work hard, play hard.
2. Create A Natural Talking Point.
Creating a shared experience allows your guests the opportunity to talk about what they have just witnessed. Something fun, something different. Guests will start to feel more relaxed and want to stay longer.
3. Make It Amazing.
We only get to party a few times a year. Why not make it special? Hiring me as your Warwickshire's Best Corporate Magician, that's what I do create the vibe engage with your guests and make sure they are having a brilliant time.
Be Part of the Magic.
If you want to find out more please get in touch now 07967155970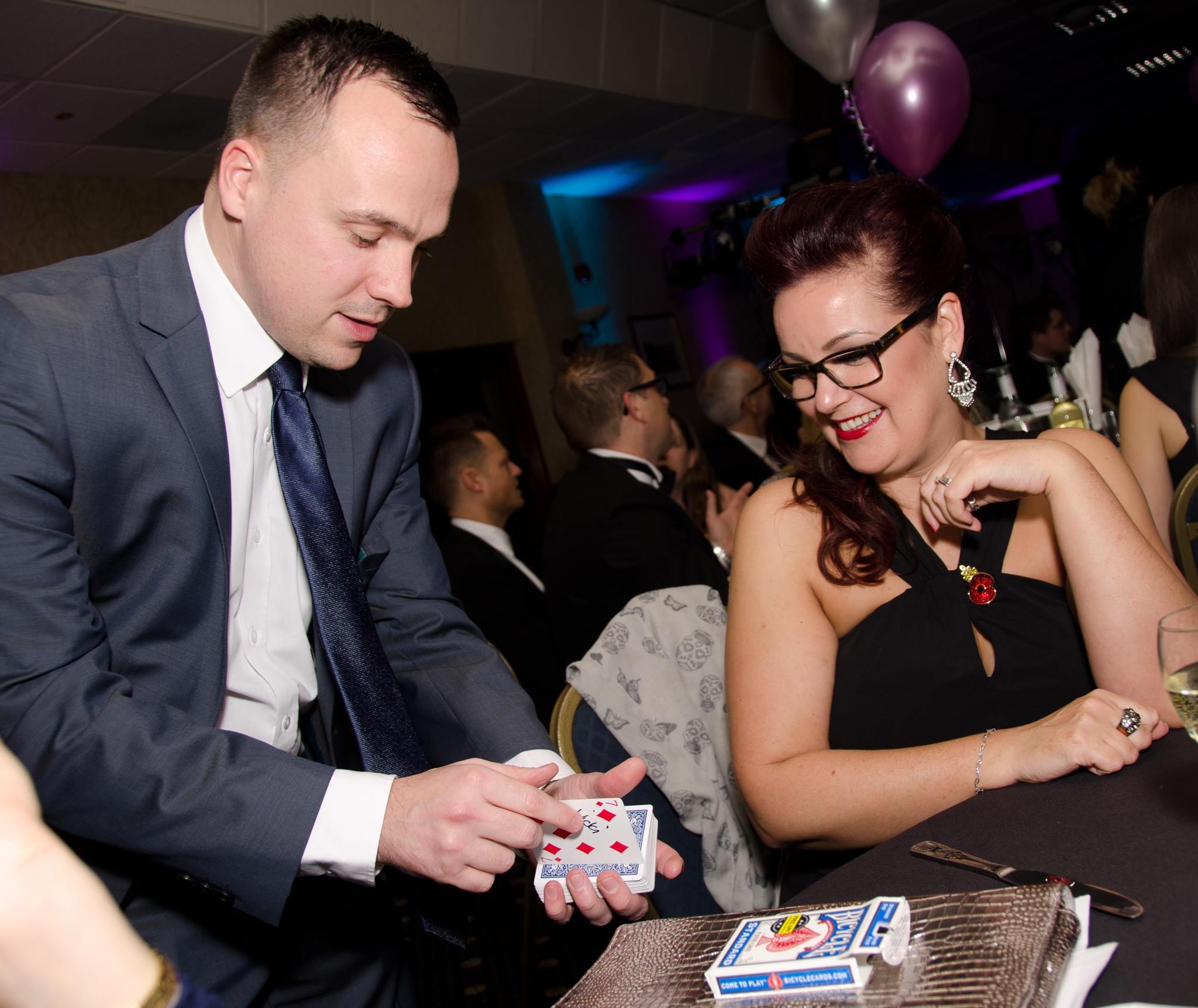 Why Book Me As Your Warwickshire Magician?
✓ Mind Blowing Magic Tricks
✓ Polished Entertainment
✓  Creating a Fun & Happy Vibe
✓ 15 years of experience
If you like what you see get in touch today to find out more CLICK HERE or call 07967155970 for a no obligation quote.
Hired Phil for our wedding, we wanted something different, not cheesy.
Our guests are still talking about how great he was!
IM not joking his slight of hand is unreal!
Highly recommended!!!
Do you perform at weddings As Warwickshire Magician?
Yes,  I usually perform at following the wedding breakfast, after the speeches or into the evening.
How much does it cost to hire Warwickshire Magician?
Prices are quoted separately as each event is different.
What magic do you perform as Warwickshire Magician?
Close up magic, Mind Reading, Pick-Pocketing, Hypnosis.
Hopefully, you understand what I can do for you and if you want to find out more or get a quote please fill in the form below or call me on 07967155970 for a no-obligation quote and a general conversation.
Three simple steps to booking me as your magician or call 07967155970
Fill in the form.
Find out more.
Book me.
Fill In the Form For A No Obligation Consultation & Quote
Phone Number: 07967155970
Email Address: ptaylor@magicianscorner.co.uk
Available for hire in the following locations
Leamington Spa, Bedworth, Warwick, Kenilworth, Whitnash, Atherstone, Polesworth, Galley Common, Kingsbury, Coleshill,Alcester, Bulkington, Shipston-on-Stour, Bidford-on-Avon, Cubbington, Stoneleigh, Hartshill, Water Orton, Dordon ,Long Lawford, Tanworth-in-Arden, Dunchurch, Binley Woods, Bishop's Tachbrook, Harbury, Kineton, Mancetter, Hatton, Henley-in-Arden, Lapworth, Bishop's Itchington, Radford Semele, Itchington, Baddesley Ensor, Budbrooke, Ryton-on-Dunsmore, Newbold-on-Avon, Salford Priors and Austrey.