5 Signs You're Going To Have A Fantastic Wedding!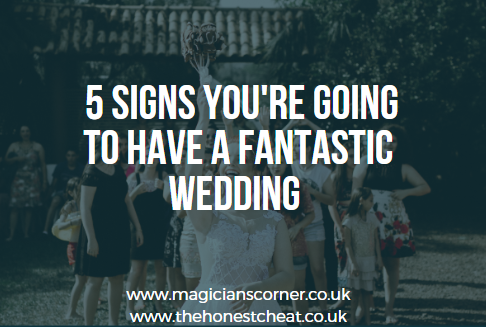 1.  The Guests Will Make Your Wedding.
Lets face it, the right people can make or break a party, there is nothing different with a wedding.  Inviting the correct people to create the right vibe is of paramount importance.  Weddings are about love, happiness and sharing.
Think about who you want near you on your big day.
2. The Venue.
To create the vibe you want your guests to go WOW on arrival.  This will differently set the tone of your wedding and expectations.
Its not the be all and end all, but it really does help.
3. Entertainment.
Filling your wedding day with fun and surprises is a great way to create the perfect atmosphere.  Keeping the energy flowing with different forms of entertainment moving from one part the day to the next helps create your epic wedding.
4.  The Outline of Your Day Is Sorted.
A plan is available for everyone to see the outline of the day and running order.
This helps guests relax and feel at easy, knowing what times and where they should be.
5. Hashtag.
Create a Instagram hashtag and make it available on all the tables and throughout the venue.  Tell everyone to take photos and upload them to your hash tag.  Not only will you have professional photos, you'll have a load of extra photos to remember your day.
Get in touch to request more information.